Ensuring Responsiveness to Student Needs at Learn4Life Schools
CompetencyWorks Blog
---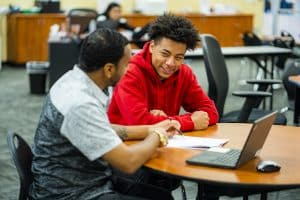 This is the first post in a two-part series about Learn4Life schools. The second post is here.
One of the quality principles of competency-based education is ensuring responsiveness to student needs. The Learn4Life schools exemplify this principle. Learn4Life is a network of charter schools with 100 learning centers serving more than 49,000 students in California, Michigan, and Ohio that focus on a high-need, traditionally underserved population. Eighty percent of students are from low-income families, and the average student enrolls nearly a year behind in credits and has been out of school for more than 80 days.
Community Liaison Eunetra Rutledge and Director of Center Quality Jessica Sherlock hosted my visit to Alta Vista Innovation High School, a Learn4Life center serving 280 students students in Inglewood, a city in Los Angeles County. Alta Vista is located on the second floor of an office building in a shopping plaza, with banks, restaurants, and insurance agencies on the floors above and below. "You give us a space, we can make a school. There are 80 of these," Sherlock said.
In contrast to its busy surroundings, the school itself felt quiet, studious, and personal. Most students were working in a large central room at clusters of tables, surrounded by a perimeter of conference rooms and small classrooms for small group work and one-to-one meetings between students and teachers. One of the rooms serves as a library and music room, with a piano, drums, and guitars. Another room is set up for parenting students to do coursework while their babies and toddlers play or sleep.
Alta Vista serves many students who started in traditional high school settings but didn't thrive there for various reasons, such as challenges related to transience, teen parenting, mental health, homelessness, and bullying. Most students enter the school substantially behind grade level in core academic areas. About a third return to their previous high schools once they get back to grade-level competency. The school's accreditation by the Western Association of Schools and Colleges enables their credits to transfer to other high schools.
Most Alta Vista students are age 17 to 19, but the school also serves students up to age 24 who co-enroll in a partnership funded by the Workforce Innovation and Opportunities Act that enables them to remain enrolled in Learn4Life and work toward their high school diploma while pursuing a post-secondary plan.
Innovative Academic Model
Learn4Life's educational model reflects several aspects of competency-based education. First, scheduling and pacing are flexible. Students are required to come to school at least twice per week for four hours per day, but they can come as much beyond that as they want so long as they're being productive – which can mean not only making academic progress, but also meeting with a social worker or just coming in to eat lunch and connect with the school community. Every student has a "supervising teacher" who serves as their mentor and guide while also providing some academic support in their areas of certification.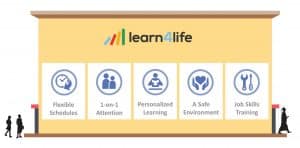 All curriculum is mastery-based, with the Common Core state standards mapped onto courses offered by the school, and all students have personalized learning plans. Most students take two subjects at a time, or three if they're highly motivated. They work at their own pace through written and online materials, often in two-hour small-group meetings with teachers and students, as well as one-to-one support from teachers and tutors.
Using the Read180 program, Rutledge and Sherlock said that incoming students, who typically read at a 3rd-grade to 6th-grade level, often increase by three grade levels in six months. Read180 includes adaptive, online learning combined with reading physical materials and having instructional and support time with teachers. Learn4Life adapted the standard Read180 model in partnership with Scholastic. The standard approach is five days per week, 90 minutes per day, but the Learn4Life model is based on two days per week at school combined with reading the physical books whenever and wherever works best for the student, whether at home or at school. Alta Vista also offers optional book clubs that many students join.
It's common for students to arrive undercredited in core academic areas but on track with electives. Nonetheless, the school does offer some online elective courses, using the Apex Learning and Edmentum platforms, on topics such as art history, health, and child development. Fewer students take these courses compared to core subjects such as reading, writing, and math. All students also take a professional skills course that focuses on topics such as goal-setting, work skills, and time management. While many students work with a substantial amount of independence, there are many structures that facilitate their progress, and additional supports and structures are put in place as needed.
Students have multiple opportunities to demonstrate mastery, and their progress on competencies is transparent, with the School Pathways learning management system updated continually. They also receive snapshots of their academic status every four weeks, with 13 reporting periods throughout the year.
The school's very flexible schedule — students must attend at least four hours twice per week – is a key support for students who are juggling school, work, and often parenting or other family responsibilities. To further accommodate students' schedules, the school is open 8:00 a.m. until 6:00 p.m. on weekdays. Alta Vista operates 12 months per year, with two weeks off around New Year's, one week of spring break, and one week in the summer. (Teachers also accrue two additional weeks of vacation that they can take flexibly.) Students can enter the school at any time of year and graduate at any time. When a student completes their final credit, there's a longstanding tradition that a teacher rings a hand-bell and all students and staff have an impromptu celebration.
Learn4Life reports that their program substantially increases the percentage of students who receive a diploma, either by graduating from Learn4Life directly or by returning to their sending districts after Learn4Life helps them get back on track. The model has much to offer to the field of competency-based education. Along with other strong and innovative personalized learning models, it clearly warrants research to understand its implementation and outcomes more deeply. The next post in this series focuses on how Learn4Life supports students' non-academic and career development needs.
Learn More
Eliot Levine is the Aurora Institute's Research Director and leads CompetencyWorks.