Implementing Competency-Based Education in Your School or District: A Tool to Help You Chart Your Journey
CompetencyWorks Blog
---
Whether you are new to competency-based education (CBE) or looking to advance your school to a deeper level of the work, you are not alone if you are not quite sure what to do first (or next). Educational leaders often report to us the need for guidance and support with regard to the development of multi-year implementation plans and how to measure the plan's success. The field has evolved greatly since we first started this work in our schools in the early days of CBE. For many years, a five-part definition framed much of the work. In 2019, the Aurora Institute released an updated definition for CBE  (see below) which outlines seven design principles focused on the roles that student empowerment, assessment, student support systems, progress based on mastery, multiple learning pathways, equity, and learning expectations have in supporting and advancing CBE work.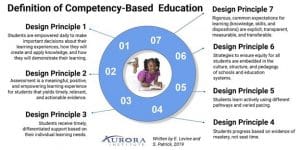 In 2018, we co-authored a book entitled Breaking With Tradition: The Shift to Competency-Based Learning in PLCs at Work (Stack and Vander Els, 2018) to help the field identify their starting point, recognizing that for any district or school, areas of relative strength and areas of relative growth may differ. One of the book's major resources was a design rubric, based on the original five-part CBE definition, which allowed educators to assess where they are in their journey as it relates to the CBE design principles. This initial reflection would be the starting point for conversations about next steps. We have had the opportunity to work with many districts around the country from coast to coast utilizing this tool to reflect, consider next steps, formulate a plan, and begin to enact this plan within their district.
As work in CBE has evolved and deepened, we are excited to share with the field this updated design rubric tool, aligned with the 2019 Aurora Institute definition of CBE. It's too long to include here in its entirety, but part of the first page is shown below. This tool has been developed with feedback from teachers in the classroom, building and district administrators, and national competency-based education experts, and is intended to allow districts and schools to engage in guided self-reflection and goal setting. It can also be used by teachers who are working more independently to make changes in their classroom. This tool will be highlighted in our next book, due out later this year from Solution Tree Press.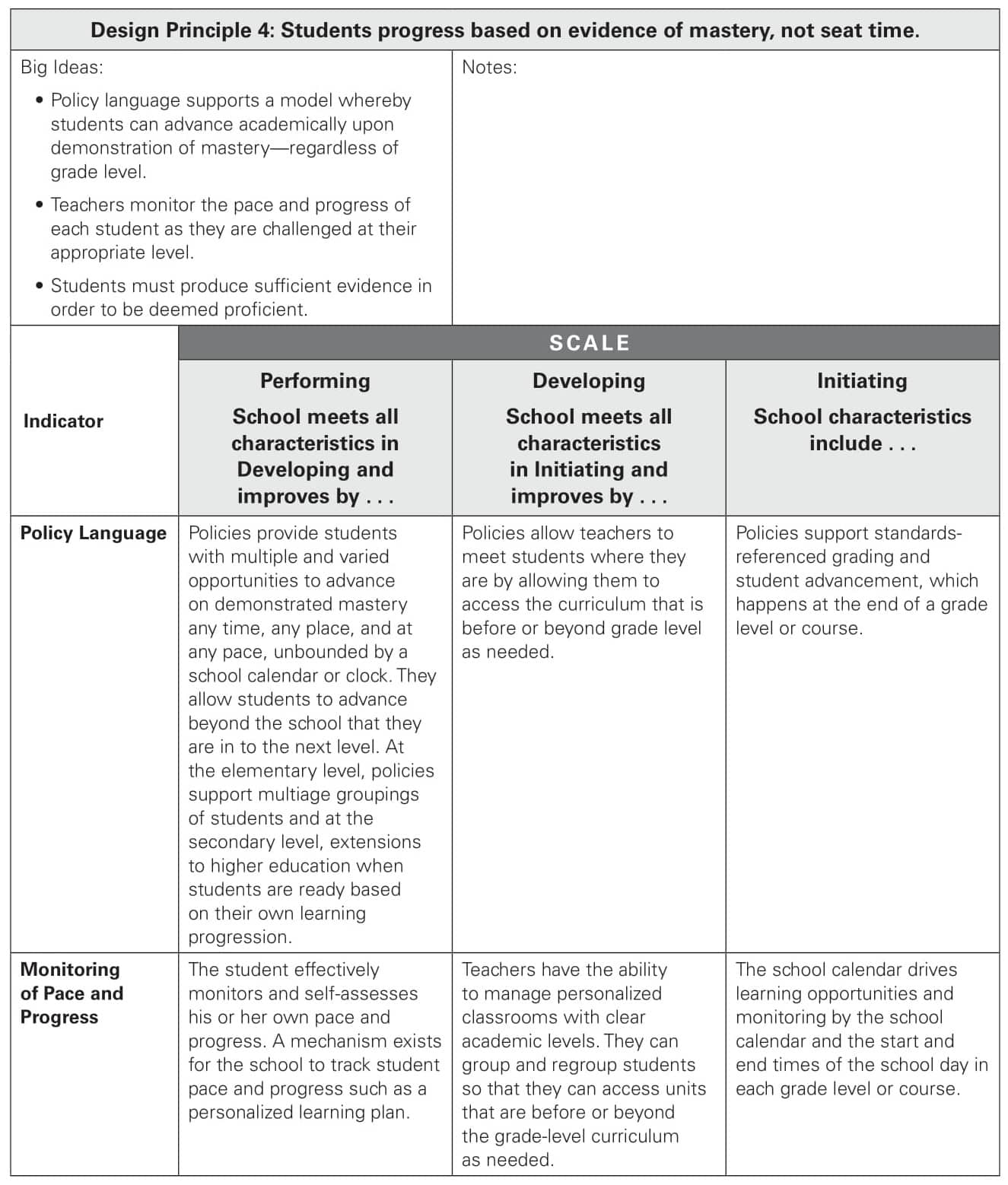 One of the primary uses for this tool is for self-reflection. In each school and district we have worked with, we have found unique areas of strength to leverage and areas for growth. It is about starting at the place that is right for you. Educators are encouraged to complete a self-assessment against all seven design principles before starting the work, and consider the following questions as they do so:
What elements of competency-based learning already exist to some degree in our classroom and/or school?
This initial self-assessment is considered your "current reality," and will serve to plot your course for future work and also serve as a benchmark to show growth in your plan development over time. Many who complete this first step often tell us that they rated themselves in the initiating stage in most categories. Some even jokingly ask us if there is a category below initiating. This is perfectly acceptable, and even normal! The work to transform your classroom and/or your school into one that is competency-based will not happen overnight. It involves some significant transformative work around school culture and beliefs about learning and assessment. Being true to yourself on your starting point is important.
What needs to evolve in my classroom and/or school to advance the design principle to the next level?
By answering this question, you will be recognizing your next steps in your journey. Transforming a classroom and/or school into a competency-based model may take an average of three to five years, and perhaps even longer than that if you want the model to truly become part of the culture for your students and community. Knowing where to start is important, and self-reflecting on a regular basis (such as annually) will allow you to stay focused on appropriate next steps to continually advance your work.
Which design principle is really resonating with me. What must we consider integrating moving forward?
For many, once introduced to the design principles, something just rises to the top. Whether "empowering learners," "meaningful and balanced assessment," or "strategies to ensure equity," it is the one thing that keeps swirling around in your mind. For many schools, if a guiding coalition can come to consensus on that common area of focus, it can be a catalyst for transformative work because it encompasses the "why." Or, if another area becomes the area of focus, a staff will still keep this area in mind as they delve into another principle.
Which design principle will be the biggest challenge for me/us to implement and why?
Early in the journey, it is important to think about where the challenges will lie, and steps that can be taken to mitigate, or work around, those challenges. Do they involve people? If so, think about ways that you can bring those people into the work on some level. Oftentimes, people are less of a blocker when they have a stake in the outcome.
Do they involve policies or procedures? If you are a classroom teacher worried that your classroom competency-based approach will be too "radical" for a conservative school policy, try talking to your principal openly and honestly about your concerns. Oftentimes, the principal will allow teachers in this position to operate under the banner of a "pilot program," with increased flexibility and latitude to operate differently as needed to demonstrate that the model can be effective.
Do they involve community perceptions about competency-based learning? Engage with your community to understand what their questions or concerns are with the model. Oftentimes, their lack of support really translates into a lack of understanding, and that can always be overcome through increased communication.
On which design principle will I plant my flag?
Your self-assessment should yield (at least) one design principle that you can use to leverage the rest of your work. It should be one that, once implemented successfully, can drive the work to advance other principles more effectively. For many schools we work with, assessment is the leverage point because it encourages teachers to practice measured learning at a deeper level, allowing other design principles (instruction, support structures, empowerment, etc.) to fall into place.
In our work in our own schools, and supporting many schools and districts across the country, our book Breaking With Tradition, and specifically the CBE school-design rubric, have been tools that have assisted teams in how they can meaningfully move forward in their work. Erin Milbury, principal of Seabrook Middle School in New Hampshire, has been engaged with her staff in their competency-based journey for three-plus years. Erin and Lauren Deconstant, their curriculum coordinator, decided to use Breaking With Tradition for a book study to "learn together" and found that it prompted "great conversations and solidified common understandings as well as 'a-ha' moments." The opportunity, even during the pandemic, was "well-received, and teachers were ready to further grasp the content."
Principal Milbury described the process of looking at the rubric as "powerful," noting that she had "thought teachers would rate themselves higher," when in fact they were brutally honest, but that this speaks to their culture. It was okay wherever they were because, out of these honest reflections, "came such great discussions that helped their school move forward." While reflecting on meaningful assessment, improving their assessment rubrics was identified as the next step that teachers felt they needed to be working on. This allowed their future professional development sessions to be targeted to rubric work, which staff whole-heartedly embraced.
Regardless of where you enter into this work, the other aspects of a competency-based system will make themselves evident. When any of us begin, we don't know what we don't know, but as we commit to creating equitable learning experiences that put students and student learning and growth at the center, these next steps present themselves. Teams, through a constant cycle of reflection, goal setting, and implementing next steps, are able to guide the process of change to move toward a more equitable, student-centered learning environment.
Learn More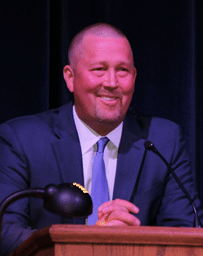 Jonathan G. Vander Els directs innovative, competency-based projects for the New Hampshire Learning Initiative and is co-author of Breaking With Tradition: The Shift to Competency Based Learning in PLCs at Work (Solution Tree, 2018). Formerly, Jonathan was a principal in an elementary school recognized nationally as a model professional learning community and competency-based school. Jonathan has consulted, coached, and presented at conferences and institutes throughout the United States, and lives with his wife and three children on the NH Seacoast. Follow on Twitter @jvanderels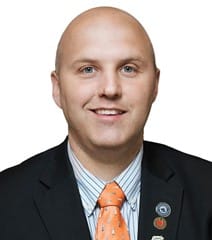 Brian M. Stack is the principal at Sanborn Regional High School in New Hampshire, a district that has been active with competency-based work for the past decade. He is a co-author of Breaking With Tradition: The Shift to Competency Based Learning in PLCs at Work (Solution Tree, 2018) and has consulted and coached educators on their redesign work in schools from coast to coast. Brian is the 2017 New Hampshire Principal of the Year and an associate and author with Solution Tree, an organization that provides professional development resources to schools. He lives with his wife Erica and five children on the NH Seacoast. Follow on Twitter @bstackbu