Laying the Groundwork for Proficiency-Based Learning in Rhode Island
CompetencyWorks Blog
---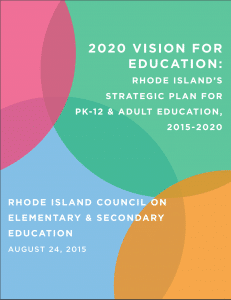 This post was previously released and has been updated as Rhode Island moves towards a revised set of state policies to guide their Diploma System. 
Thanks to Lori McEwen, Chief of Instruction, Leadership and Equity at Providence Public Schools and Dana Borrelli-Murray, Executive Director, Highlander Institute for talking with me about how personalized learning, blended learning, and proficiency-based learning are advancing in Rhode Island.
There is a lot happening in Rhode Island regarding education. The communities in Rhode Island seem to be bustling with discussions about how to improve their schools, with much of it focused on personalized learning and blended learning catalyzed by the Highlander Institute. Much less so on how to create proficiency-based systems.
Rhode Island is an interesting case study as it has a thick policy foundation for a proficiency-based diploma and secondary school practices to support personalization, yet I couldn't find any districts that were committed to creating a K12 proficiency-based system. There are certainly sparks of proficiency-based innovation in Rhode Island. For example, the Met, one of the early models of highly personalized competency-based learning, started in Providence. Blackstone Academy and Blackstone Valley Prep are both proficiency-based, from what I understand. Cumberland High School has made incredible progress by starting with the goal of creating a standards-based grading reporting system and then using it to put all the important pieces in place to ensure consistency and transparency. There are also efforts of after-school programs to use competency-based models to create credit-bearing opportunities outside of school as well as Big Picture Learning's College Unbound. (It's possible I just didn't tap into the right networks. Please, if you are a school in RI converting to a proficiency-based system, let us know.) From what I can tell, this suggests that those districts and schools that want to become proficiency-based can within the state policy context.
Certainly, over the past twenty years, the state has been a leader in establishing a set of policies that support a proficiency-based system. These policies have now been re-organized into a set of regulations called the Diploma System, which emphasizes proficiency and personalization. However, few districts are taking advantage of this…yet. My guess is that we are on the verge of seeing districts in RI begin to realize that they can't get all their students to graduation-levels of proficiency without increasing the personalization of their schools (focusing on what students need to succeed, not just digitalized content) and converting to a proficiency-based system that helps them monitor proficiency, progress, and pace of their students. (See the story of Connecticut, in which superintendents are the leaders in the effort to introduce personalized, competency-based systems of education.)
Strategic Plan
The Board of Education approved a new strategic plan in 2015 based on the input of 11,000 people in surveys and thirteen meetings held across the state. Truly, this approach to engagement in shaping strategic plans needs to be considered by every state from now on. This is especially important with ESSA opening up the door for communities and states to move beyond the rhetoric of "college and career ready" and set the vision for what they really want for their students. If we get this right, then we can demand that the policies, including assessment and accountability, are aligned around them. If you think other things than reading and math are important, now is the time to reboot our state policies to think about children wholistically.
The vision is for a RI graduate to be well prepared for postsecondary education, work, and life. He or she can think critically and collaboratively and can act as a creative, self-motivated, culturally competent learner and citizen. The values driving the vision are equity, support, diversity (culture and different bases of knowledge), autonomy, preparedness, personalization, and safety. The priorities are: Teacher and Leader Support; Early Childhood Education; Personalized Learning Statewide; Globally Competent Graduates; Informed Instructional Decision Making; and Student-Centered Resource Investment.
In the plan, personalized learning emphasizes digital approaches to personalizing, while globally competent graduates emphasizes social emotional wellness, cultural competency, and dual languages. There is mention in the section on personalized learning that progress will be made base on "demonstrated mastery" and a reference that educators can use a blended, proficiency-based approach. I wouldn't expect ideas that develop from community members to include competency-based education unless they had seen it in action. It is primarily an educator-led movement.
Since 2003, Rhode Island has put into place many policies that are needed in an aligned comprehensive competency-based system. In 2015, the Council on Elementary and Secondary Education 2015 Secondary Regulations created a framework that makes up the new Diploma System, including proficiency-based graduation requirements, multiple pathways, individualized learning plans, multiple opportunities, and multiple measures to determine proficiency.
According to the RIDE website, the concepts of proficiency and personalization permeate the Regulations:
(1) All students must attain an acceptable level of academic achievement in each of the six core academic areas, integrated with applied learning skills in order to be successful in college and careers; and
(2) Effective instructional delivery demands an understanding of the needs of each individual student and supports that will help students attain at least the minimum level of proficiency.
Much of this system is left to the districts to develop. State graduation requirements are:
Demonstrated proficiency in 6 core areas (English Language Arts, math, science, social studies, the Arts and technology)
Successful completion of 20 courses (at a minimum)
Completion of 2 performance assessments (exhibitions, portfolios and/or comprehensive course assessments)
Pass PARCC's reading and mathematics tests at level of partial proficiency (this policy may be changed)
See Prezi for more information
Reflection: State Education Commissioner Ken Wagner is advocating to eliminate passing PARCC as a graduation requirement. Bravo to Commissioner Wagner – it's a bad practice for state policymakers to use tests designed for one purpose to be used for another. PARCC has been designed to support accountability needs and at best can be used as a quality assurance mechanism to ensure consistent credentialing of proficiency. It's important to remember that with ESSA, there are more options available to create even better continuous improvement mechanisms that can also meet the demand for accountability data.
As we speak, there are changes underway regarding the Diploma System. In late March, RIDE held community conversations regarding the Diploma System and the development of Secondary School Regulations. (See the March 2016 community presentation and questions from those meetings.) The Council on Elementary and Secondary Education reviewed a set of proposed changes in April to: better align course completion with proficiency levels to be determined by LEAs, consider a Commissioner's seal for math and literacy to indicate students having demonstrated college/career readiness through an array of optional exams or dual credit course, and optional pathway endorsements. There is already a seal available for biliteracy.
Currently the Board of Education is considering a new set of regulations. The summary of the changes can be found here.
Reflection #1: If left up to districts to determine proficiency levels, we can expect to see variability across the state in what it means to ready for graduation. Maine has this same challenge. If we are going to create a new proficiency-based system that embeds consistency and accountability into the operations of districts and schools, states have a critical role of catalyzing a collaborative process of calibration across districts. Otherwise we are creating a system that will still demand the top-down accountability system with all its horrific unintended consequences to gauge whether students are reaching a minimum level of proficiency. The question for all of us is do we want to have to use PARCCs and SBACs to ensure consistency of proficiency and/or is there another way to do it that we build the instructional capacity of the teacher workforce so that there assessments and instruction is fully aligned with the pre-determined levels of proficiency we expect for each performance level?
Reflection #2: Interestingly, there is also a statewide Early Warning System (EWS). My understanding is that within proficiency-based systems, monitoring how students are progressing and if they are off-track to graduation should be developed at the district and school levels. Assuming RI districts do convert to proficiency-based learning, will the EWS at the state level no longer be needed? Or can that information begin to form a stronger capacity to create incentives and more flexible resources to respond to the needs of students who are re-enrolling in school or are over-age and under-credit?
Focusing on Instruction and Assessment
Rhode Island is focusing on helping its districts and schools make the transition by using the Common Core and other state standards to align instruction and assessment. It is trying to create a comprehensive system of assessments that includes performance-based assessments. One piece of this process is helping schools become more skilled at using performance-based assessments. In partnership with Center for Collaborative Education's Quality Performance Assessment initiative, RIDE has launched Scaling Up PBG in sixteen schools. There is also an effort to rethink the high school experience to be more engaging and motivating to students.
—
All in all, Rhode Island is in a very strong position to support its districts in converting to proficiency-based learning. However, it really is going to be up to the educational leaders across the state to decide whether they are ready to focus on helping students reach proficiency by advancing upon mastery or if they plan try to help all students reach the proficiency levels within the Diploma System still operating within the time-based, traditional system.
Check out the The Rhode Island Educators' Guide to Personalized Learning podcasts.
Update October 2016: The RI Council on Elementary and Secondary Education voted to approve changes in the graduation requirements. The major change is that students will not be required to pass state exams to receive a diploma. See the amended regulations here.