Leap Innovations – Learning Exponentially for Advancing Potential
CompetencyWorks Blog
---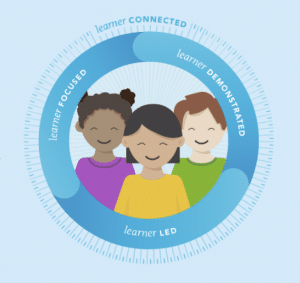 This is the second post in a series covering my recent trip to Chicago. Begin with CBE in Chicago.
Although only three years old, LEAP (Learning Exponentially for Advancing Potential) is already making a difference in the Chicago region and nationally. I had a difficult time finding LEAP Innovations in the old Chicago Merchandise Mart. Exiting the elevator, I followed the signs for the suite number. I found myself surrounded by very hip people half my age all dressed in black (although a few neon ties or scarves were to be seen), wandering around in intense conversations, eyes locked to their phones, or meandering dazedly toward the equally hip café in search of coffee. The receptionist informed me that I was, in fact, in the right place: LEAP is based within 1871, "the country's largest tech incubator." That explained it all.
The LEAP Framework
The most important thing to know about LEAP is its framework. It's one of the best ones out there that can guide districts in understanding what a next generation model might look like. It's powerfully written in that it focuses on the student experience.
The LEAP Learning Framework has four components:
Learner connected

: Learning transcends location in relevant and valued ways, connected to families, communities, and networks

Learner focused

: Understand each individual learner's needs, strengths, interests, and approaches to learning

Learner demonstrated:

Allow learners to progress at their own pace based on demonstrated competencies

Learner led

: Enable learners to take ownership of their learning so that it can dynamically adjust to their skills, curiosity, and goals
You can listen in to CEO Phyllis Lockett and Chief of Staff Amy Huang talk about personalized learning on the Dell Foundation podcast. Chris Liang-Vergara, Chief of Learning Innovations, is leading the efforts to improve the framework. They are collecting feedback on the framework as we speak. A 2.0 version will be released soon.
Please Note: The third component (learner demonstrated) in LEAP's framework focuses on flexible pacing. At CompetencyWorks, we don't emphasize pacing. In fact, we believe that pace matters. We understand competency education to be a structure to replace the traditional structure. It is designed to make sure that students are successful. Providing students with more time really means providing them with more instructional support. 

How LEAP Got Started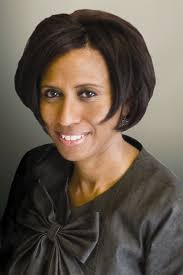 The backstory behind LEAP is interesting. CEO Phyllis Lockett was the first director of New Schools for Chicago – a strategy to improve education through choice, charter school networks, and expanding the number of high quality schools. (For background, Chicago's primary education improvement strategy is to create a portfolio of schools: provide more innovation space, increase the number of schools, and hold schools accountable by performance.) Bringing a strong private sector background and experience in large, complicated systems, Phyllis realized there was an urgent need in Chicago to create a mechanism to help schools – public, charter, and private – learn about blended learning and how to personalize education after attending an ASU+GSV meeting. With planning funding from the Bill & Melinda Gates Foundation and the Michael & Susan Dell Foundation, along with strategic support from Parthenon, LEAP was born in 2014.
Huang explained to me that LEAP was created to take on the challenge of how to bring the one-to-one study completed by Benjamin Bloom in 1984 to every student. She explained, "Time, technology, and flexible learning environments are important but they still are not enough. In fact, one might consider them design constraints.The challenge is to create the culture, the mindset, the instruction, and practices to truly personalize."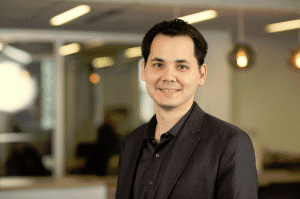 At first, LEAP's focus was on blended learning and ed tech. Chris Liang-Vergara joined the team, bringing with him a broader understanding of personalized learning. Given their starting point on instructional practices and tools in the classroom, LEAP is taking the steps to incorporate competency education as a schoolwide structure in deeper ways into their work. This is an organization not afraid to learn, adapt, and revise their work in response to new research, effective practices, and new opportunities.
The LEAP Strategy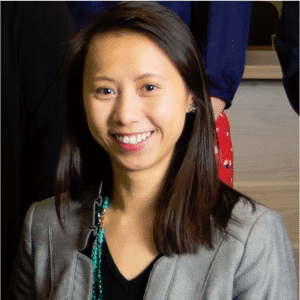 Amy Huang, Chief of Staff, walked me through all that LEAP does. She pointed out the emphasis is on learning, not education. LEAP wants to be rooted in the work – not just a think tank. The LEAP strategy is to discover, pilot, and scale personalized learning technologies and innovative practices in the classroom. Its approach starts with a focus on the classroom and instruction and then moves to figuring out what needs to change to support those practices. The strategy opens up innovative space by bringing in expertise and creating opportunities for educators to explore new ideas, including physical space in their office. It weaves new relationships so that ideas can flow. It creates feedback loops to vendors so products can be improved to fully meet educators' needs.
To date, they have engaged ninety-three schools in the Chicago region (some participate in multiple initiatives), 1,200 educators, and the Archdiocese (the largest in the country, it has 230 schools in its network). They are also training pre-service teachers – this summer, they are partnering with Golden Apple to train 300 soon-to-be teachers.
LEAP has three major initiatives:
1. Breakthrough Schools: In 2013, LEAP received a grant to be a regional intermediary in Educause's Next Generation Learning Challenge network. Led by Tim Carnahan, previously at New Leaders for New Schools, the Breakthrough Schools is a whole school transformation. LEAP has a blueprint (not public) that each of the twenty-two schools use to plan but does not promote a specific model. A few of the schools, including Belden, Lindbloom, and Lovett, have put some pieces of competency education into place. (Please note: The NGLC model includes competency-based education, which in many cases has been interpreted as related to online learning with a few schools creating competency-based school-wide structures.) Two studies are underway of Breakthrough Schools: Afton Study for financial sustainability and University of Wisconsin on the academic models and outcomes.
2. LEAP Pilot Network: The 18-month Pilot Network is a win-win model. Each participating school has a team of four to six teachers and the principal. LEAP work to connect school teams to promising ed tech products that meet their specific needs and help the team implement them with fidelity. They also deliver six months of professional development (paid for by the school) for each team to design personalized teaching and learning approaches for the grades/subject areas in the pilots.
Once teams have laid out their personalized learning strategies, teams select an ed tech tool from a curated list that supports their specific approach. Teams then pilot these strategies and their ed tech tools over the course of an academic year. Ed tech companies donate the licenses and provide free training. The ed tech vendors benefit by getting feedback from educators about how to improve their products and through access to a rapid research model based on high fidelity implementation. Essentially, LEAP has figured out a way to reduce the expense and time it takes to create high quality research and evaluation of tools and resources. The good news – the first year gains using MAP tests show promising results.
3. Collaboratory: The Collaboratory is a low-key, low-risk way for educators to learn from each other. There are roundtable events with speakers such as Sal Khan, Michael Horn, and Jim Shelton. Huddle rooms allow deeper exploration of tools and practices. LEAP introduces important concepts and lifts the vision for what it means to have an excellent personalized school through workshops. Speakers have included Michael Fullan speaking on coherence, Furman Brown on scheduling, Bror Saxberg on learning science, and Trung Le on vision.
In addition, they have a strong research arm. This is a much-needed capacity, and we need to see this level of research in pockets around the country to inform our work.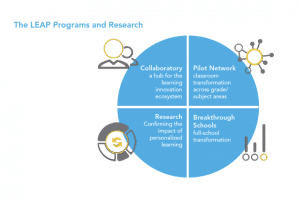 Continuous Improvement
LEAP is deeply data-driven. The practices it introduces are informed by research; it uses data to inform its own work and the work of the schools and educators participating in LEAP activities.
Professional Development, Tools, and Surveys: To support schools and educators moving toward personalized learning, LEAP offers professional development to Chicago Public Schools and Office of Catholic Schools anchored in the LEAP Learning Framework, with a focus on change management and leadership development; readiness tools to gauge mindset and values; and surveys for teachers and students. LEAP uses surveys to to measure personalized learning practice, build understanding, and also to help identify professional development needs. They've partnered with AIR to develop student surveys (now being used in grades 2-12) that are mirrored to teacher surveys so that teachers have the chance to see the match (or mismatch) between what they think is happening in their classroom and how students are feeling about it.
Evaluation: LEAP is also evaluating schools in the Breakthrough and Pilot Networks to determine which practices are making a difference. Working in partnership with the University of Wisconsin, LEAP has codified the school models in order to correlate with achievement outcomes. This includes classroom structures, instructional designs, budgeting components, staffing models, and scheduling structures. LEAP's data team, drawing upon a sharing agreement with Chicago Public Schools, tracks uses and progress on products as well as attendance and achievement.  
Beyond Chicago
Opportunity to Take on a Different Kind of Equity Challenge: One of the dynamics facing our metro regions right now is that poverty is seeping into the inner ring suburbs. This trend has been happening in Chicago for at least the last decade, with more affluent, smaller districts encountering the challenge to respond to the needs of much more diverse communities of learners. LEAP has noticed and is now engaging schools in Oak Park, Vernon Hills, and Fremont. This creates a very different set of conditions to understand and address the equity issues related to personalized learning. In Chicago, schools are still highly segregated by race and class (only 9 percent of the students are white even though 45 percent of the population is). In the inner ring suburbs, with the migration from the city, schools are becoming more diverse themselves.  
Learning Assembly: LEAP is leading the Learning Assembly, a national effort of a collaboration of organizations dedicated to improving the development and use of ed tech and innovative practice. Learning Assembly members are working with schools across the country to improve learning outcomes by applying and testing new tools and strategies in the classroom. These organizations help schools select the right learning tools to support their goals, provide training and support for educators, and give feedback to the ed tech market.
# # #
I joined a tour to Lovett Elementary and CICS West Belden with highlights in upcoming articles.
Disclaimer: I've participated in LEAP's review and curation of competency-based grading platforms.
Entire Series:
Part 1 – CBE in Chicago