Learner-Centered Tip of the Week: Grouping is a Strategy, Not the Goal
CompetencyWorks Blog
---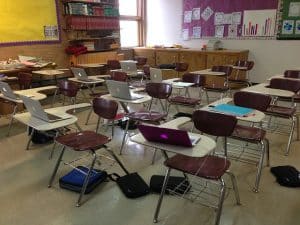 This post originally appeared on Courtney Belolan's website on January 31, 2017. Belolan is the instructional coach for RSU2 in Maine.
An essential component of learner centered proficiency based education is being able to meet learners at their particular readiness level in any area. Readiness level is another way of talking about the Zone of Proximal Development, the sweet spot of learning. In a personalized learning environment there should never be a moment when a learner is disengaged because they are being expected to work at a level that is either too hard or too easy. This is where flexible grouping comes in.
Flexible grouping creates the space for learners to work where they are ready, then move on. The groups are flexible, meaning that they do not have many fixed characteristics. Members of a group can change, the length of time a group meets for can change, when the group meets can change, and even who teaches the group can change. What is fixed about a flexible group, is the purpose. Once the purpose has been fulfilled, then the group dissolves.
At this point, I want to emphasize that flexible grouping is a strategy for personalizing learning. Flexible grouping is not a goal in itself. It never makes sense to group and regroup just for the sake of doing it. Flexible groups must have a purpose for being together, and the purpose will drive the rest of the "hows" about the group: how long, how often, how much, and even who. Here are some potential purposes for groups:
To address individual learning targets
To address a group, or series, of targets that fit together
To explore an interest
The "flexible" in flexible grouping is extremely important. Once we form groups, and learners stay in those groups for an extended period of time without the ability to move on from the group, we've created a tracked system. We all know that tracking is not good for learners. Separating learners with different strengths prevents them from seeing, hearing, and trying out strategies and ideas of other learners. Grouping flexibly keeps the space for learners with different strengths to continue to be able to interact with each other.
Here are some example week schedules that could be use to structure flexible groupings with one teacher, or a team: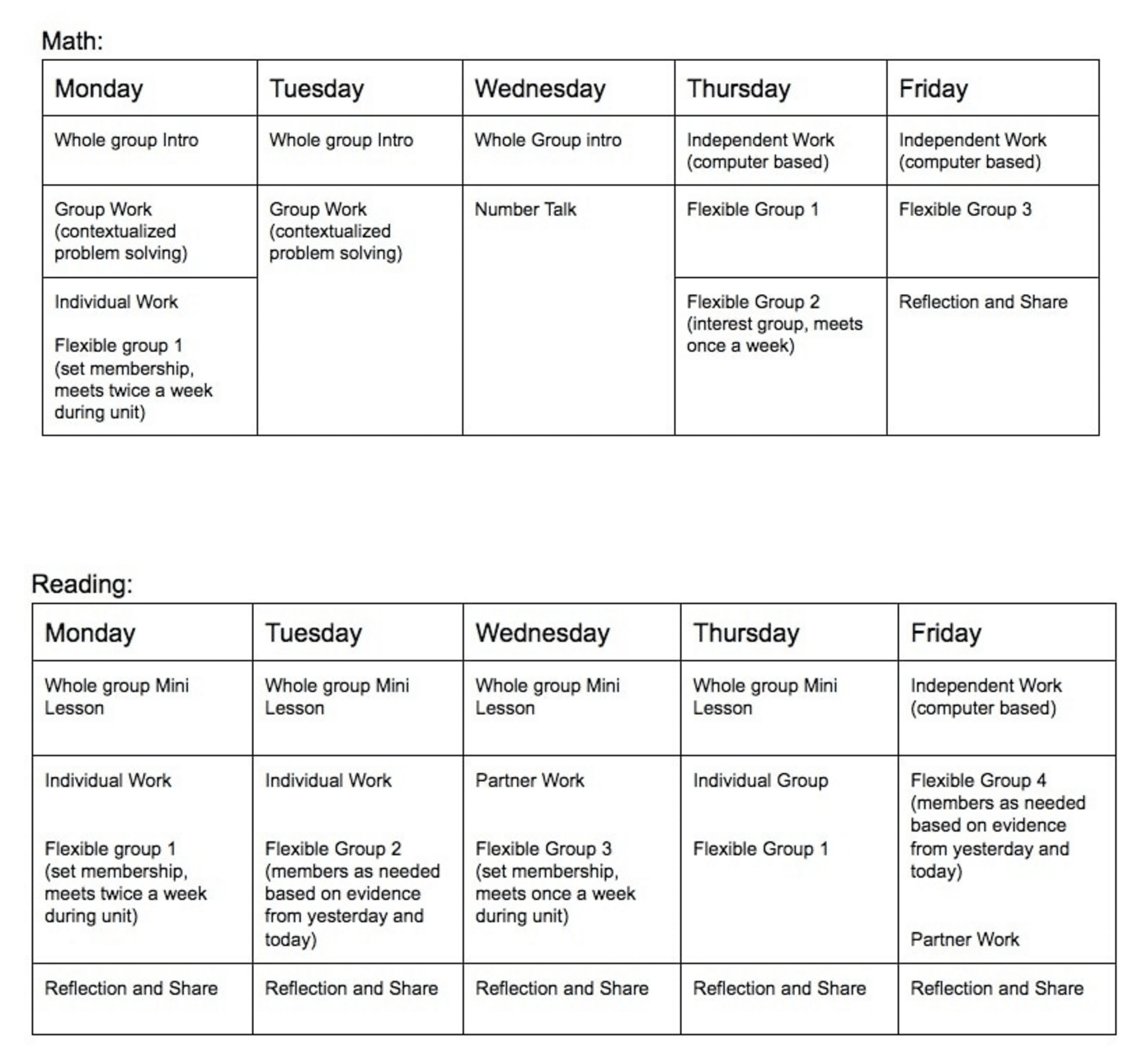 There are other possibilities as well:
Set-up a groups based on a flow of chunks of targets and topics spread across a few teachers. The groups meet everyday and learners progress through the groups as they are ready.  When a group is no longer needed, that instructor picks up the next group in the flow.
Set up groups based on interest in projects or inquiry. The groups meet every day until the project or inquiry is completed and presented.
Set up one day a week for just-in-time groups, and place learners in groups based on evidence from the prior days
Set up groups based on foundational knowledge within a target.  The groups may only need to meet once or twice.
See also:
---
Courtney Belolan works at RSU 2 in Maine where she supports K-12 teachers with performance-based, individualized learning. Courtney works closely with teams and teachers as a coach, and with the school and district leadership teams as an instructional strategist. Courtney has worked as a 6-12 literacy and instructional coach, a middle level ELA teacher, an environmental educator, and a digital literacy coach. Her core beliefs include the idea that the best education is one centered on student passions and rooted in interdisciplinary applications, and that enjoying learning is just as important as the learning itself.