On Our Way Toward Integrated Learning Systems
CompetencyWorks Blog
---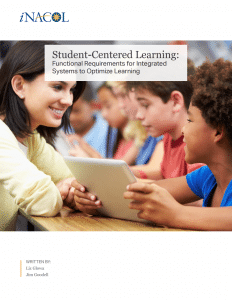 We have come a long way in terms of helping the vendors of information systems understand that we need "grading books" that will allow educators to monitor student progress on learning objectives that may be organized in a variety of ways. However, most still do not understand that what we want are student-centered information systems, not standards-based ones. We want to know what skills a student has, and we want to monitor their progress based upon both their own learning trajectory and grade-level standards. Yes, we want students to be on grade level, but if they are missing the important pre-requisite skills, then we want to work more intensively with them to build those skills. It's a both/and situation.
Thus, it is over-the-top fantastic that the Nellie Mae Education Foundation has released an RFP for integrated learning systems. Here is the information below. Be sure to read the iNACOL's Functional Requirements for Integrated Systems to Optimize Learning regardless if you apply or not.
The Nellie Mae Education Foundation is pleased to release a new request for proposals for integrated learning systems. The Foundation seeks to ensure that tools and resources that support the implementation of student-centered learning are effectively utilized by New England educators. We believe that the existence and implementation of integrated suites of technology tools designed to work seamlessly together in support of student-centered learning will accelerate the transformation of traditional public education systems to better prepare all students for college and career.
This opportunity is designed to support a state-wide effort to pursue integrated learning systems to advance student-centered learning. We invite you to review the request for proposals and the the iNACOL publication Functional Requirements for Integrated Systems to Optimize Learning, which details the functions and architecture of integrated systems that might best support student-centered learning.
Please feel free to share this opportunity widely. Direct questions about the RFP to Lucas Orwig at [email protected]