Where We Started and Where We Are Now: Reflecting on the Field of Competency-Based Education
CompetencyWorks Blog
---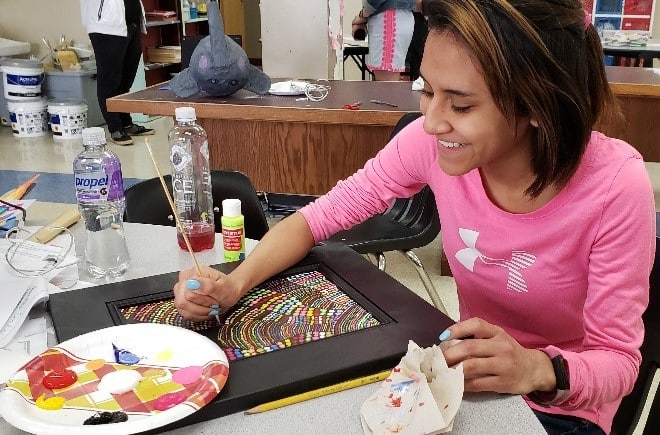 With the field of competency-based education growing and changing so quickly, it's important to step back from time to time and reflect on what we've learned, what has changed, and what's needed next. At the Aurora Institute we see and hear many perspectives on the field from our school visits, research, reading, conferences, policy visits, and other connections with innovators and leaders in the field. All of these views inform a reflection we do annually with our CompetencyWorks Advisory Board.
This blog post shares some of the conclusions of this year's reflection process. We also conducted a webinar recently with a more detailed discussion of what we learned; you can find the webinar recording and slide deck here.
Where Did We Start and Where Are We Now?
From the outpouring of resources in recent years to guide CBE design and implementation, a newcomer would never know that when CompetencyWorks started ten years ago they could only find one publication on this topic. Now there are hundreds of publications, thousands of blog posts, and schools across the country in all stages of development. They have enabled great increases in the quality, quantity, and understanding of competency-based practice.
The Stages of Development figure below gives an overview of early models and policies that were fundamental in driving the field's development. The top row focuses on innovations in practice, and this CompetencyWorks blog post from our previous strategic reflection discusses most of the entries there. The new entries under "Scaling Strategies" include support organizations, regional professional learning communities, profile of a graduate, and integrated student supports.
Many organizations are now supporting the scale-up of competency-based practice at the school, district, and state levels. A comprehensive list across the country would be a valuable resource. These organizations have grown in number, influence, and the range and sophistication of services they provide. Their growth reflects the expansion of the field and increased demand for these services. The growth of these organizations has also driven demand, because districts now have more support options than ever before. Expansion of competency-based practice has also been driven by the increased implementation of PLCs, improved student supports, and the number of districts and states that have developed a profile of a graduate. These graduate profiles enable new definitions of student success that align to and support more holistic student learning outcomes.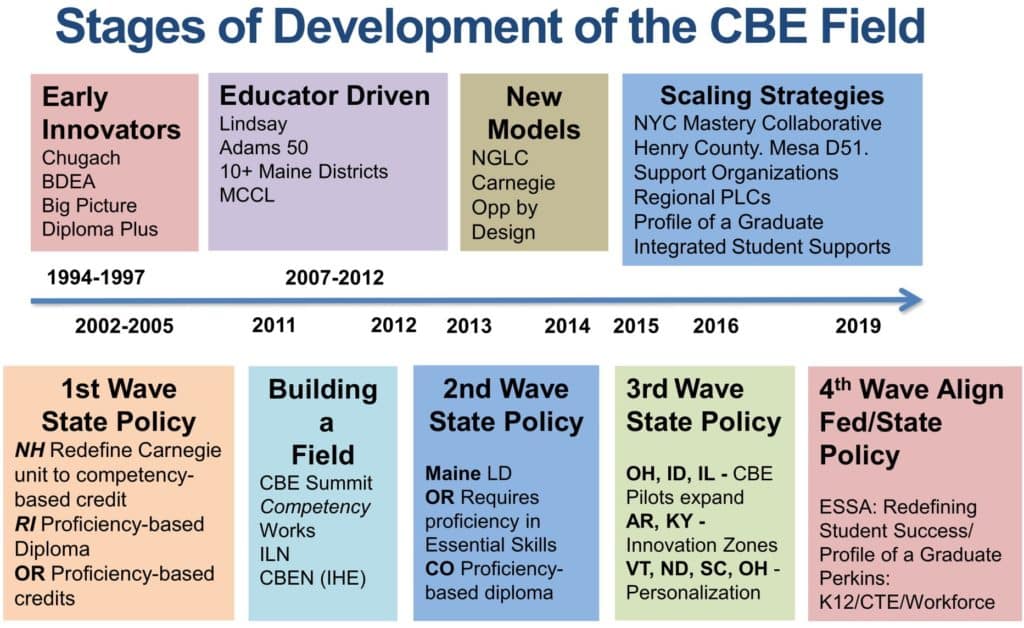 Another development is a revised definition of competency-based education, which the Aurora Institute has worked on in collaboration with dozens of leaders in the field for the past two years. The revised definition will be released by the Aurora Institute in November. It reflects a deeper understanding of key issues and developments in the field since the original definition was developed and published in 2011, after undergoing a similar process of deep discussion among early innovators. It will also include materials to help contextualize and understand the definition, including a set of belief statements, frequently asked questions, common misconceptions, and resources.
The revised 2019 definition also reflects an increased recognition from leaders in the field that addressing inequity in student opportunities and outcomes—a fundamental impetus for competency-based education since its inception—is not happening quickly enough and that greater effort is needed. The revised definition will have a new element that is specifically about equity, and the accompanying belief statements include:
Equity is a central goal of advancing competency-based education systems.
Communities that aspire to achieve equity must work toward implementing a competency-based education system.
Competency-based education is driven by the equity-seeking need to transform our educational system so all students can and will learn through full engagement and support and through authentic, rigorous learning experiences inside and outside the classroom.
The second row of the Stages of Development figure above focuses on policy, which has been advancing notably alongside practice. In the 4th Wave of policy advances, the Every Student Succeeds Act has created new opportunities. ESSA has asked communities to define student success more holistically, and we have seen important work in this area at the local level and through state-level graduate profiles such as in Virginia, South Carolina, and Utah. The passage of the Strengthening Career and Technical Education for the 21st Century Act (Perkins V) in 2018 has also provided states with opportunities to align pathways across K-12 and post-secondary education. These pathways require the greater emphasis on skills, knowledge, and dispositions that are central to student success in competency-based education.
State policies that enable competency-based education have greatly expanded. In 2009 just a handful of states provided flexilibility around demonstrating competency through varied pacing rather than seat time. By 2012 this had expanded to almost two dozen states. Now in 2019 nearly all 50 states have policies enabling competency-based education at different levels—some just starting, and some with comprehensive approaches. The figures below demonstrate this shift with snapshots of state policies in 2012 and 2019. The states are categorized as "Advanced," "Developing," "Emerging," and "Not Yet" on the map to signify whether the state has permissive, enabling, or comprehensive state policy to advance competency-based education. In the 2019 map, there are 17 Advanced states, 14 Developing states and the District of Columbia, and 18 Emerging states. More information about the snapshots is available here.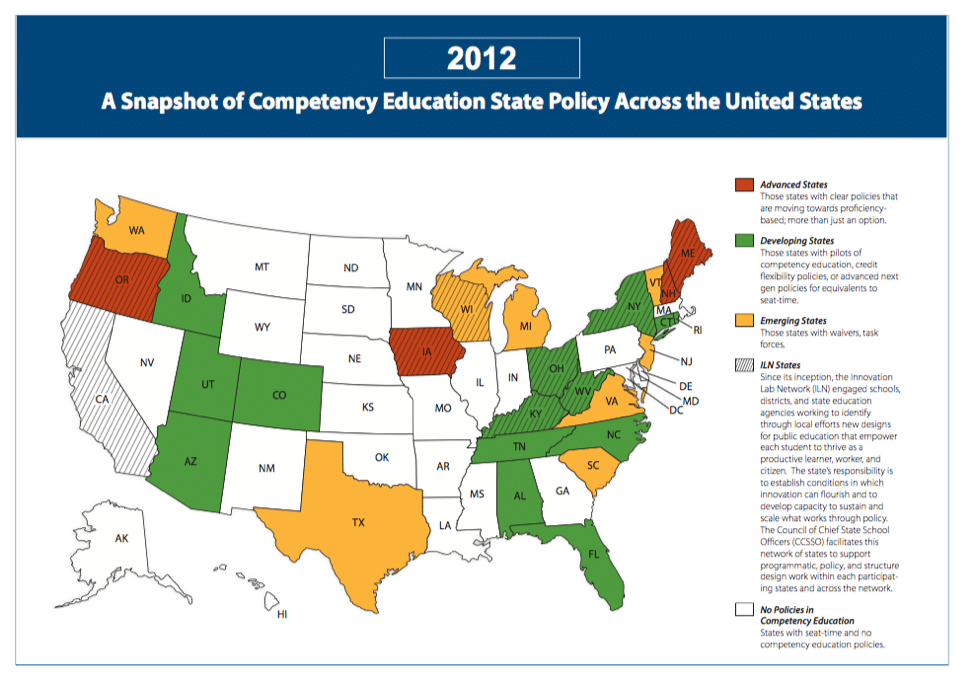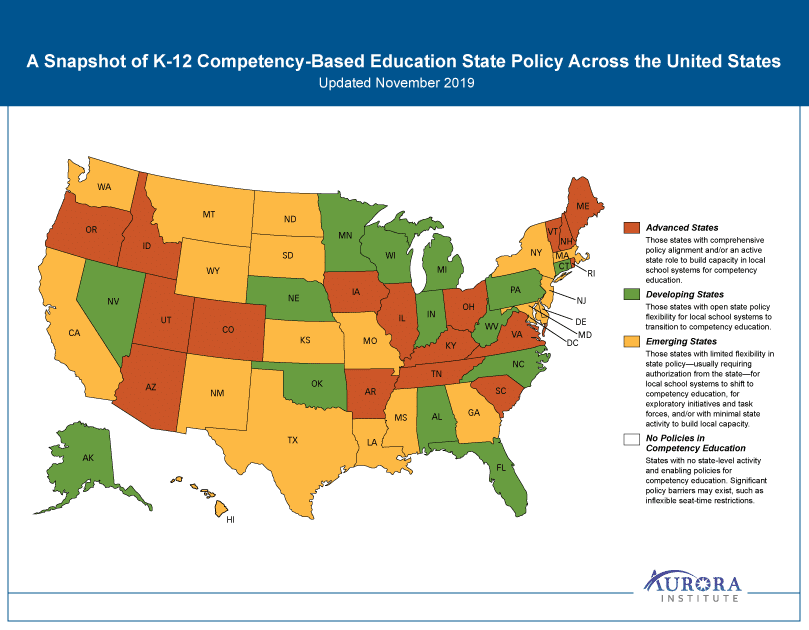 The second blog post from our annual reflection focuses on new resources and future directions in strengthening the K-12 competency-based education system.
Learn More
Eliot Levine is the Aurora Institute's Research Director and leads CompetencyWorks.