New Resources and Future Directions in Competency-Based Education
CompetencyWorks Blog
---
The first part of our annual reflection focused on the field's evolution and where we are now. This second part looks at how our understanding is deepening and future directions for building and strengthening the field of K-12 competency-based education.
How is our understanding deepening?
Seeing competency-based schools in action and hearing about their successes and challenges is deeply illuminating. There are a growing number of schools and districts to learn from about all stages of planning and implementation. Many of these are innovative, newer schools and districts, such as those shown in the image below from our annual strategic reflection webinar. Many more are featured in our summary of blog posts from visits to competency-based schools in 26 states.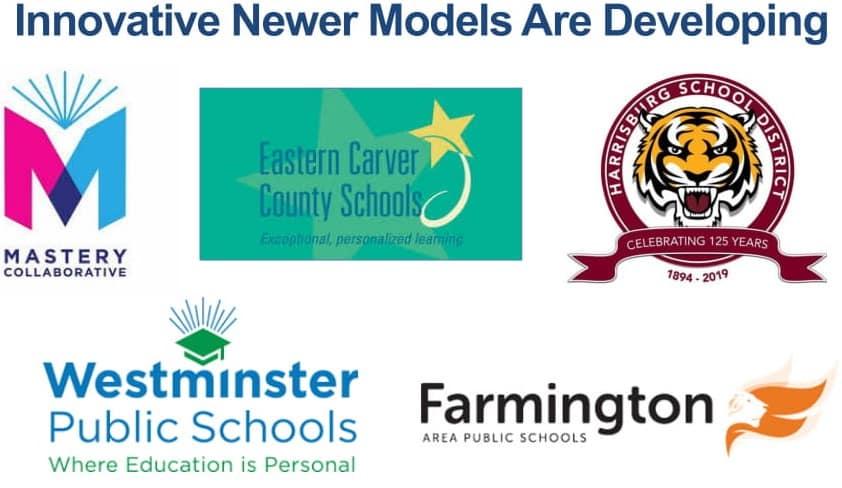 An impressive array of new reports, books, and other publications have also emerged to deepen our understanding of competency-based education since 2010. New resources from the past two years are shown in the three figures below. If there are publications you think should be added, please email me or mention them in the Comments box below.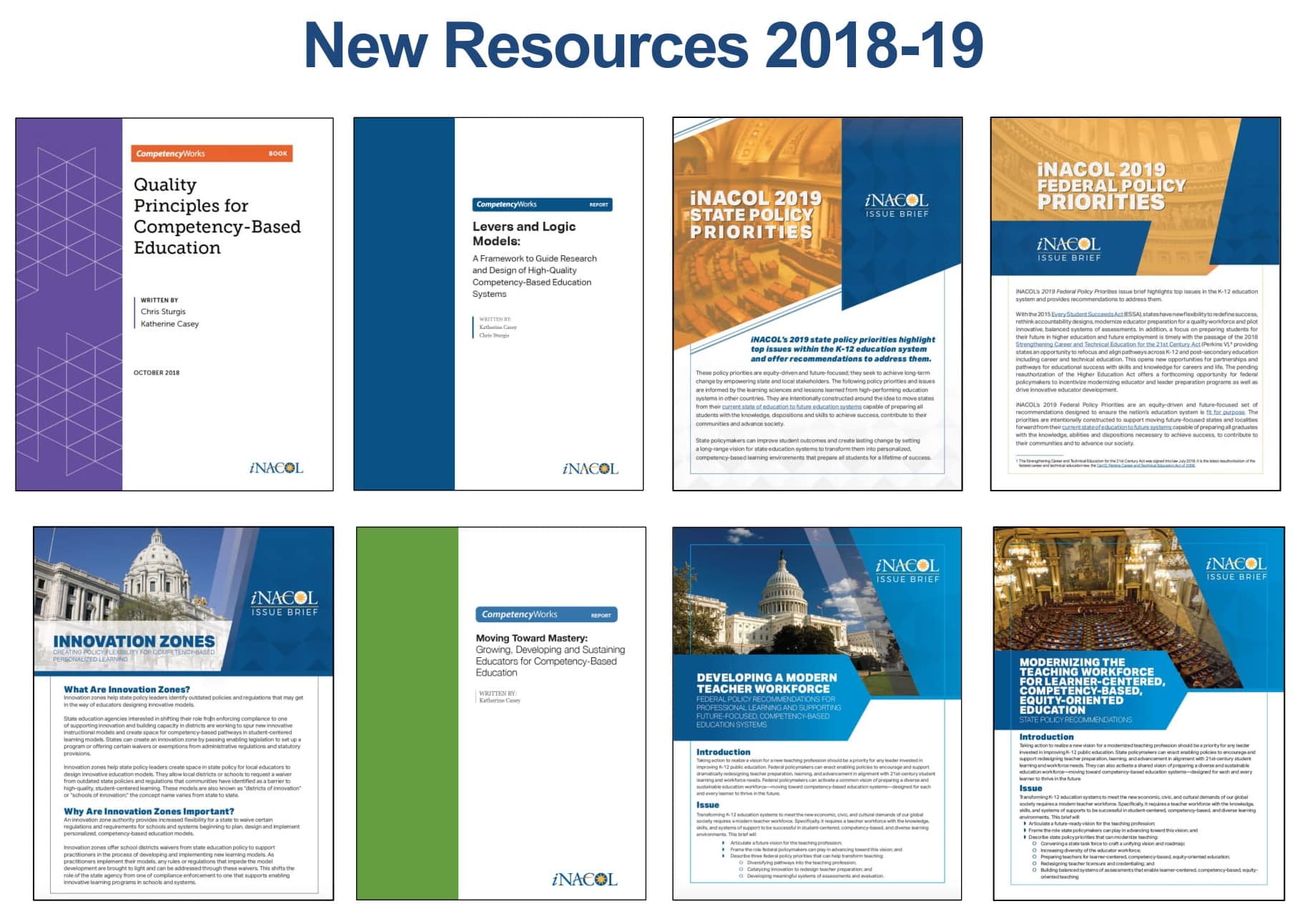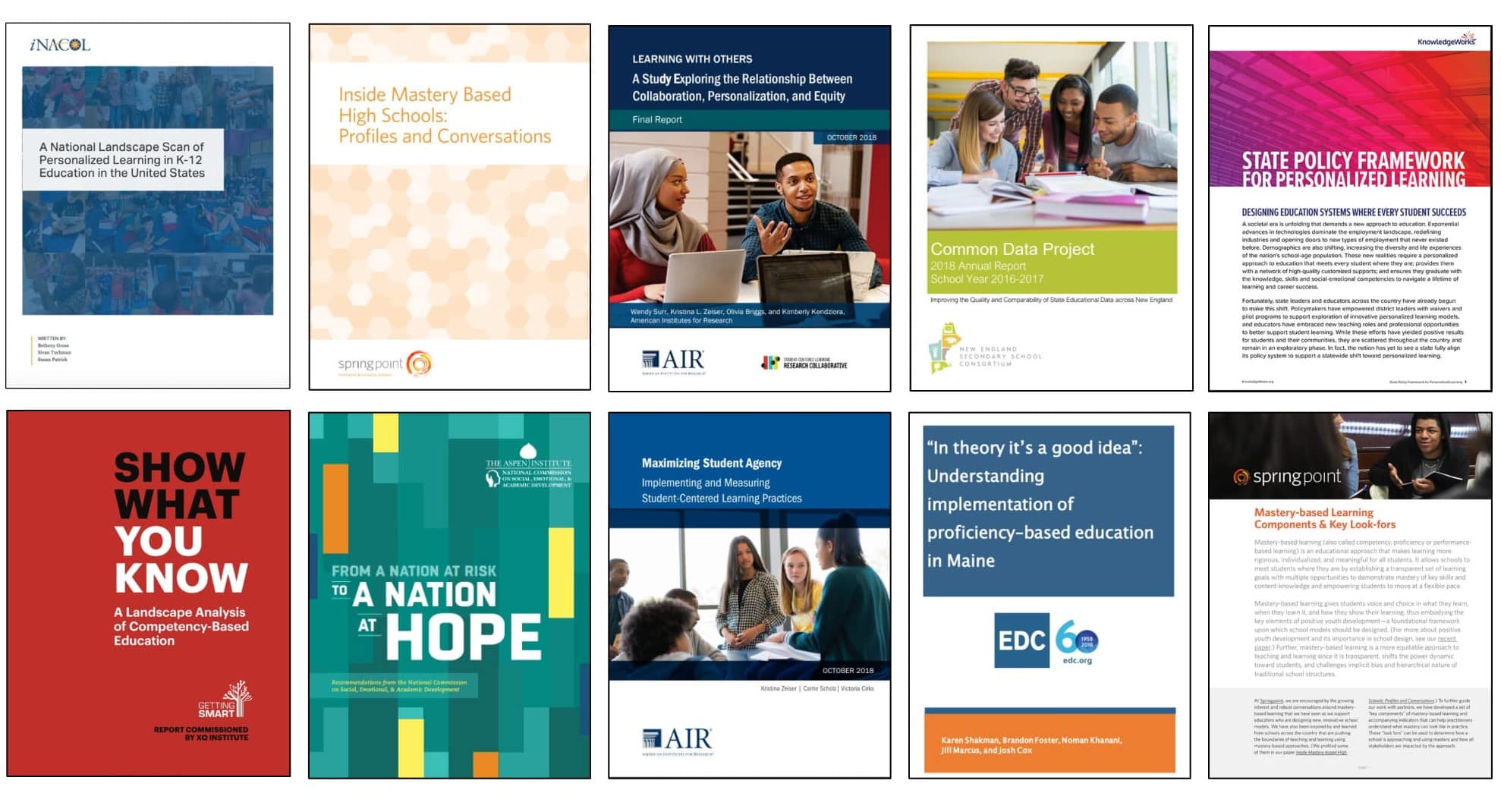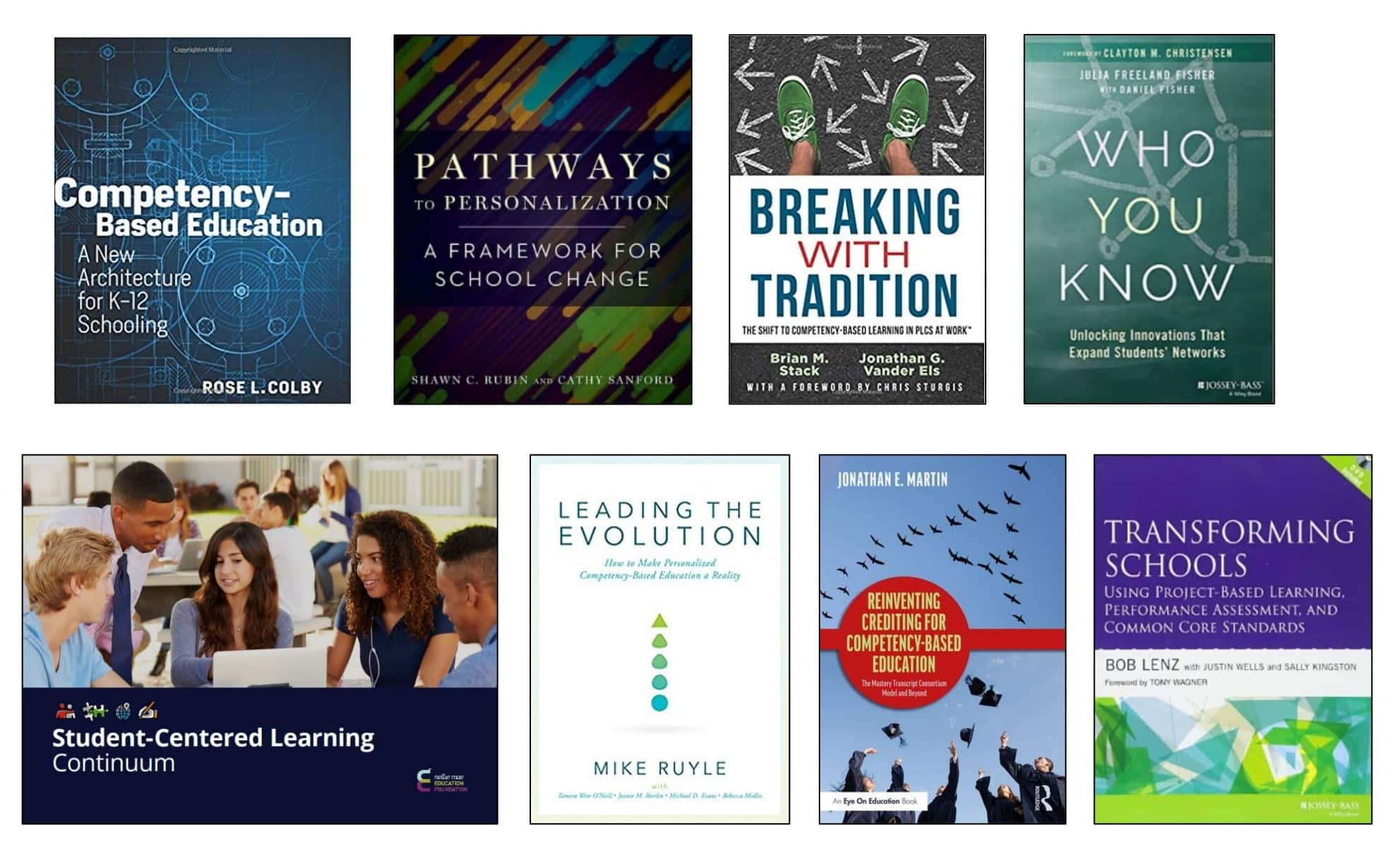 What are future directions for building and strengthening the K-12 CBE system?
Policy
Changes to federal and state policy are essential elements of creating space for building and strengthening competency-based education systems. The 2019 Federal Policy Priorities and State Policy Priorities provide analysis of recommended changes.
For federal leaders, the 2019 policy priorities are:
Launch a pilot program in the reauthorization of the Higher Education Act to support innovation;
Remove barriers for states in ESSA Section 1204 (Innovative Assessment Pilot);
Support continued expansion of Internet access, Wi-Fi, and broadband infrastructure; and
Target funding within the reauthorized Perkins Career and Technical Education Act to encourage alignment to postsecondary programs and pathways.
For states, the 2019 policy priorities are:
Redefine student success to prepare all students for college, career, and civic life;
Create meaningful qualifications based on mastery;
Redesign accountability systems for continuous improvement;
Build aligned, balanced systems of assessments to certify knowledge and skills;
Develop educator capacity for next-generation learning;
Build system and school leadership capacity for change; and
Establish enabling state policies to create and launch innovative learning models and multiple pathways.
Practice
Top issues for strengthening practice that emerged as high priorities for the field are presented below. We identified and/or created resources for improving the depth of understanding and quality of competency-based education in each focus area.
Research
A final step in the strategic reflection was looking at key challenging and emerging issues in the field that require additional research to strengthen competency-based education systems. The quality and quantity of research has been growing, but the field is still in great need of high-quality research on many aspects of implementation and effectiveness. Some of these key areas are:
What strategies are most effective for increasing diversity of the workforce and leaders in the field of competency-based education?
What does student agency look like in practice? What strategies and structures do teachers and schools need to promote student agency?
How can competency-based education be scaled most effectively?
What strategies will build public understanding and public will to support school and district policy development?
How can schools and districts prepare for proficiency-based diplomas?
How can the critical elements of balanced systems of assessments be constructed?
How can technology best support competency-based education?
What are pathways to higher education admissions that consider a student's body of evidence from competency-based pathways?
What would a college of education look like redesigned for competency-based education?
What strategies will build a competency-based education field that spans K-12, higher education, and the workforce?
What's clear from the strategic reflection is that the field is growing rapidly and building a tremendous body of experience and resources to support further development. It's also clear that substantial advances in policy, practice, and research are needed to reach the full potential of K-12 competency-based education systems.
Learn More
Eliot Levine is the Aurora Institute's Research Director and leads CompetencyWorks.