Reminder: Submit Proposal for the Competency Ed Strand for the iNACOL Symposium by March 26
CompetencyWorks Blog
---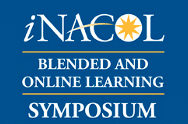 Hi everyone – This is just a quick reminder that the deadline for submitting presentation and workshop proposals is Thursday, March 26, 2015. You can get more information about the Request for Presentation Proposals (RFP) at the conference website. The iNACOL Blended and Online Learning Symposium will be November 8-11, 2015 in Orlando, Florida. The theme is: Connecting Powerful Innovators.
iNACOL is looking for highly interactive sessions – and we know that those of you who have become more advanced in competency education have a lot to share. In addition, we all need to be building up our knowledge on a number of issues: communications, performance-based assessments, how to use blended learning, information management systems, how to use data to drive improvement….and the list goes on. So, consider knowledge-building sessions as well as knowledge sharing.
If you have questions regarding the RFP, please contact Ally Swensen, Chair of the iNACOL Blended and Online Learning Symposium Program Committee, at [email protected].