Springpoint's Phased Approach to Implementing Competency-Based Education, Phase Two: Scaling Key Practices and Building Core Systems
CompetencyWorks Blog
---
This series describes Springpoint's approach to implementing competency-based education (CBE) with schools, districts, and networks. We developed a resource that outlines the three sequential phases of CBE and guides schools as they embark on this exciting journey.
In this second post in the series, focused on phase two, we discuss how teams can build core systems to enable CBE implementation. You can read the first post to learn more about developing a shared language, selecting competencies, and building out accompanying artifacts (rubrics, exemplar student work, etc.) The third post describes personalizing pathways for students. The snapshot below provides an overview of the three phases.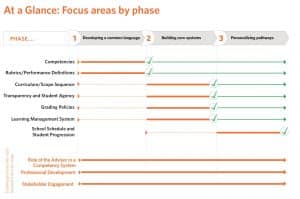 Phase two, in which teams build core CBE systems, is the longest phase. It takes time, energy, expertise, and patience as school leaders focus their time on developing and aligning a curriculum/scope and sequence to CBE, instituting practices that build student agency, thinking intentionally about schoolwide grading policies, and selecting a learning management system (LMS) that will support these efforts. This lengthy phase will see the expansion of competencies—we recommend growing the number of competencies to between eight and ten, total. We support our partners to answer the following questions to drive the work:
What is the progression of skills that students must work through on the pathway to mastery in each competency?
What is the pathway to mastery in each competency, including the progression of subskills?
How do learning experiences align to this progression to create a comprehensive scope and sequence?
How many successful "at bats" does a student need in order to demonstrate mastery of a competency within a course, and how do competency ratings roll up to course-level grades?
What system will track grades, mastery of competencies, and credits?
How does mastery within learning experiences fulfill traditional credit requirements?
The work of building core systems is difficult and will require constant iteration and stakeholder engagement. That is one reason it is critical for a school community to already have built a strong fluency around the shared common language of competencies, which we detailed in the first post in this series. Clear communications to familiarize new members of the school community will keep that level of competency fluency at 100%. For example, our partners at Urban Assembly Maker Academy asked students to create a presentation for parents about mastery learning, and Denver School of Innovation and Design hosted "Mastery Night" for parents. Many schools also create comprehensive onboarding experiences for new teachers. This can set a school or district up to have all their educators act as proponents and messengers of CBE, which this article discusses in depth.
Ensuring that this fluency reaches all teachers, students, and families will not only make phase two feasible, it also helps promote equity. The core systems of CBE—which this post will discuss in depth—can also support a school's commitment to equity. CBE, by design, is a more equitable approach to teaching and learning because it reduces the ambiguity around grading and mitigates bias across all levels of assessment supported by clear definitions, rubrics, and exemplar student work.
Curriculum/Scope and Sequence
Without strong instruction, schools run the risk of building complex CBE systems around a hollow core. In much of our work supporting schools, we start by building or looking at the state of teaching and learning. CBE is especially helpful in improving teaching and learning, making it a natural starting place for phase two.
Schools often start with a Portrait of a Graduate, which can begin the conversation on all of the skills and critical concepts within and across disciplines that students should master within their four years. This forms the basis of an overarching set of competencies that students will work through during their high school career, with added complexity and rigor as their learning progresses. In order for this type of scope and sequence to be successfully implemented, there needs to be clear alignment and exemplars for each competency and performance level. Teachers need intentional professional development to deeply understand and utilize exemplars, explicitly teach the competency, and provide consistent and meaningful feedback to students on their level of competency attainment.
Strong CBE schools know the importance of embedding competencies into rigorous and purposeful learning experiences, which ultimately serve as the basis for the learning progression that students follow on their path to graduation. These schools spend time intentionally sequencing the skills that students will engage in mastering over the course of their high school career. The arc of a skills progression for each competency must align with learning experiences, ultimately forming a new scope and sequence in which core skills build upon one another and fulfill traditional credit requirements.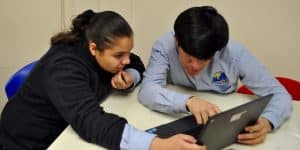 Transparency and Student Agency
It is deeply important that a CBE system help students develop a clear understanding of their own level of mastery and what is needed to improve. In phase one of a school's CBE implementation, students begin to self-assess their work and discuss self-assessments with their content teachers to calibrate their understanding of each performance level using specific evidence. In phase two of CBE implementation, this accelerates, with a marked increase in students' capacity for self-assessment. Students play a more significant role in driving conferencing discussions about their performance and self-assessment, and feedback broadens from the assignment level to overall student progression toward promotion and graduation targets. To further build student agency, students seize opportunities to drive elements of the learning experience.
In this phase, it is important to lay strong groundwork for a reality in which students are the owners of their learning in every respect. This culminates in phase three, when all students are making critical decisions every day with the support of their advisors to determine everything from how to engage in a particular assignment, to what learning experiences they need to develop particular skills, to how to structure their schedule.
Grading Policies
Once schools identify their full set of competencies, strengthen teaching and learning, and build out rubrics, they will need to align the way that student progress is reported and codify specific grade reporting practices (frequency, specific format, etc.).
Many schools will need to determine how mastery ratings translate to traditional grades. The formula for those calculations should be transparent to teachers, students, and parents. But, aspirationally, the school might be able to transition to a fully mastery-based grading and reporting policy by the end of phase two or three. No matter if a school needs to translate to traditional grades or if they already have a fully mastery-based grading and reporting policy, departments will need to develop a common policy on how many times a student must demonstrate mastery to earn a mastery rating and how students can maintain or improve that rating.
Grading policies are designed to provide transparency and guidance for students, teachers, and families about how mastery is awarded. True mastery is the demonstration of independently transferring a skill from context to context consistently over time. Grading systems that encourage the most recent and most consistent level of mastery to be reported are allowing for growth and the most accurate, timely data on a student's progress. We recommend to our partners that they do not average scores in their grading system, but rather base grades on demonstration of mastery. For example, a student demonstrating "meeting standards" consistently towards the end of a course may be awarded a grade in accordance with this level versus a grade that averages a semester's worth of assignments.
In summer 2018, Springpoint hosted Mastery Assessment Week. Alongside several national partners, we featured dozens of resources that can help educators implement competency-based grading, and several articles on pertinent topics such as crafting CBE assessments as well as mastery transcripts.
Learning Management Systems (LMS)
As the grading policy shifts in this phase, there will be a need for another method to capture student performance and progress. It's well-advised to avoid purchasing and implementing a new comprehensive LMS until the requirements for the system are clearly understood. In the interim, we have seen schools successfully implement a simple shadow tracking process in Google Sheets or another similar tool as a starting place over the short-term, and certainly in phase one.
Once requirements for a system begin to crystallize, selecting one or more products to pilot will be a far more fruitful endeavor. A fully implemented digital tool should be established by the end of this phase to support the changes to the schedule and student progression that will take place in phase three. The LMS will likely need to be compatible with existing (district) systems for recording grades and credit information, and, if that is the case, it's useful to plan for this alignment early on in the procurement and configuration process.
As leaders and teams tackle phase two, it is critical to remember to go slow to go fast. While the strong foundation established in phase one can provide some space to make mistakes and reorient CBE rollout as needed, skipping critical steps in phase two or forging ahead without necessary tinkering will likely set schools back over the long run—and might even cause some teachers to revert back to traditional systems. In the final post in this series, we discuss phase three by delving into the details around the school schedule and personalizing the learning experience.
Learn More: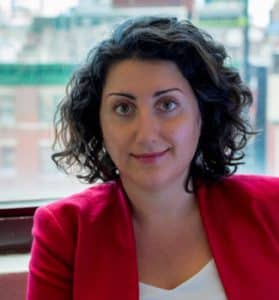 Elina Alayeva is Springpoint's Executive Director. As a founding leader of Springpoint, she has grown the organization and its offerings to expand reach and impact. Elina has deep expertise in strategic planning and systems-level alignment to enable successful school efforts, technology-enabled innovation, student-centered school models, and organizational operations. Prior to joining Springpoint, she designed and implemented a year-long funding focus on innovative secondary school models as a program officer with Next Generation Learning Challenges. Previously, she worked at Carnegie Corporation of New York as part of its Urban Education program, focusing on new designs for schools and systems. As a Fulbright Fellow, Elina researched ethno-mathematics in community-run schools on First Nations reserves in Canada. Elina currently serves on the advisory board of CompetencyWorks. She holds a Bachelor of Science in Engineering from The Cooper Union and a Master of Arts in Political Science from Columbia University.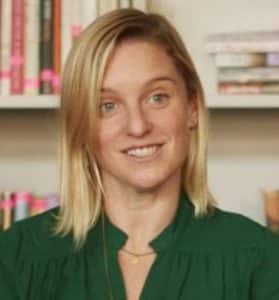 Christy Kingham is Springpoint's Director of Leadership and School Design. She works closely with Springpoint's partners to support the design and implementation of new, student-centered school models. Christy worked with The Young Women's Leadership School in New York City for eight years as an instructional coach, curriculum developer, and English teacher. She collaborated with colleagues to create robust student supports, design and implement a nationally acclaimed competency system, and implement intensive passion projects. Christy also taught English for seven years at Fox Lane Middle School in Bedford, New York. She graduated from Georgetown University with a Bachelor of Arts in English Literature, Columbia University Teachers' College with a Master of Arts in the Teaching of English, and Hunter College with a Masters in Educational Leadership. She has also been a teacher-leader with the New York City Writing Project and an adjunct professor with Drexel University's Graduate School of Education.