The Evolution of Competency-Based Transformation in Northern Cass
CompetencyWorks Blog
---
"It was either we continue to produce unprepared kids, or we change. And we made the decision as a district that we are done with that and we are going to make the change."
– Kelly Trudeau, Northern Cass Educator
This is the first post in a series about the Northern Cass School District. Links to the other posts are at the end of this article.
Northern Cass, a rural school district in North Dakota, is making an energetic transition to competency-based education. About half an hour north of Fargo, they are early innovators in what has become a larger movement for change within the state. The district is a single, newly-constructed K-12 school building that emerges after several miles of driving through farm fields. It serves 650 students from a sending area of 925 square miles, about three-quarters the size of Rhode Island.
Shared Purpose for Change
Their transformation began with a sense of shared purpose, well-stated by educator Kelly Trudeau in the opening quotation above about the need for change. (Northern Cass uses the term "educator" rather than teacher. Also "learner" rather than student.) She added that the Northern Cass School District has always been on the cutting edge, pushing educators to find innovations and best practices. "With this personalized learning journey, we're really starting to figure out that what has been happening in education just isn't working for our kids. It's not preparing them for what life is like when they leave us."
They knew it wasn't working because they had students who were strong in school but then struggled in college and jobs. "They've struggled to advocate for themselves," Trudeau added. "They've struggled to keep up with the rigor. Our move toward personalized learning is to allow them to learn some of those things that they'll need to do in college—when they don't have a teacher right next to them all of the time walking them through things and reminding them 'This is due tomorrow' and 'Your test is on Wednesday' and 'Make sure you're studying.' In the personalized setting, it's more on them to take control of that and take ownership of their learning. Then hopefully they'll leave high school being able to do that in college or being able to be a great employee for whoever they go to work for."
Educator Christian Thompson added, "It's really just learning how to learn. Our students were good at understanding concepts if they knew exactly what they needed to know, if they were told when and how to learn it. But when they were thrown into situations where they had to adapt and figure out how to learn on their own, that's what they really struggled with. And that's when I realized that something need to change."
Steps Toward Change
These realizations led the school community to discuss how they could really change. They turned toward discussing resources such as the book Beyond Reform: Systemic Shifts Toward Personalized Learning from the Lindsay Unified School District. They also visited school districts who were years into their competency-based transformation, such as Lindsay USD in California and RSU2 in Maine.
Once they decided to change, they continued working with outside experts and building their own expertise. They are part of a "Proficiency Competency-Based Learning" (PCBL) cohort of five districts in the state moving toward personalized learning. The PCBL cohort members are working with KnowledgeWorks and the Center for Collaborative Education. Their work is funded in part by the Bush Foundation, which is supporting competency-based transformation in the region.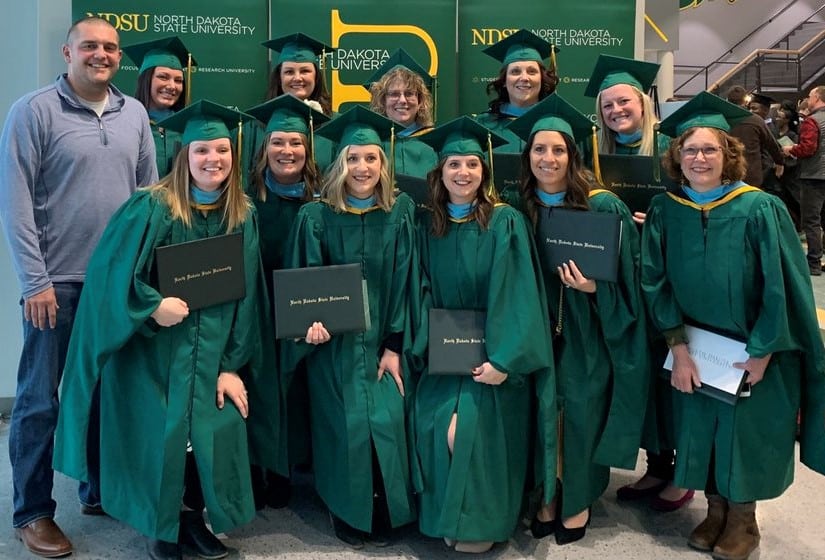 Another important initiative has been their Teacher Leadership Academy. Northern Cass partnered with North Dakota State University to develop a program in which 20 educators earned a master's degree while also advancing the district's personalized learning work. Their courses and master's theses included work such as rewriting the school's policies, strategic plan, and family engagement plan, as well as developing new pedagogical strategies and leading professional development activities to share the new knowledge with their colleagues. Much of the course work and research took place at the school, eliminating the long commute to the college campus.
A Phased Transition
Despite wanting to put their new beliefs and insights into practice rapidly, Northern Cass staff recognized that deep change would require much more than a few days of summer professional development, and more than one or two school years for full implementation. Their frank acknowledgment that they are a change-in-progress has helped them manage their transformation at a sustainable pace and offers a model for other transitioning schools and districts.
In support of ambitious but manageable change, Superintendent Cory Steiner emphasized the importance of having a growth mindset for adults, not just students. "Movement forward has been so fast and good," he said. "We take deep breaths and celebrate where we are but also keep on improving. It's the most fulfilling educational work the teachers have ever done, but also the most difficult. At first some people wanted to jump ship, but now they're on board, and we've seen a big jump in the use of competency-based approaches."
Multiple educators talked about the need to be "OK with messiness" and moving ahead at different speeds, and they appreciate the support for this from colleagues and school leaders. One educator said, "I'm still walking through those murky waters of what personalized learning is going to look like in my classroom. Some of my colleagues have really dived in and their classrooms are completely personalized, which is fantastic. I will be honest that mine is not. I'm 100% in agreement with personalized learning, I'm 100% for it, and I see the light at the end of the tunnel, but I'm still figuring out the exact path to get there. So that's been kind of hard."
But she has gotten started. Even though she introduces new material the way she always has, now students can submit homework and progress at their own pace until the end of the unit. Instead of quizzing every Tuesday even though many learners say they're not ready, now they can take the quiz whenever they feel ready. "It's been an adjustment," she said. "It's scary. You're putting a lot of trust in the students. But I think they like it."
Addressing the need to embrace messiness and uncertainty is essential. Many teachers have very high standards and have invested years of effort in honing their approach. They're on board with deep changes but have to sacrifice some of that investment to learn something knew. Some teachers are comfortable being transparent with students, parents, and colleagues that the transformation is a work in progress, but others feel a great need to project mastery at all times to maintain their sense of professionalism.
Regardless of where educators fall on this spectrum, the support of colleagues and school leaders is essential. One educator said, "I try to emulate the people around me and bring some of it into my classroom. But it's scary, because what if you try it and it blows up in your face and you've wasted three weeks? If the people around me weren't so motivated, it would be easy for me to sit in my gray area and be scared about it. But when they're willing to dive in, then it's like 'OK, if they can be brave, I can be brave too.' Then I start bouncing ideas off colleagues and getting feedback about ways to get things to work better. That's helping me move forward."
Another educator said, "I'm moving at a slower pace than some of our 'runners' – but that means whenever I have a question or I'm struggling with something there's always someone I can go. That's a culture we've created. I'm not scared to ask a question. I won't feel stupid. I won't feel like I'm a bad teacher because I don't have all my materials fully uploaded onto [our learning management system] yet. No one ever makes you feel like that, even our adminstration. They've been really good at just supporting and helping and understanding that the gray areas are scary and the unknown is scary, and as long as we're moving forward we're doing the right thing."
There are actual implementation deadlines though. All educators were required to have standards-based grading in place for the current school year, for example. Their proficiency scales—defining what constituted a 1, 2, 3, or 4 on each priority standard for their courses—were due last May. Several educators mentioned that much of this work, such as developing units, integrating them with the learning management system, and developing proficiency scales, required a lot of up-front time which would not need to be repeated in future years. Other blog posts in this series will talk more about implementing some of these and other Northern Cass competency-based strategies.
Other Posts In This Series
Learn More
Eliot Levine is the Aurora Institute's Research Director and leads CompetencyWorks.