The Magic of the Seal: Developing a New Student Record and Extended Transcript
CompetencyWorks Blog
---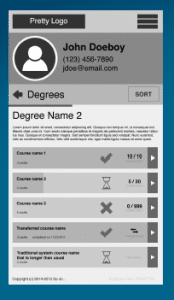 This is the third post attempting to capture the conversation and lessons learned shared at CBExchange. Other posts include: (Understanding Variation in Higher Ed CBE and It's a Crazy Hot Mess…or Everything You Need to Know about Financial Aid).
I had a chance to talk with Dan Kellogg after his presentation Overcoming Financial Aid Challenges and Creating the New Student Record and Extended Transcript at CBExchange and was so deeply impressed by his thoughtfulness and caring. Yes, caring. He really cares about doing what is necessary, cutting through the adult and systemic issues, to do better for students who are seeking to improve their careers and lives.
Dan Kellogg is the Registrar, University of Wisconsin-Extension Division of Continuing Education, Outreach & E-Learning (CEOEL). A bit about UW: It has twenty-six campuses, including thirteen four-year universities and thirteen two-year colleges for a total enrollment of 180,000. The Extension Division has four divisions: business and entrepreneurship, cooperative extension available in every country, public broadcasting, and CEOEL.
One of the things that totally took me by surprise is that each of these institutions, campuses, and divisions can all have their own grading practices. Sure, they have a list of courses that comprise a degree, credits that go along with the courses, and a grade point average. But within the traditional transcript there can be a lot of variation. So the idea of adding on a transcript for competency-based education isn't that much of a stretch (although actually defining what students know and are able to do is a huge stretch from credits that indicate what a teacher taught and not what students learned).
Within CEOEL, the Flex Option has six design elements:
Students can start and stop when they want
Students can advance at their own pace
Students can be assessed (take a test) when they are ready
Students can earn credit for what they know
Students will receive support from academic support coaches
Students are expected to master essential competencies related to the degree or certificate
The degree programs that offer a Flex Option include Associate of Arts and Science (UW colleges), B.S. in Nursing and RN-BSN completion (UW-Milwaukee), B.S. in Diagnostic Imaging (UW Milwaukee), B.S. in Information Science and Technology (UW Milwaukee), and M.S. Geodesign & GIS Technologies (UW-Stevens Point). There are also a number of certificate programs with a Flex Option: Business and technical communications (UW-Milwaukee), Global Skills (UW-Parkside), Sales (UW-Parkside), Project Management (UW Parkside), and Substance Use Disorders Counseling (UW Madison). Dan is central the effort of figuring out how to offer efficient registration and records services for the UW Flexible Option.
UW and Kellogg saw this as an opportunity to create an extended transcript that offers "a unique opportunity to not only provide a new modality of learning, but also new ways to reflect the learning that occurred." The first step was to create a Transcript Working Group, which started with brainstorming what a Flex transcript should be and what it could be. The Transcript Working Group included registrars from several UW colleges, UW-Madison and UW-Milwaukee, UW Extension Dean, UW Extension Director of Student Success, UW System Special Assistant to the Senior VP for Academic and Student Affairs, UW System Director for Undergraduate Education, Special Assistant to the Provost for Strategic Initiatives at UW-Milwaukee, and Professor of Chemistry from UW-Rock County. Kellogg recommends creating an environment where "Everyone puts their titles aside and listens to all the perspectives."
Kellogg described the traditional transcript as: a list of courses that comprise a degree, credits affiliated with these courses, and the GPA. The power of the traditional transcript is that it is recognized as information related to accomplishments, qualifications, and preparation. In other words, the traditional transcript is supposed to act as a currency. And we all know that it is a flawed one at best.
He then went on to describe that the flex transcript would need to "serve as an official record of the quality and quantity of learning in Flex programs, including the mastery of competencies, the dates of Flex enrollment, and the degrees conferred or certificates earned." He then went to explain that as a digital transcript, the Flex transcripts would need to show:
Competencies, competency sets, and the kind of assessments attempted and mastered by students, both at the home institution and through enrollment at another Flex Option campus.
Courses taken in traditional formats at the institution and transfer work and credit from other institutions.
He described the flex transcript as "more student-centered in that it includes all the prior learning that was applied to this degree, not just what was taught by the university."
Kellogg then when on to describe the "must haves" for a digital, competency-based transcript, including:
Ability to authoritatively convey to organizations and institutions what student has done
Ability to provide a legend to describe the competency-based nature and structure of UW Flex
Standardization across every Flex degree and certificate program
Verifiability so the transcript serves as an official record of quality and quantity of learning
Translatability from CBE to traditional currencies of student learning
Ability to drill down to competency levels
Ability to link digitally to student work, e-portolios, badges, etc.
Interoperability to other information systems within and beyond UW System
Readability, accessibility, visual appeal
He emphasized that a digital transcript can begin to be as much a planning document about where students are now and where they want to go.
[An aside: This got me to thinking that this is a huge idea for working adults re-enrolling in school as well as students who are flowing in after high school graduation. Even though we may be decades away from it – if we began to talk about interoperability now, we might begin to be able to have digital transcripts that can start with what a student knows in eleventh grade and, as they begin to take college-level courses, have that information transition with them to college. This is particularly important for students who may have gaps in their skills – imagine students being able to just fill gaps rather than getting stuck in the maze of developmental education.]
Kellogg made a few recommendations about what to think about as you go forward to expand your understanding of the role of the transcript:
Remember the audience: Ask yourself, who are our stakeholders and can we provide information in different formats to different audiences? Think about what students, your institution, graduate schools, and employers will need.

You can think about three primary functions – delivery of educational opportunities (how do we facilitate learning); validation (what are students learning); and story (how do we describe the experience in a way that helps students tell their story).

Remember mobility: Sixty percent of students attend more than one institution. Can we design a transcript to better serve graduate schools, transfer admissions, counselors, and academic advisors? Can we handle multiple ways of determining GPA and transferring credits?
Catalog content management: Can you add more information to be loaded from catalog content management, linking artifacts and mapping out competencies?
The work isn't done at University Wisconsin. Next steps include continuing discussions with key stakeholders, addressing needed policy changes, continuing development of the wireframe for the transcript, identifying viable tech platforms for interface and interoperability, and making decisions on standardization and verification. One of the big tasks is to address the multiple policies and practices across UW, including: different curriculums, abbreviations, and course numbering; unique governance structures and approval processes; and current transcripts with different designs, formats, grading scales, and GPA calculations.
See also: