The Tough Question: What is the Federal Role in Competency Education?
CompetencyWorks Blog
---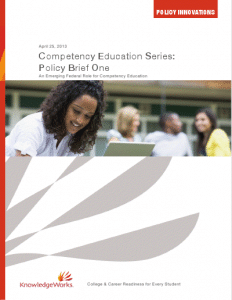 Over the past few years we have seen a groundswell of interest and adoption of competency based models for learning. At least 40 states have one or more school districts implementing one of these models and a growing number of states have begun serious conversations about how to redesign their system to ensure students have the extra time, multiple pathways, and supports they need to master content and skills. But despite this paradigm shift, a major road block lies ahead: federal K-12 policy.
At KnowledgeWorks, we have decided to dive head first into this challenge. Last week, we released our first policy brief on competency education titled: An Emerging Federal Role for Competency Education. Our goal is to help policymakers understand the elements of federal law that make it difficult for states to redesign their systems to support competency education at scale.
Here are the accountability barriers we identified in the paper:
ACCOUNTABILITY BARRIERS
Federal Law Requires States to Implement a Time-Based Accountability System
Federal law requires states to establish Annual Measurable Objectives (AMOs) for each school and district based in large part on student achievement on the annual summative assessments. States are also required to use this information to make annual determinations regarding the classification of schools and districts for interventions and supports. This structure does not lend itself toward demonstration of competency.
The Metrics of the Federal Accountability System Do Not Align With a Competency-Based System
The Federal accountability system takes into account annual student achievement in Math and English Language Arts for all students and subgroups and annual graduation rates. The ESEA waiver flexibility extended this to include student growth in the above subjects as well as student achievement in other subjects. None of these metrics take into account mastery of competencies or other measures that states find important to the implementation of a competency-based system.
The Federal Accountability System is Designed to Classify Schools and Districts for Improvement
Federal law requires states to use annual accountability data to classify schools and districts for improvement. This conflicts with the purpose of a competency-based system which aims for continuous improvement of all students, schools, and districts. An accountability system in a competency environment would use real-time instead of annual data to drive improvement.
Federal Law Does not Account for Student Growth, only Achievement
While the ESEA waiver flexibility process does permit states to incorporate student growth into their accountability calculations, this provision is not codified by federal law. States moving to a competency-based system must have a way to track student progression on college- and career-ready standards and aligned competencies for accountability purposes.
And the assessment barriers:
ASSESSMENT BARRIERS
Federal Law Requires States to Implement a Time Based Assessment System
Federal law requires states to verify academic performance through annual assessments in grades 3 through 8, and once in grades 10 through 12 for Math, Reading/English Language Arts, and Science. These assessments shape, in a significant way, the education system's instructional focus and time.
Federally Required Assessments Were Not Designed to Measure Mastery of Competencies
Federal law requires states to administer high quality assessments aligned to academic achievement standards but does not require or incentivize alignment of those assessments to competencies. As a result, states interested in a competency-based system must either develop an expensive new summative assessment that measures mastery of standards and competencies or supplement their current assessment system with performance-based or local assessments. Federal law requiring standardization of any system of assessments makes the latter equally costly and time consuming.
Federal Resources Are Inadequate to Develop a Robust Competency Assessment System
Federal resources are not intended to develop assessment systems that would do the following:
• Enable states to administer the summative assessment multiple times in a given year to ensure students are assessed when ready and have multiple opportunities to demonstrate mastery.
• Enable states to use a series of through course assessments for summative purposes.
• Help districts develop a performance tracking system to better understand the likelihood of student mastery of summative assessments throughout the year instead of on an annual basis.
The success of the competency movement depends heavily on the federal government's willingness to partner with states and districts as they design education systems that put students at the center. We hope this brief sparks lots of conversation toward this end. Stay tuned as we explore these topics in greater depth throughout the year.
---
Lillian Pace is the Senior Director of National Policy at Knowledgeworks.