Understanding Variation in Higher Ed CBE
CompetencyWorks Blog
---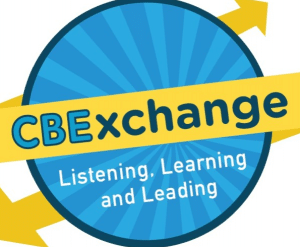 A week ago, I had the opportunity to attend CBExchange – a convening of hundreds of representatives of institutions of higher education (IHE) organized by Competency-Based Education Network (CBEN), AACU, ACE, and Educause (and CAEL and Quality Matters also contributed). I'm still working through my 50+ pages of notes gathered through presentations, workshops, and rich conversations. So stay tuned for several blogs.
Although I'm not new to competency-based education (I'm in the middle of a ten-day tour of proficiency-based learning in Maine as I write this), I am new to CBE in IHE. So it's likely that I stumble occasionally – I love it and am deeply appreciative when people comment to correct, expand, or clarify what I write.
Understanding Variation in IHE CBE
CBEN introduced a ten-point framework to describe the elements of CBE in IHE: Clear, cross-cutting & specialized competencies; Embedded process for continuous improvement; Engaged faculty & external partners; Learner-centered; Coherent, competency-driven program & curriculum design; Enabling & aligned business processes & systems; Flexible staffing roles & structure; and Measureable & meaningful assessments. This is a profoundly powerful way to unify the field as they try to learn from each other.
Yet it was the variations in the model that fascinated me. I also found that I needed to understand these variations in order to make sense of the conversations. There are variations in competency education in K12 just as there are variations in higher education. However, it strikes me that the types of variations differ a bit. Of course these variations may also relate to the early stages of implementation as much as they do to any specific model.
Below are the questions I had to ask to be able to understand the context of each CBE IHE model:
Are you creating CBE programs as options for students or are you creating a competency-based institution? WGU is fully competency-based. SNHU created and branded  College for America as competency-based and, as I understand it, University of Maine at Presque Isle is headed in converting its entire institution to competency-based(more on UMPI soon). However, most people I spoke with were creating programs within their institution. In fact, some might offer an online program and a CBE program in the same certificate as an option for students.
Who are the targeted students and who can be accepted? Many of the programs were targeted at adults who had a fair amount of work experience. At College for America, for example, students need to be sponsored by an employer to enroll. At another college, if you didn't have work experience in the specific industry, you couldn't even enroll in the CBE option. In the adult worker programs, the goal is to allow students to get recognition for what they already know and focus exactly on what they need. They of course would have capacity to assess prior learning. In most of these cases, they expect the student to already possess independent learning skills.
Others were organizing CBE options for a broader set of students because they think the pedagogical model is effective. They were organizing a range of supports to help students adapt to the model, coach them to continue to make progress and learn to keep on a meaningful pace, and provide tutoring where they might have academic weaknesses.
During these two days, I heard several programs refer to "fit" or making sure that students had the independent learning skills to succeed. This is counter-culture to the way we think in K12, so it took me a bit to understand that IHE are thinking about how to expand their programming and create more customizable programs in order to expand their markets. Given the pressures on the cost of higher education, they are also seeking ways to offer less expensive options for students.
FYI, I didn't speak to anyone who was designing for vulnerable students who might have had a bumpy path to college – such as getting a GED, dropping out and re-engaging, or recovering from being dragged into the justice system. I think the CBE model would be really helpful for them, but it would need more comprehensive programming and supports.
What is the credential? The goal of any program could range from an industry credential to a workforce-related AA or BA or liberal arts degree. Some programs had required general education courses while others did not. This variation seems important to me as it helps to address the question of who needs to be involved in calibrating the level of proficiency for the credential and along the way. If the goal is a credential for a specific occupation, then IHE have to involve employers who hire that occupation.
Liberal arts is always a bit trickier, as the ultimate focus is on analysis, thinking across disciplines, communication, and, I would argue, ethics. In addition, given the major, the goal is to be able to think and act like a historian, a scientist, a mathematician. Finally, liberal arts is often a stepping stone to another degree – law, medicine, public policy, or academia. Thus, there is an alignment that would need to be in place. (See Michael Horn's post on liberal arts.)
What is the term structure? IHE appear to have three options for how they manage the issue of time. There is the standard term in which you have to complete everything by the end (or with some limited flexibility); non-standard term, which is open entry but students would have the same amount of time as the standard term; and no term, which is really self-paced.
How much learning is expected to occur? I have to admit this is the most cloudy to me, the awkwardness of the question. Based on the program design, students might have a competency-based course that sets out specific objectives within the traditional course structure. There is also a buffet-style, learn as much as you can within a period of time (the term) process, which allows highly motivated students with strong independent learning skills and flexibility in their life to zoom through a program. Some programs also define their programs through the competencies that would need to be demonstrated to receive the credential, which means students with more prior learning are able to skip some parts of the program. Thus the "amount of learning" varies based on the student experience.
What is confusing is that we know students are entering colleges without adequate academic skills. So it's not clear how the IHE competency-based programs are dealing with this issue. From what I can tell there is a readiness orientation in which students have to demonstrate that they are ready to enter the program (this is not unlike the concept of fit). From what I can tell, IHE programs are in general trying to manage the flow of students into CBE programs.
Although schools may try to manage this flow in different ways (many early colleges require eighth grade level skills to enroll), districts are always struggling with the tension of trying to figure out how to balance helping students learn the skills they need and teach the age-based curriculum (for example, how do you help a student reading at sixth grade levels succeed in tenth grade social studies?).
What is the degree of support provided to students? As mentioned before, this varies based on the targeted student population. This obviously has implications for the cost of the model – and I'm guessing that these competency-based models will have substantial benefits for students without producing substantial cost reductions. Thus, they will be more cost-effective, but not cheaper.
There was a constant conversation about how much students who have grown up with the compliance-oriented, traditional A-F schools are struggling with how to become independent learners. It's interesting to think about at what point this might change as more districts and states convert to competency-based education. In the short run, I'm guessing that a cross-sector conversation between higher education and K12 might be helpful.
See also:
This post was updated on 10/13/15 to include all the sponsoring organizations of CBExchange.