What's Your Dream Grading Tool? NYC Educators State Their Must-Haves
CompetencyWorks Blog
---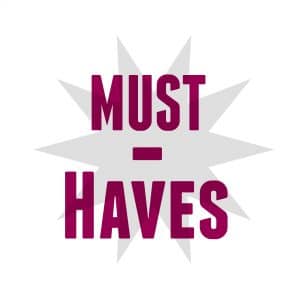 What is your dream mastery-based grading tool?
This design challenge drew a roomful of educators from twenty mastery/competency-based schools around New York City—and reps from seven educational technology companies that offer mastery/competency-based grading platforms.
The aim was to create a city-wide list of 'must have' and 'nice-to-have' features and functions of a dream mastery-based grading system—and to foster an unprecedented level of information-sharing and intense collaboration between mastery-based schools and the companies that provide the grading platforms, tools, and trackers they use.
Mastery Grading Must-Haves:
User-friendly, intuitive design
Parent login, student login (separate)
Bulk upload of custom standards and skills
Ability to edit and copy outcomes during the school year
Ability to share competencies across different courses
Ability to customize competencies/outcomes by class
Ability to track assignments across years and across courses
Centralized by student for all classes (a student can see all his/her present/past classes in one place)
Multiple modes of viewing student progress (by course or competency)
Progress Reporting (24/7 student views, parent views)
Excel reporting (ability to import/export students scores and data)
Ability to create/upload rubrics that link to competencies/outcomes
Ability to link assessments and grades to rubrics
Communication feature for students, parents, teachers, and administrators
Compatible with STARS (citywide grading tool for NYC schools)
Visual signal or alert pushed to users upon outcome/comp being met
Reliable tech support and PD
Source: Mastery Collaborative from www.digitalready.net
The event was designed and hosted by the new and growing NYC Mastery Collaborative, an offering of the Digital Ready program from NYC Department of Education's Office of Postsecondary Readiness.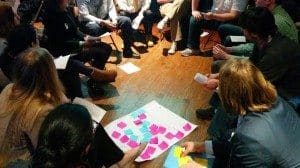 Participants were asked to form small groups that included: educators from experienced mastery schools, educators from schools piloting mastery systems, and educational technology reps from seven mastery grading tool companies: Haiku Learning, JumpRope, Schoology, Mastery Connect, Jupiter Ed, Datacation (Skedula), and itslearning. Their work happened in 3 rounds.
Round 1: First, small groups met to identify their most-in-demand features and functions of grading platforms for mastery practitioners. As small heterogeneous groups huddled, the room was buzzing with intense conversations about the absolute necessity of rubrics, customization, reporting functions, and other key features.
Round 2: Small groups paired off to merge their lists of top-desired grading tool features. Conversations got intense as participants consolidated and synthesized their collective 'dream platform' must-haves.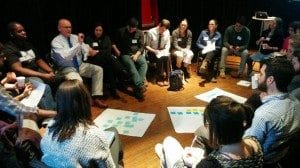 Round 3: The full group met to share ideas and to forge a shared agreement about the most vital elements of a mastery grading tracker or tool. The final list is a jumping off point for schools and tech companies across the city to norm language around mastery, as well as to leverage the power of tech to make the shift toward mastery-based grading and learning more efficient and meaningful. Check out our full list here!
After a break, the second part of the session featured 'Shark Tank'-style speed rounds in which ed tech vendors presented grading trackers/learning management systems to educators in a series of short interactions designed to highlight the basic distinctions and commonalities between all the tools. Educators circulated systematically as vendors gave a series of five-minute pitches to share information and product demos—all with an explicit focus on mastery-grading features and functionality.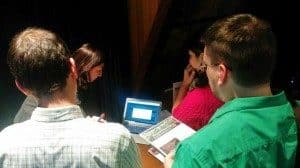 The fast-paced conversations were enriched by themes from the earlier activity, as ideas about desired functionalities such as custom rubrics and weighting of assignments were fresh in everyone's minds. Schools gained a broad idea of what's out there, and had a chance to request features and functions for future updates of the grading tools. Vendors showed incredible stamina and left with lots of rich feedback and questions from face-to-face interactions with users and potential users.
All in all, it was a productive evening full of passionate conversations about how to support teaching and learning with mastery approaches.
Jeremy and Joy from the NYC Mastery Collaborative are excited to announce that the MC will be a funded program in the 2015-16 school year. Our goal is to support and document the work of schools across the city who are engaged in mastery/competency-based work with students. Stay tuned for more from us before long!
---
Jeremy Krausher is Mastery Learning Manager and Joy Nolan is Instructional Designer/Curriculum Specialist of Digital Ready in the Office of Post Secondary Readiness at the New York City Department of Education. Digital Ready is an intensive professional development program designed to help participating NYC public middle and high schools use technology and student-centered learning to improve their students' readiness for college and careers. Digital Ready has established the NYC Mastery Collaborative to support schools that are developing competency-based practices.