Innovation Zones: Policy Flexibility to Reimagine and Modernize K-12 Education Post-COVID-19
National Landscape Analysis of States with K-12 Innovation Zones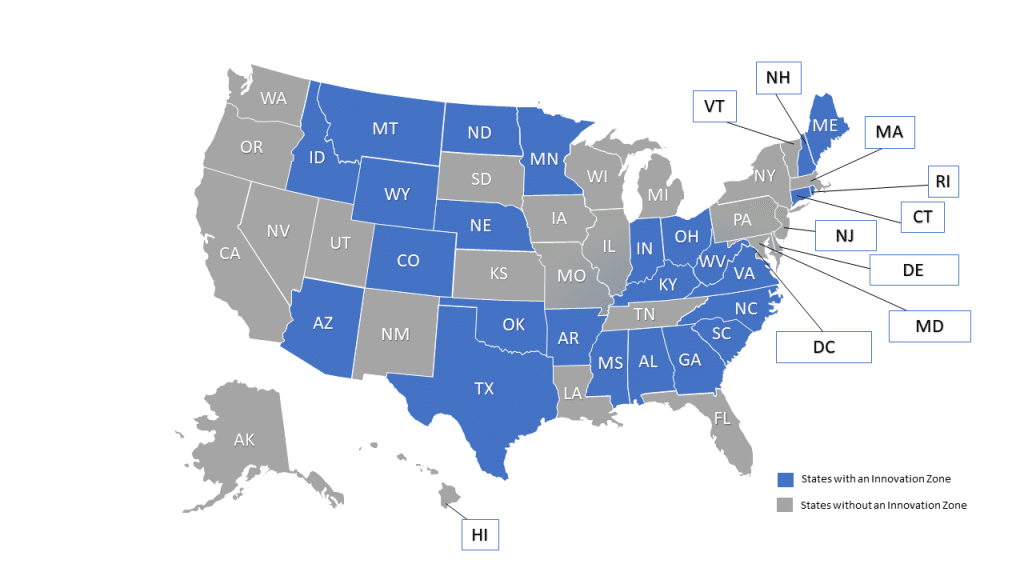 Innovation Zones Frequently Asked Questions
What are Innovation Zones?
The term innovation zone, also known as districts of innovation, refers to the idea of states creating space for districts and schools to innovate by identifying constraints from current laws and regulations and providing flexibility to implement evidence-based practices. In return for receiving additional flexibility, innovation zone designees implement new effective approaches to teaching and learning, such as adopting a new curriculum, instructional models, supports, professional development practices, mastery-based use of time and talent, and other strategies that meet the unique needs of learners and educators.
How do Innovation Zones support flexibility?
Outside of explicit federal requirements outlined in the Every Student Succeeds Act (ESSA), any state rules, regulations, or outdated laws that impede access to high-quality learning, especially for historically underserved students, can be addressed through flexibility allowed in existing innovation zones. States often use innovation zones as a legal mechanism to provide flexible and innovative approaches to adopt student-centered policies, such as moving away from seat-time requirements, providing flexibility in use of talent, and modernizing educator professional development.
What should be a state's first step in developing an Innovation Zone?
Examine case studies of other state's innovation zones and work with your legislature to authorize an Innovation Zone; collect information from educators, schools, and district leaders who are dissatisfied with laws and regulations that inhibit their ability to implement student-centered instruction; and garner bipartisan, bicameral, and state executive support for flexibility.
In concert with authorizing an innovation zone, state leaders should consider developing a Profile of a Graduate to help redefine success and build a vision for the K-12 education system. With clear, comprehensive updated definitions of success, states can transform their education systems, and do so in a coherent manner, so that everyone is working together to help students succeed. Any rules or regulations that impede the model development are brought to light and can be addressed through flexibility from administrative regulations and statutory provisions.
How do states develop an Innovation Zone?
Most states develop innovation zones through legislation. Legislation not only provides the legal pathway to the authorization of innovation zones but also establishes guidance on the application and selection process, eligibility, allowed flexibility, and the evaluation process. State leaders may also consider developing a legislative task force, where diverse education decision-makers can study and identify outdated rules and regulations that are barriers to student-centered learning, often impeding effective instruction for the whole child in the 21st century. Typically, innovation zone task force members engage a diverse group of stakeholders who study an issue by interviewing state experts, researching ineffective policies, determining needs for building educator capacity, and offering initial recommendations.
How do Innovation Zones support an equity agenda?
Innovation zones provide a space for districts to reimagine how the K-12 education system can serve all students, but especially Black, Brown, and students living in low-income households.  Despite dramatic improvements in the delivery of education over the last century, the one-size-fits-all, time-based system does not work as well as necessary to ensure that all student subgroups succeed. Innovation zones provide an opportunity to pilot and target innovative new practices and supports that serve the unique needs of student subgroups who have been disproportionately affected by an education system that was not explicitly designed for their academic and emotional health in the first place.
How should a state engage stakeholders?
State leaders should engage with educators, administrators, families, students, postsecondary education leaders, and the business community to articulate the vision and purpose for an innovation zone. This process should both encourage and allow public comments on draft proposals. Policymakers may consider targeted engagements with educators and district leadership to determine barriers they face on the day-to-day in the classroom.  Policymakers may find value in more formal ways of soliciting input from various stakeholders through listening tours and town hall meetings with both virtual and in-person options. Genuine dialogue between multiple stakeholders provides an opportunity for state leaders to articulate the purpose of flexibility and the expected outcomes due to the implementation of an innovation zone.
What funding should be included?
Repurposing funding or allocating new dollars to the initiative can be worthwhile, especially if a state wants to address economic and racial equity. Many states offer planning grants to districts to increase the effectiveness of innovation zones, and as an incentive for districts to apply for flexibility to address systemic educational challenges and other state priorities.
When should states evaluate innovation zones?
State leaders should determine an appropriate evaluation cycle for districts or schools participating in an innovation zone, with the understanding that widescale results will take time. State leaders should work closely with participating districts and schools to ensure that there is transparency in the application and implementation process, and an understanding of what "success" in providing flexibility for innovation looks like. State leaders should also be cognizant of the support that districts may need as they implement new innovations, including the need to connect with and learn from other districts that have innovation zone flexibility. States could create innovation networks or communities of innovative practice that provide a forum for innovation districts and schools to share their experiences, network, and provide valuable learning opportunities and feedback to the state.
Issue Brief
August 31, 2018