11 Strategic Policy Priorities to Support Personalized, Competency-Based Learning
Education Domain Blog
---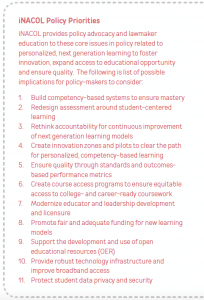 Creating learner-centered, personalized, competency-based environments requires strong leadership and a shift in culture and values to move from sorting students and ranking them — toward ensuring every student's success.  It requires a growth mindset, systems to build educator capacity and cultures of continuous improvement.  It also begins to challenge the policy landscape to open opportunities for anytime, anywhere personalized learning.
To develop and scale effective personalized learning models centered on equity, quality and access, we need to transform policy to remove barriers and increase autonomy and flexibility, opening space for new systems of assessments and also next generation accountability models.
With the passage of the new federal K-12 education law, the Every Student Succeeds Act (ESSA), power has shifted from the federal government to states and localities, presenting state and local stakeholders with an important opportunity to redefine student success and re-imagine the goals of our nation's education system. (Our team helped lead sessions at SXSW on this topic. You can learn more about the critical next steps under ESSA in our upcoming webinar.)
iNACOL's Center for Policy Advocacy drives the evolution of policy to dramatically improve student learning to close the achievement gap and promote world-class learning. As a nonpartisan organization with a wide reach to members and practitioners, we work to help states, districts and networks make progress toward catalyzing the transformation of K-12 education by removing policy barriers and creating space for innovation. Below are key policy priorities and policies to avoid as outlined in iNACOL's newly enacted strategic plan.
iNACOL Policy Priorities
iNACOL provides policy advocacy and lawmaker education on core policy issues related to personalized, next generation learning. The following is a list of recommendations for policymakers to consider to foster innovation, expand access to educational opportunity and ensure quality:
Build competency-based systems to ensure mastery.

Redesign assessment around student-centered learning.

Rethink accountability for continuous improvement of next generation learning models.

Create innovation zones and pilots to clear the path for personalized, competency-based learning.

Ensure quality through standards and outcomes-based performance metrics.

Create course access programs to ensure equitable access to college- and career-ready coursework.

Modernize educator and leadership development in order to build capacity for competency-based systems (i.e., micro-credentialing, building professional judgement in assessing performance tasks).

Promote fair and adequate funding for new learning models.

Support the development and use of open educational resources (OER).

Provide robust technology infrastructure and improve broadband access.

Protect student data privacy and security.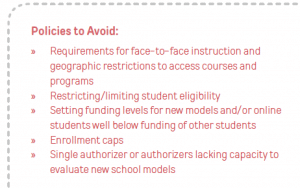 Barriers to anytime, anywhere personalized learning include credits defined by seat-time without allowing competency-based pathways; geographic restrictions to access courses and programs; restricting or limiting student eligibility; setting funding levels for new models well below funding of other students; setting arbitrary enrollment caps; and single authorizer or authorizers lacking capacity to evaluate new school models. State leaders can open up opportunities for personalized, competency education by addressing these restrictive policies.
Many schools and districts can already begin to create personalized learning environments within the current policy landscape. However, as schools and districts break down the walls of education, become student-centered by meeting kids where they are, and build models that truly harness anytime, anywhere learning (using multiple pathways, after school programs, internships, museum/formal/informal learning, blended and online learning), then these outdated policy barriers begin to present challenges to the transformation to learner-centered, powerful, personalized learning.
Learn more about our policy advocacy work by viewing our policy resources and reviewing our key policy issues.
What are the policy barriers impeding your work? Let us know by contacting the iNACOL Center for Policy Advocacy or reaching out to us on Twitter: