Aurora Institute Submits Comments on the E-Rate Expansion
Education Domain Blog
---
The Aurora Institute Center for Policy submitted comments in response to the Federal Communications Commission's (FCC) public notice on the use of E-Rate funds to support remote learning. Our recommendations centered on the expansion of eligible equipment and services, ensuring cost-effective purchases, and funding and prioritization.
The COVID-19 pandemic has illuminated inequities around the digital divide and inequitable access to the internet across the United States. State and district leaders continue to contend with improving conditions for many students, especially those who have been historically underserved, who are going without the adequate technological resources necessary to continue learning through the pandemic.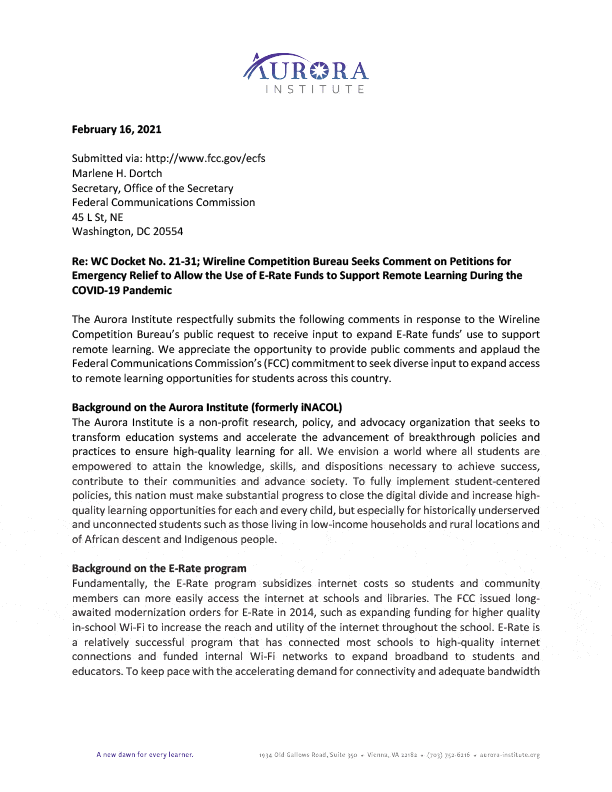 E-Rate Program Helps Communities More Easily Access the Internet
E-Rate was established under the 1996 Telecommunications Act during the "dial-up" era. The program provides discounts on telecommunications services, internet access, and connections for libraries and schools. Congress gave the FCC authority to determine appropriate program requirements and funding levels to address future program changes.
E-Rate is a relatively successful program that has connected most schools to high-quality internet connections and funded internal Wi-Fi networks to expand broadband to students and educators. In 2014, the FCC issued long-awaited modernization orders for E-Rate, which expanded funding for higher-quality in-school Wi-Fi to increase the reach and utility of the internet throughout schools.
To keep pace with the accelerating demand for connectivity and adequate bandwidth as schools transition to remote learning during the COVID-19 pandemic, the FCC has a moral, legal, and ethical responsibility for continued support and commitment to increase funding for the E-Rate program and to expand its access for at-home use.
Emergency Relief to Allow the Use of E-Rate Funds to Support Remote Learning
The FCC sought comments on the specific equipment and services that E-Rate should support to fund off-campus access to broadband services for students and staff who lack adequate access to home internet. During the pandemic, it has become increasingly clear that many communities rely on both schools and libraries for internet access, and due to widespread closures, the need for at-home access has become more acute. Students who were caught in the "homework gap," particularly and overwhelmingly students of color and students living on low incomes, have experienced greater hardship during remote learning. A coalition of stakeholders led by the Schools, Health & Libraries Broadband Coalition (SHLB), petitioned the FCC to declare that remote learning serves as an "educational purpose" and qualifies under E-Rate regulations. The coalition proposed opening a separate remote learning application for applicants to request additional funds, as well as waivers from certain rules, to make filing easier. The FCC requested comments in response to these suggestions.
Recommendations on Expanding Use of E-Rate Funds to Ensure Equitable and Adequate Broadband for All
The Aurora Institute Center for Policy submitted the following recommendations in response to the FCC's request for public comment on expanding E-rate funds to support off-campus learning.
On Eligible Equipment and Services:
Allow E-Rate funding to be used to purchase and distribute hotspot devices and other equipment such as modems, routers, and devices that combine a modem and router to expand access to the internet at home for educational purposes.
On Cost-Effective Purchases:
Encourage and allow small school districts that do not have strong individual purchasing power to benefit from statewide education technology negotiated contracts, such as state master contracts or state buying consortiums.
On Funding and Prioritization:
Create a third category under the E-Rate program to fully subsidize the cost of at-home broadband for students who attend schools that enroll a majority of rural students, low-income students, students with disabilities, or other populations of students who are disproportionately affected by the homework gap.

This third category should also subsidize broadband costs for homes with at least one student attending a school identified for Comprehensive Support and Improvement by state educational agencies.

Establish a 1-to-1 program through E-Rate to cover the cost to purchase devices.
Expand the list of eligible services to include Wi-Fi on school buses.
Permit non-instructional facilities to receive Category Two funding.
Publish an annual report that examines how much funding is needed for E-Rate to keep pace with the accelerating demand for high-speed broadband connectivity at school and in homes to ensure equitable access to a variety of high-quality learning pathways for all students.
 Produce a set of best practices for reducing deployment costs and times.
Invest in a federal research and development agenda focused on advancing new models of technology-empowered teaching and learning that promote equity and improve outcomes for all students.
Improve data collection that shows the actual need for every student in the country to receive access to the internet at home.