Policies that Support Building Capacity to Lead Change to Advance Personalized, Competency-Based Education
Education Domain Blog
---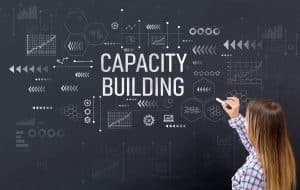 In this blog series we are exploring what it would take to move toward a future state of education that is purpose-built for student-centered learning. Moving toward a competency-based education model requires fundamental shifts in the systems, structures and assumptions that the traditional model of education is rooted in. We need bold leadership to transform K-12 education systems and policy. We need to build collaborative and distributed leadership at all levels of the education system to lead this transformation.
Human capital is a critical element of transforming K-12 education systems for the long term. The vision for students in a competency-based education system is one of empowered individuals prepared to lead their own trajectories to success in college, career and life. At the same time, we need to invest in human capital and preparing change leaders.
We need leaders at all levels who can lead the change together. We need leaders in schools, districts and states, who are willing to challenge the status quo and provide the leadership and vision for educators and communities to move ahead with new models. Policymakers could be thinking about how the state can play a role in fostering the development of a new generation of change agents and educator leaders. Local districts who are leading the way in the advancement of personalized, competency education models have the potential to play a critical role in the creation of new leadership pipelines.
There needs to be an intentional process to identify, recruit and develop leaders in the field of personalized, competency-based education. Collaboration is necessary to create competencies for educational leadership and to design development and recruitment strategies that will attract and retain a diverse cohort of next generation of education leaders. Policymakers can take up the mantle of change leader themselves, and in doing so, can engage with students, parents, and communities to collaboratively shape the vision for student success.
Jobs for the Future and the Council of Chief State School Officers created educator and leader competencies necessary to teach and lead in student-centered learning. These competencies can be used as a starting point to identify next steps in improving preparation programs, adjusting credentialing and licensure programs to allow competency-based pathways, and alternative programs that will meet the needs of the field of next generation learning.
As we explore strategies to build capacity to lead change toward a more equitable system, diversifying the teacher and leader workforce must be a core priority. To transform education, we need new perspectives about how to best design systems to help all students succeed.
Follow this blog series:
Learn more: