Innovation Zones Create Space for Local Educators to Lead Education Transformation
Education Domain Blog
---
This post continues our special series on Future-Focused State Policy Actions to Transform K-12 Education. The series highlights policy issues to modernize our education system and align current educational practice with knowledge of how students learn best. We focus on leveraging state policy opportunities to increase access and open pathways toward future-focused learning experiences that build knowledge and skills for lifelong learning. The first post in this series focused on the role of state policy in redefining student success through the Profile of a Graduate. In this post, we discuss the second key issue to support state policymakers in modernizing K-12 education: creating innovation zones.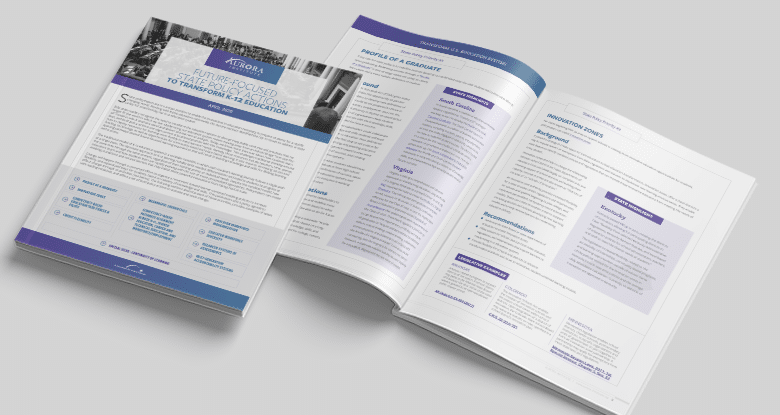 Innovation zones are created in state policy to offer school districts "space to innovate" by developing new teaching and learning models, including those that offer more personalized approaches and competency-based pathways. An innovation zone authority provides increased flexibility for a state to waive certain regulations and requirements for schools and systems beginning to plan, design, and implement new learning environments.
By encouraging innovation — rather than having a strict focus on compliance — innovation zones support districts in identifying outdated state policies and regulations that impede educators from modernizing learning. State leaders can create innovation zones to empower districts and schools to develop new learning models, and as they do so,  identify and address systemic rules that prevent them from fully implementing new models and learning experiences. These barriers may include policies and regulations surrounding seat-time and attendance, curriculum, grading, among others.
Why Do Policymakers Establish Innovation Zones?
Policymakers establish innovation zone authorities or programs through legislation or rulemaking to catalyze the development of new learning models. The innovation zone authority provides increased flexibility for a state to waive regulations and requirements for schools and systems in their design and implementation of more student-centered, future-focused, equity-oriented models of teaching and learning.
Innovation zones can apply to districts or clusters of schools, and they grant greater autonomy and flexibility to school leaders and educators. Also called "districts of innovation," these programs are sought by state leaders who want to free schools from burdensome policy and create a more cooperative relationship among districts and state education authorities to inspire enterprise and better prepare students for life after K-12 education. Innovation zones offer state education policy exemptions to free practitioners to use innovative, personalized approaches that respond to the diverse needs of students. As practitioners implement their models, any rules or regulations that impede the model development are brought to light and can be addressed through waivers from administrative regulations and statutory provisions.
State Highlight
Kentucky passed HB 37 in 2012, creating the districts of innovation. The legislation increased flexibility related to accessibility of internships, community-based programs, and learning opportunities outside of school. Some of the policies waived for the innovation zones in Kentucky include seat-time policies and the average daily attendance calculation. This bill states:
"The Kentucky Board of Education is hereby authorized to approve districts of innovation for the purposes of improving students' educational performance. Districts of innovation shall be provided flexibility from selected Kentucky Administrative Regulations, Kentucky Revised Statutes, and local board of education policies for school administrators, teachers, and staff to meet the diverse needs of students."
Recommendations
Innovation zones represent an important strategy states can use to move away from a bureaucratic, top-down, one-size-fits-all approach to one that fosters personalized approaches to learning, as well as engagement and leadership by teachers and administrators. In Future-Focused State Policy Actions to Transform K-12 Education, we offer three recommendations for states to enable them to get started with innovation zones. They include:
Authorize the state board or state department of education to create innovation zones.
Allow waivers for school districts from state statutes, regulations, and requirements that impose barriers to modernizing K-12 education systems.
Provide flexibility for schools and districts to advance transformative practices and move to innovative, student-centered learning models.
Learn More
---
Natalie Truong is formerly Policy Director, and Alexis Chambers is Policy Associate, for the Aurora Institute Center for Policy.