Rethink Assessment and Address the Need for Balanced Systems of Assessments for Measuring Student Learning
Education Domain Blog
---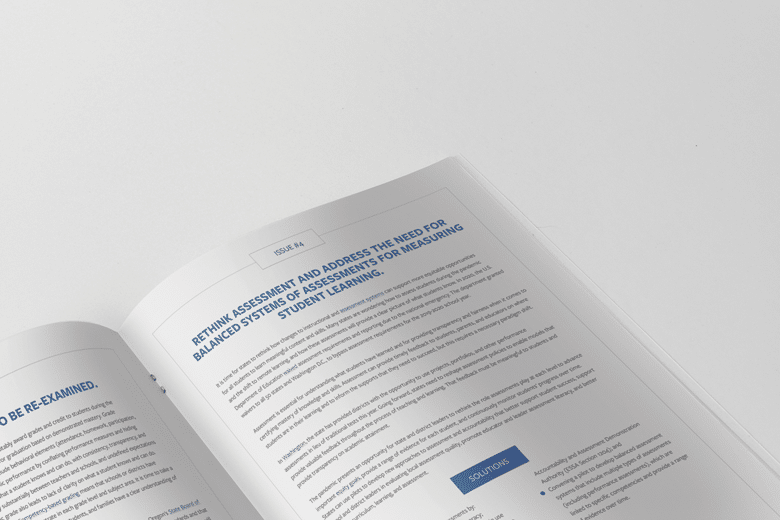 Assessment is essential for understanding what students have learned and for providing transparency and fairness when it comes to certifying mastery of knowledge and skills. Assessment can provide timely feedback to students, parents, and educators on where students are in their learning and to inform the supports that they need to succeed, but this requires a necessary paradigm shift.
It is time for states to rethink how changes to instructional and assessment systems can support more equitable opportunities for all students to learn meaningful content and skills. Many states are wondering how to assess students during the pandemic and the shift to remote learning, and how these assessments will provide a clear picture of what students know.
States and districts can re-envision assessments by:
 Investing in educators' assessment literacy;
Auditing the assessment systems currently in use;
Inviting a diverse set of stakeholders to the table to re-imagine the state assessment system, leveraging flexibility in ESSA for balanced assessment systems;
Collaborating to explore and pilot new, innovative systems of assessment under the Innovative Accountability and Assessment Demonstration Authority (ESSA Section 1204); and
Convening a pilot to develop balanced assessment systems that include multiple types of assessments (including performance assessments), which are linked to specific competencies, and provide a range of evidence over time.
In Washington, the state has provided districts with the opportunity to use projects, portfolios, and other performance assessments in lieu of traditional tests this year. Going forward, states need to reshape assessment policies to enable models that provide valuable feedback throughout the process of teaching and learning. That feedback must be meaningful to students and provide transparency on academic attainment.
The pandemic presents an opportunity for state and district leaders to rethink the role assessments play at each level to advance important equity goals, provide a range of evidence for each student, and continuously monitor students' progress over time. States can use pilots to develop new approaches to assessment and accountability that better support student success, support school and district leaders in evaluating local assessment quality, promoting educator and leader assessment literacy, and better connecting curriculum, learning, and assessment.
---
Other Posts in This Series