Five Takeaways from the Digital Credential Adoption Convening
CompetencyWorks Blog
---
At the end of July, the Last Mile: Champions of Digital Credential Adoption event brought together a wide-ranging group of stakeholders to explore this design question: How might we design a skills ecosystem that awards, accepts, consumes, and values all credentials held by individuals and needed by organizations? 
The group included representatives from higher education, employers, tech vendors, workforce nonprofits and advocacy organizations, and K-12. My own entry point was the recent Aurora Institute report, Going Beyond the Traditional: Next Gen Credentials and Flexible Learning Pathways, which encourages state policy makers and K-12 education leaders to rethink the high school transcript. The gathering provided broader insight into the many dimensions of digital credentialing and the larger skills ecosystem that K-12 education feeds into.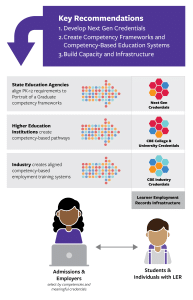 Here are five takeaways from the day that I hope will build new background knowledge and context for CompetencyWorks readers as we work together to transform K-12 education systems to be both competency-based and transparent. 
1. Innovation is happening around credentials. 
Our report on next gen credentials within K-12 education just scratches the surface of what is happening in the broader field of credentials. The array of innovation both gives me hope and is a bit overwhelming. This gathering underscored for me the importance of finding ways to step back and see the bigger picture of the world we are preparing students to navigate. Here is just a sampling of innovation in this space.
The T3 Network, initiated by the U.S. Chamber of Commerce Foundation "consists of over 1,500 diverse stakeholders and groups including employers; education, training, and credentialing providers; government agencies; community-based organizations, nonprofits, and workforce agencies; and technology partners" working "to enable an equitable digital transformation of the talent marketplace where: (1) all learning counts; (2) skills are used like currency; and (3) learners and workers are empowered with data to pursue education and employment opportunities."
Several states like Arkansas, Alabama, North Dakota, and South Carolina are experimenting with digital learner and employment records (also known as LERs or digital wallets). At Arizona State University there is infrastructure for a digital wallet, the ASU Pocket, which functions as a "digital wallet and portfolio that captures and stores the holistic evidence of learning – what students create in any format – and gives them the autonomy to securely share it" whether with employers or as they further their education. 
Universities are experimenting with how to package and communicate specific skill sets that students are developing through their coursework and work-based learning experiences such as internships. For example, the University of Colorado at Boulder, which hosts the Badge Summit and the event that I attended, is working to create micro-credentials for students that enable them to package distinct skills and skill sets for their transcript or a digital wallet. These are bigger than a single course but smaller than other types of certifications that typically require specific courses. 
2. Institutions are more likely to trust a credential that they create than they are to accept credentials from other sources. 
While people generally trust the existing transcript system, typical high school or college transcripts actually vary widely in quality. The list of courses and grades that transcripts traditionally provide don't necessarily provide meaningful information about what learners know and can do. There's a higher bar for new models, however, as it's easier to keep operating in the status quo. 
It seems only natural that entities are less inclined to trust things others create than the things they create. Part of the value proposition of digital credentials is that they could provide more reliable information about the skills and knowledge learners and potential employees bring. But realizing this promise requires institutions to value credentials created by other entities to the same degree they trust their own credentials. Hence building trust among providers and consumers will be a key part of making the shift to digital credentials. 
Similarly, while digital credentials enable the learner, or the earner of the credential, to have more agency and self-knowledge about their skills, we need new systems to organize new credentials and to ensure that the consumer understands what they mean. While there are technology standards for digital credentials, there are many different approaches to content, assessment, and grain size (among other things), which can be challenging for both learners and institutions to make sense of and access.
3. Transferable skills and the ability to learn matters. 
For employers, up to 70% of job requirements focus on what America Succeeds has termed "durable skills." These skills echo what we see in the Portraits of a Graduate many states and districts have created in K-12 education. The OECD Future of Education and Skills 2030 highlights these skills along with the importance of social and emotional skills and learning how to learn in a world where learning is life-long. Furthermore, with the emergence of widely available artificial intelligence (AI) tools, we can only begin to imagine how the skills-profiles we will need to be successful will change. In the meantime, it's certainly worth asking what skills we need to utilize AI effectively and what skills are uniquely human and valuable.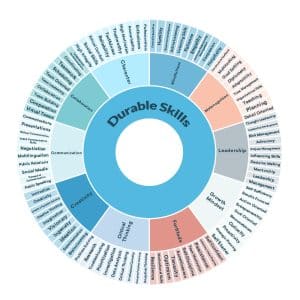 Skills are playing a larger role in hiring, too, as companies back away from using degree requirements as prerequisites. One presenter shared that members of the Society of Human Resource Managers Foundation are interested in shifting to skill-based hiring, though they often don't have the capacity to change practices, especially in smaller companies where hiring is often a function done in addition to other roles. At larger employers, such as Walmart, IBM, Adobe, and Salesforce, businesses have created or are exploring their own credentialing ecosystems that use digital badges and credentials to validate the skills of their employees.
Other organizations, such as the Markle Foundation and Opportunity@Work are supporting workers who have learned skills on the job, but have not completed a degree, find pathways to certify their skills and advance in their careers. Digital credentials are uniquely suited to capture these types of skills that are not commonly featured in traditional high school and college transcripts.
4. The vision for a future state is exciting, and how to get there can be daunting. 
The visioning portion of our design session generated a beautiful array of possibilities for a future state of digital credentials that included: 
Learner driven credentials that could be used across education and employment contexts

Collaboration across sectors from K-12, higher education, continuing and on-the-job learning, employers, and workforce development

Interoperable technology to enable a dynamic ecosystem
As we got to specific concrete next steps, the post-its from our ideation became sparser because it was challenging to bridge from vision to real change and action. In many cases, our ideas went beyond our immediate spheres of influence to actions that require coordination.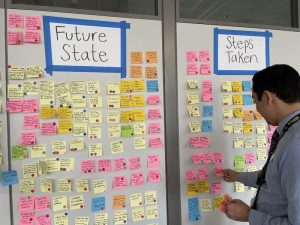 Even with the complexity of the change process, momentum is growing at the local and state levels to design and implement K-12 through workforce pathways and modernize career and technical education to align with well-paying employment options and emerging market needs. Investing in work-based and real-world learning beyond the classroom creates space for new ways of certifying learning. Developing proof points for a coherent and equitable approach to validate and recognize skills can lead to bigger changes.
5. K-12 could lead the way by shifting to competency-based education.
It often feels like there are an array of choices systems can select from to improve teaching and learning – career pathways, badges, experiential learning. But what if the whole K-12 system could lay the foundation for every learner to build their initial profile of knowledge, skills, and dispositions? The K-12 sector could catalyze a wave of momentum by creating coherent competency-based systems that connect flexible pathways and core competencies. These core competencies could, in turn, encompass essential knowledge, skills, and dispositions in a credentialing ecosystem.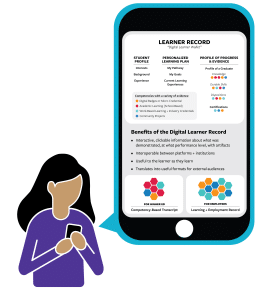 One way systems can get started is to pilot programs that provide new relevant pathways and personalized options for learning. These pilots will be even more effective if they are situated within a larger transformation to a competency-based education system that transparently communicates the knowledge and skills that learners have demonstrated. Rethinking the high school transcript is a great way to provide space for innovative credentials, badges, or micro credentials while situating those skills, experiences, and credentials within a larger competency-based learning journey.
Learn More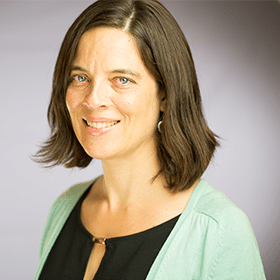 Laurie Gagnon joined the Aurora Institute in 2022 as the CompetencyWorks Program Director. She leads the work of sharing promising practices shaping the future of K-12 personalized, competency-based education (CBE). Her work includes identifying trends; conducting and facilitating research to answer critical questions facing the field; and disseminating those findings widely. She first became involved in the Assessment for Learning community as a grantee while leading the Quality Performance Assessment program at the Center for Collaborative Education. Laurie began her professional life teaching English in Japan and high school history in the U.S. She lives in Somerville, MA with her partner, young son, and cat.