Reinventing the Traditional HS Diploma: Mastery Transcript Consortium ®
CompetencyWorks Blog
---
This post is the fourth in a part of a series based upon a report from the Aurora Institute, Going Beyond the Traditional: Next Gen Credentials and Flexible Learning Pathways, which seeks to deepen state policy makers' understanding of the changes needed to facilitate meaningful next generation credentials ("next gen") and advance state policy to support those changes. 
The Mastery Transcript Consortium ® (MTC) leads the field in the US at building a movement to reinvent the high school transcript that reflects what students know and can do, rather than a list of courses taken at a moment in time. Designed as a membership organization, MTC has created a system for secondary schools to use, while also building a network of member schools in the process of working towards a Mastery Transcript ® that "authentically and holistically captures student learning, progress, and interests," (Mastery Transcript Consortium ®, 2023). It offers a platform for creating a competency-based transcript and, in the past year, has provided the new MTC Learning Record tool to extend or supplement
a traditional transcript by communicating knowledge, competencies, and skills. MTC also connects and builds an understanding of mastery and extended transcripts with higher education professionals.

Mastery Transcript ® Design
The Mastery Transcript ® is designed to be dynamic and interactive. It includes links to useful information about the school and the curriculum. The design provides more information about a student than the traditional system, while remaining digestible and comprehensible to the user.
Students each create their own profiles, where they have a short bio.

The credit profile displays grouped lists of skills by competency domains with an interactive list of specific competencies that illustrate a learner's concentrations, the level of competency demonstrated, and whether the competency credits are foundational or advanced in the school's system.

A list of completed courses can be viewed by completion date or by discipline. If applicable, the record can indicate whether a student has met state distribution requirements.

An evidence menu shows artifacts from the student's actual projects along with the competencies they are aligned to.

Instead of listing grades, the transcript lists the skills that a student has mastered from each course.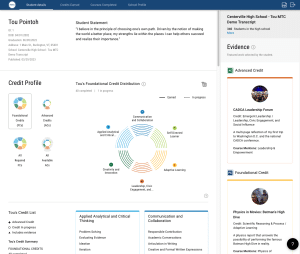 Figure: Mastery Transcript Consortium ®
Take a tour of a sample Mastery Transcript ® in this video:
Design of the System: Competencies, Assessment, and Pedagogy
The Mastery Transcript ® and MTC Learning Record tools provide an end structure from which network schools can backwards design a competency-based learning system. MTC provides guidance to schools on the core elements that need to be in place to effectively communicate student competency through mastery credits and the MTC tools. MTC articulates five elements in their journey towards a Mastery Transcript ®:
Purpose & Vision:

Draft your

Call to Action

and create your school

Vision Statement
Graduate Profile:

Create your

Graduate Profile

that describes what students will know and be able to do in order to succeed in college and career

Learning Model

: Create your

Framework for Mastery Learning

that establishes shared pedagogy grounded in research

Alignment

: Define

Building Blocks

, including

Mastery Credits

, that support mastery for all

Sustainability

: Create an

Implementation Plan

to build and sustain capacity for mastery learning
Schools and their local communities determine the competency design, assessments, pedagogical model, and supporting structures and systems. The five elements of the journey framework for school change parallel the competency-based structure of the Mastery Transcript ® and MTC Learning Record. The MTC Grow tool allows schools to document these competencies, much like a student does, as they transform their systems and implement instructional models.
MTC network members determine their own set of reporting competencies based on their vision and graduate profile. The MTC platform offers a library of example competencies from member schools to provide the opportunity to adopt and adapt rather than design from scratch. The tool allows for seven competency domains, each with specific competencies that form the domain. Some schools further classify these as foundational credits and advanced credits, allowing students to reach the foundational core expectations and then specialize their studies and earn advanced credits based on their interests.
Assessment and learning experiences also vary from school to school. Authentic performance assessment plays a key role in assessing the higher-order skills of typical competencies defined by MTC members. The MTC platform offers flexibility for a student to curate the evidence they include. MTC is currently designing a progress-report tool to continue to support student agency over the record of their learning by integrating the MTC tools with the learning experience.
The Resulting Credential: The Mastery Transcript ® and MTC Learning Record
MTC has shown steady growth, with about 400 member schools, since their founding in 2017. They have added 75 schools to their membership and more than tripled the number of participating public schools since 2019. They also formed a state partnership with Utah to provide access to the Mastery Transcript ®, MTC Learning Record, and supporting resources in support of shifting to personalized, competency-based learning (PCBL).
While a majority of MTC member schools are in the process of developing the competency-based systems that enable a valid and reliable competency-based transcript, approximately 10 percent of member schools are "sending schools" who use the Mastery Transcript ® as their transcript and culminating record of learning. This group of MTC members have fully implemented competency-based learning systems that include sending the Mastery Transcript ® to colleges and universities.
MTC as an Exemplar
MTC offers a model of what student transcripts and learner records should contain. The most important aspects include that:
The Mastery Transcript ® and MTC Learning Record allow for personalization of both the student's path and presentation of work.

The student profile supports learners showcasing their unique interests, skills, and talents.

The interface provides a thorough but clear profile for viewers to see what is most important to them.

The Mastery Transcript ® and MTC Learning Record can be continually updated as a student makes progress in demonstrating competency to earn mastery credits.
Read the Other Posts in the Series
Learn More