Reinventing the Traditional HS Diploma: New Zealand
CompetencyWorks Blog
---
This post is the third in a part of a series based upon a report from the Aurora Institute, Going Beyond the Traditional: Next Gen Credentials and Flexible Learning Pathways, which seeks to deepen state policy makers' understanding of the changes needed to facilitate meaningful next generation ("next gen") credentials and advance state policy to support those changes. 
Introduction to Education in New Zealand
New Zealand is an early adopter of next generation credentials and has a learning system that integrates aspects of competency-based education. Recognizing the country's need for a dynamic and skilled workforce, they remodeled the education system beginning in the 1990s to focus on lifelong learning and the ability to upskill and reskill.
A Standards-Based Record of Achievement
New Zealand uses a fully proficiency-based grading system to assess student learning. The country uses a common transcript system beginning in secondary school, maintained by the New Zealand Qualifications Authority (NZQA). Beginning at this level, and into adulthood, every learner has their records stored on their New Zealand Record of Achievement (ROA). High school students work towards completing a level of the National Certificate of Educational Achievement (NCEA). In New Zealand, documented learning does not end at graduation, but rather continues on through life. Even after earning their NCEA, records can be stored on the ROA, including state-approved micro-credentials that students may use throughout adulthood to build skills. 

Figure: NZQA Sample ROA
Flexible Pathways to Earning a Diploma
The ROA contains achievement standards and unit standards. Achievement standards focus on classic competencies in subjects such as reading, writing, arithmetic, and science. Unit standards explore skills-based activities such as business, agriculture, and social services. 
The NCEA is divided into Levels 1, 2, and 3. Every level includes certain requirements, including literacy and numeracy requirements. Students earn credits through appropriate assessment at different levels of instruction. These levels are not necessarily categorized in terms of difficulty, but are organized by depth of knowledge. Often, levels 1 and 2 are completed by students who aim to begin work after graduation, whereas level 3 is required to attend a New Zealand university and is recommended for other tertiary education.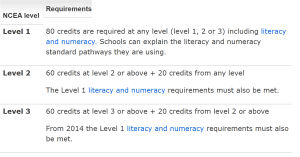 Figure: NCEA Levels and Requirements
Beyond earning the required credits, learners in New Zealand can also pursue Vocational Pathways. These pathways are available and can provide value to all students, but may be particularly helpful for those pursuing Level 2 qualifications. Vocational Pathways include focused learning in manufacturing and technology, construction and infrastructure, creative industries (such as design, media, and communication), primary industries (such as nature work, transportation, and business), social and community services, and service industries. All students can take courses in the pathways but to earn a Vocational Pathway Award, students must complete NCEA Level 2 or higher. This award shows future employers that a student has the skills they need for an entry-level position. 
With so many options, students have the ability to create their own path and study what they are interested in. This flexibility has resulted in large program growth for subjects that students find meaningful and helpful for their futures. Data analyzed from 2008 to 2022 Secondary Subject Enrollment show changes in students' interests as they create their futures, as well as correlating with global trends in workplace needs:
Enrollment in Chinese has nearly tripled.

Digital technologies was established as a subject and enrollment has nearly doubled in just three years.

Computer science has more than tripled.
Multiple pathways enable students to reach their goals and have the opportunity to customize their own learning to develop their future. The Ministry of Education supports students with a variety of resources to help learners work on their path.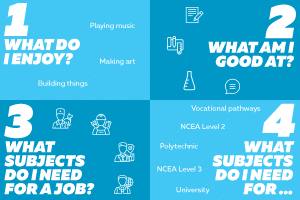 Figure: NZ Graphic for How to Choose Pathways
Multiple, Valid Assessments 
New Zealand uses a competency-based system of assessment to award credits. Courses may use internal and external assessments to award credit for the NCEA. Internal assessments focus on courses and skills that cannot be tested in an end-of-year exam. Speeches, science labs, and musical performances may all be assessed in this manner. External assessments include both sit-down exams and portfolio reviews. 
After assessment, students receive their competency-based score. Unit standards can earn Achieved (A) or Not Achieved (NA). Achievement standards may result in Not Achieved (NA), Achieved (A), Merit (M), and Excellence (E). A student can earn a Course Endorsement by accumulating 14 or more credits at an A, M, or E level with at least three tested internally and three assessed externally. If a learner has at least 50 credits scored as Excellence, they can get a special certificate endorsement. Although not required, both of these endorsements can benefit students entering university or the workforce. 
Transcripts as a Tool for Life-Long Learning
Learning in New Zealand is future-focused and dynamic to encourage and document continued learning. Aligned with the goals to upskill and reskill to meet the changing economy, learners can continue adding to their ROA into adulthood. Through the NZQA, learners can complete any number of state-approved micro-credentials that can be used to demonstrate to employers and universities that they have updated their skillset. These micro-credentials cover a range of topics, such as Basic Construction Skills, Baking and Patisserie, and Advanced Software Development.
In a continually changing world, the ability to truly show what someone knows and can do is invaluable. New Zealand offers a model for a future-focused vision with its willingness to pivot in order to meet the needs of its citizens. The ability to adapt is essential to outpace job displacement from automation and continue to update learning to meet ever-changing needs for next generation learning. 
The elements of the NCEA system and how it connects to the ROA are illustrated  in this helpful video from NZQA:
Learn More
To learn more about how New Zealand education works, check out this podcast featuring a former U.S. teacher who moved to New Zealand. In it, explore what daily life looks like in a New Zealand classroom. 
To learn more about New Zealand's innovation in alternative credentialing, along with other case studies and policy recommendations needed to transform education, be sure to read the links below and check out our report, Going Beyond the Traditional: Next Gen Credentials and Flexible Learning Pathways.
Read the Other Posts in the Series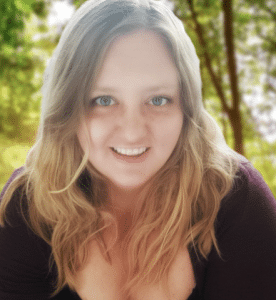 Alyssa Weaver is the Policy Research Intern at Aurora Institute's CompetencyWorks program. She is finishing her second master's degree in public policy at the University of Chicago, where she focuses on education policy. She is a board member of the Education Policy Student Association and a production assistant for Pencils Down, the University of Chicago Public Policy Podcast's show about education policy. She was a former teacher of seven years and taught informal science education, preschool, and most recently, 5th-grade math. She has spoken at conferences and schools on COVID-19 learning loss, project-based learning, multidisciplinary STEM integration, and green spaces for equity. She has also been published on Bored Teacher, Medium's Educate., and Medium's Chicago Education Advocacy Cooperative.