Personalized Learning Plans at Bellows Free Academy in Fairfax, Vermont
CompetencyWorks Blog
---
This is the second blog post based on Jensen Welch's dissertation research. 
At Bellows Free Academy (BFA) in Fairfax, Vermont, Personalized Learning Plans (PLPs) aim to allow students to design their own pathway toward proficiency-based graduation and provide a forum for developing student agency. Despite numerous iterations of the PLP requirements at BFA, we recognized that student and adult engagement with the PLP was inconsistent, and the clarity about why students have PLPs was insufficient. Additionally, we admitted that after ten-plus years we had never adequately sought student input in designing the PLP process. The need for change and the urge to include our students' voices in the revision prompted the youth participatory action research described in the previous blog post. This research resulted in revisions to our PLP that focused on building student engagement in the high school experience at BFA. 
PLP's in Vermont are a requirement of the 2013 legislation Act 77, the Flexible Pathways Initiative. This policy paved the way for programs around flexible and alternate pathways toward graduation, including proficiency-based learning and proficiency-based graduation requirements, and the rollout of PLPs for all students in Vermont high schools. The details of flexible pathways, PLPs, and proficiency-based graduation are outlined in the state's Education Quality Standards, published in conjunction with the Act 77 law. In true Vermont, independent fashion, high schools were given individual discretion as to if and how changes should be implemented. Thus, each high school has developed their own structures and systems to meet the goals of Act 77.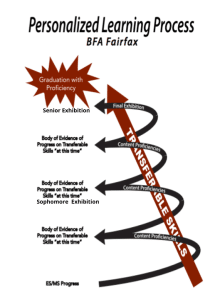 BFA Fairfax has used the spiral image shown here as a model for our personalized learning process, while continuously reviewing, revising, and refining our flexible pathways and proficiency-based instruction to provide the most relevant and robust learning opportunities for all students. The youth participatory action research that took place in the spring of 2022 identified strengths to build on and recommendations which prompted the revisions that follow.
Recommendations from the Youth Participatory Action Research
BFA Fairfax's PLP process has always consisted of two distinct parts. First, students build a portfolio website as a place to begin to share who they are as a person and a learner. The portfolio is a place to store evidence of student growth on transferable skills and academic proficiencies, and a place to keep track of activities, awards, and goals for the future. The students' portfolio websites are their own and the students make them uniquely theirs with pictures and designs of their choosing. As a school we also use the PowerSchool platform to monitor progress, and produce our report cards and transcripts. The second component of the PLP process is an exhibition presentation that students give in the spring of both their sophomore and senior years to a small group of family, friends, and faculty to share their progress and successes.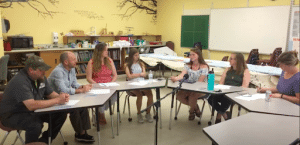 While the results of the youth participatory action research suggested maintaining these two basic components, we made the following recommendations for change:
Clarity
One of the largest challenges for BFA Fairfax in implementing PLPs with fidelity has been clarity for all students and faculty about the purpose and intent of the PLP process. Feedback from the research indicated a need for better communication about this. A streamlined website (BFA Fairfax PLP) with the rationale, instructions, and checklists for each grade level aims to provide clear instructions and examples for both students and adults.  
The PLP process for our high school students has been introduced and managed through our Advisory system in the past. While advisors will continue to be the main point of contact for students around PLPs, the newly revised format and templates encourage students to make portfolio websites into their own creative place to document who they are, their progress and achievements, and their plan for successful proficiency-based graduation. We already see some students engaging with their portfolio websites of their own accord, without their advisor teacher directing them to do so. 
Personalization
Another specific outcome from the research was to increase the opportunities for creativity and engagement through the "About Me" section of the portfolio website. We added a page for tracking participation in activities, groups, and jobs in addition to a place to record awards and certificates. We also strengthened the teacher's role in helping students reflect on the transferable skills they have developed. In the past, students did this independently or in Advisory. Now teachers help students connect the academic skill they've been working on in class to a transferable skill and add this evidence to their portfolios. BFA Fairfax uses Vermont's transferable skill language to help students and families track their progress on these non-content-specific skills of education: communication, self-direction, problem-solving, responsible citizenship, and informed and integrative thinking. 
Future Planning
Historically, the topic of future planning has been the most challenging for our PLP system to address in a meaningful way. Career and interest surveys can be one-shot attempts at looking toward the future without continual engagement. One idea that has gained traction, and that our student research affirmed, is BFA Fairfax's Graduation with Distinction – a process where students provide evidence of their areas of distinction in their PLP website portfolios. Each area of distinction encourages personalization and career exploration to authentically support planning for the future. 
When BFA Fairfax shifted to proficiency-based graduation, starting with the class of 2020, we also did away with the traditional valedictorian and salutatorian structure. The school and community have fully adopted the Graduation with Distinction model, which allows any student to apply for and provide evidence of their distinction in one or more of six areas: Arts, Leadership, STEM, Career Readiness, Humanities, and Renaissance.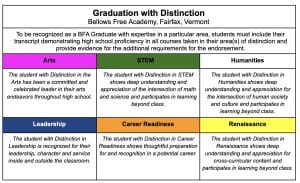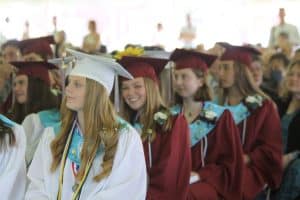 Our Graduation with Distinction format allows a variety of students, not just one or two, to be recognized for many excellent achievements. Students learn about the Graduation with Distinction process in their freshman year of high school so interested students can plan courses and pathways or set goals to achieve Graduation with Distinction, again using their PLP website portfolios as a place to gather evidence and document their process toward distinction. Then in the spring of their senior year, students who have applied for Graduation with Distinction present their evidence at their senior exhibition. Students who successfully meet the requirements, as decided by a faculty committee, earn a graduation rope of the color associated with their area of distinction. Students proudly drape these ropes around their shoulders at graduation.

Elevating BFA's PLP
BFA Fairfax believes that "learning and growth are best understood and represented by the learner." A website portfolio for students to gather evidence and track progress toward their goals is a flexible and shareable format to accomplish that. The Exhibition presentations in their sophomore and senior years are a celebration of their progress with faculty, family, and friends. The changes to our PLP that resulted from the youth participatory action research focused on providing more clarity for students and adults around the process, and adding more areas for creativity and personalization. We believe this will increase students' engagement in their overall learning experience!

Learn More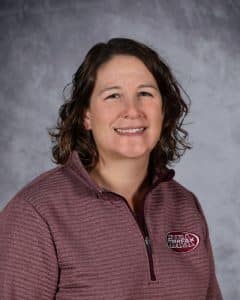 Jensen Welch is a veteran high school mathematics teacher with 20 years of classroom experience. As a member of the leadership team at Bellows Free Academy in Fairfax, VT, she has collaborated on the shift to proficiency-based personalized learning, including proficiency-based graduation and personalized learning plans for all students. She just completed her Doctorate of Education in Educational Leadership at Southern New Hampshire University. She believes every student can and wants to learn.