Key Terms to Understand the Learning Sciences
Education Domain Blog
---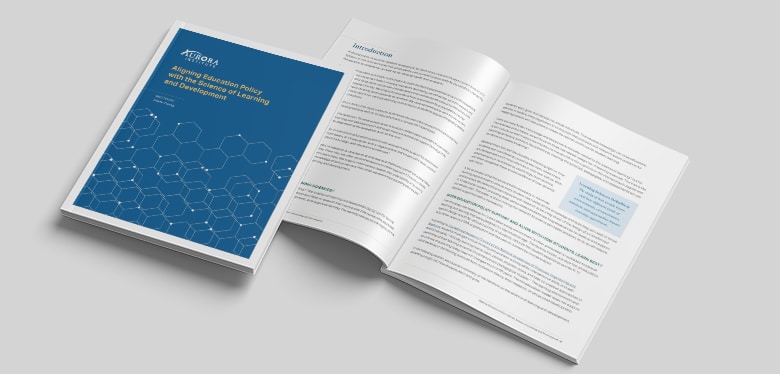 In our introductory post, we launched a new blog series on how education policy can align with the science of learning and development. In this second post, we explore key definitions crucial to understanding this research.
Key Terms
Learning Sciences
The terms "science of learning," "the science of learning and development (SoLD)," and the "learning sciences" refer to a multidisciplinary field of research that incorporates child neuroscience, psychology, sociology, behavioral development, and cognitive learning.
The learning sciences provide insights into how students learn, grow, and develop into whole individuals. This valuable knowledge can drive educators, education leaders, and policymakers to incorporate best practices and research-based evidence for designing schools and instruction to create the optimal conditions for student learning.
There are many funds of knowledge and disciplines to consider related to the science of learning, but for the purposes of our report, Aligning Education Policy with the Science of Learning and Development, we focus on three interrelated categories of learning sciences:
The socio-cultural context in which learning occurs;
The cognitive or the internal psychological and neurological factors; and
The operational—meaning the activities, pedagogies, and assessments we use to inspire and measure learning.
To put it another way, our friends at the Chan-Zuckerberg Initiative define the learning sciences as the study of how people learn and how different kinds of environments, circumstances, mindsets, and approaches impact learning experiences.
Whole Child
"Whole Child" is another term we make frequent reference to in the report. Public education with a holistic perspective is concerned with the development of every student's intellectual, emotional, social, critical, and creative potentials. Whole-child learning seeks to engage students in the teaching and learning process with considerations for a multifaceted education.
Why Are the Learning Sciences Important?
Research from the past few decades is shedding light on how students learn and develop. This information can provide teachers, researchers, and policymakers with more information than ever before. With advancements in neuroscience, psychology, brain science, and other disciplines, there is more evidence of how dynamic learning is.
We need to focus on educating the whole child to maximize learning opportunities and ensure that every student has mastered the knowledge and skills they will need to thrive and succeed.
We believe the learning sciences research to be a key driver of the design of a transformed K-12 education system, providing deep, personalized student-learning experiences to develop and support the whole child.
In the next blog post in this series, we will provide a summary of the literature on the science of learning and development.
---
Learn more: