Aligning the Education Policy with the Science of Learning
Education Domain Blog
---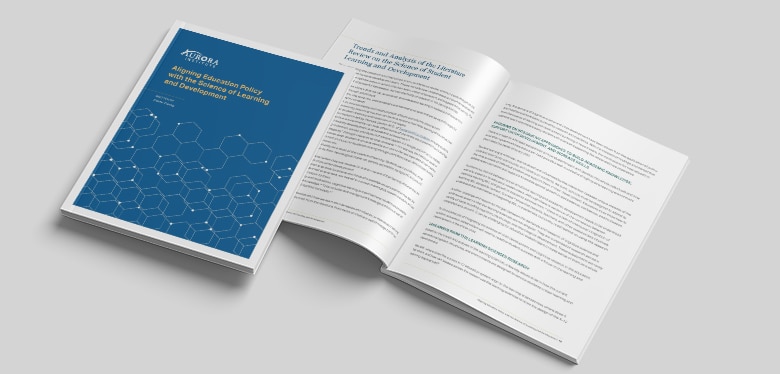 The Aurora Institute is launching a new blog series to highlight the recently released Aligning Education Policy with the Science of Learning and Development. The paper builds upon the research from the learning sciences and offers recommendations on how education policy can support and align with the science of learning and development.
A robust public education system is essential for democracy and civil society to thrive. It is time to build a system on the core principle that all students can succeed and be ready for the next steps in their learning, the workforce, citizenship, as well as for lifelong health and prosperity.
The education system is a significant contributor to each student's preparedness to participate and contribute to society. It is an essential factor in every student's well-being, as well as their economic prosperity and growth. Successful long-term outcomes include every child achieving educational success with the skills and knowledge needed for life. We intend to provide advice and analysis for policymakers so that they can improve decision-making and supports to raise achievement for each and every student. Achieving these crucial 21st-century learning outcomes for all students requires strengthening research-based policy and practices.
With these goals end in mind, this report aims to summarize the learning sciences and evaluate the alignment of research-based best practices with K-12 education policy across the United States.
We hope to answer the question: To what extent does education policy support and align with what research says about student learning and development? Although there are policies that support the findings of the learning sciences, this alignment is the exception and not the norm.
There is an opportunity to transform education systems with what we now know about how students learn. We aim to provide policymakers, K-12 education policy organizations, and funders with a clearer picture of how policy can best support and align with the learning sciences.
We analyzed research on the learning sciences to compare and contrast with existing federal and state education policy. From this, we offer recommendations to better support K-12 education models designed for how students learn best. We hope to help readers deepen their understanding of the learning sciences research and knowledge of policy barriers that inhibit educators from practicing within the best conditions for student learning and development.
To get there, the report makes nine recommendations that we will explore further through this blog series:
Redefine student success for the whole child.
Focus on supporting inclusive and safe learning environments.
Create meaningful credentials that certify student mastery of the knowledge and skills necessary for students to succeed and thrive in college, career, and civil society.
Provide diverse learning opportunities through multiple pathways allowing students to customize their learning according to their unique needs and interests.
Meet students where they are.
Build educator capacity and professional judgment to support whole-child learning.
Build balanced systems of assessments that better align with student-centered learning.
Rethink accountability systems for continuous improvement.
Support innovative, student-centered learning environments.
---
Learn more:
---
Alexis Chambers is Aurora Institute's Policy Associate.