Bringing Education Policy and the Learning Sciences into Alignment
Education Domain Blog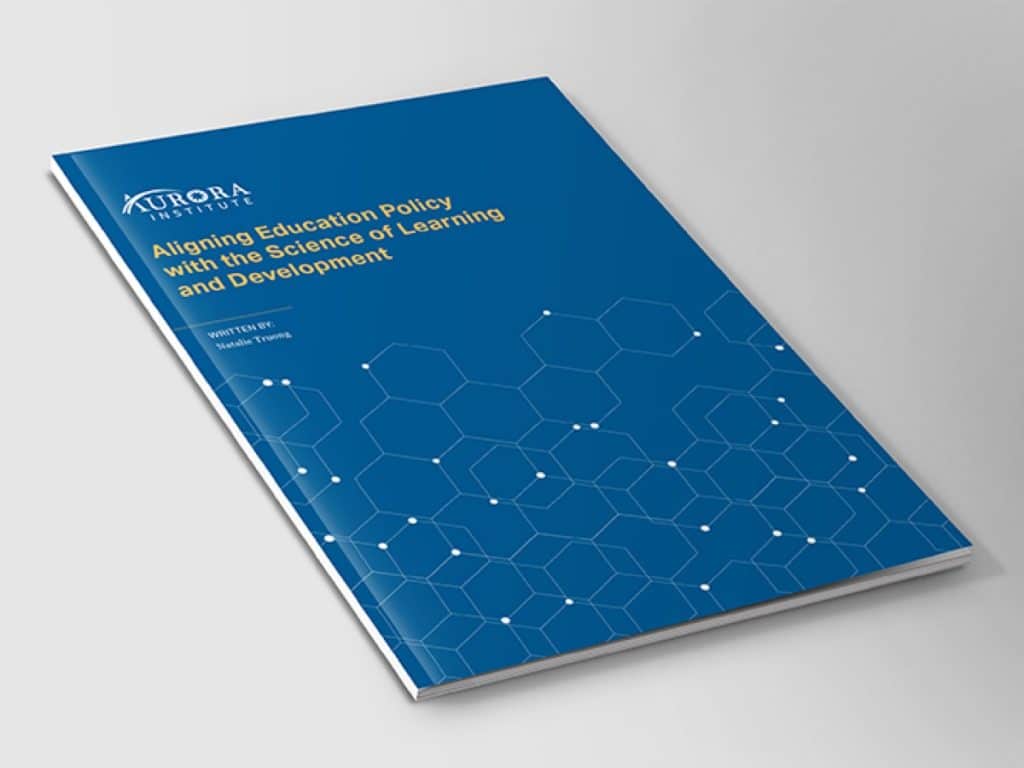 ---
Today, the Aurora Institute (formerly iNACOL) published Aligning Education Policy with the Science of Learning and Development, offering nine recommendations for state and federal education policy based on research on how students learn and develop.
Research on how students learn and develop is providing teachers, practitioners, and policymakers with insights on how to help students learn and grow academically and develop holistically to achieve successful outcomes in their education and in life. With advancements in neuroscience, psychology, brain science, and other disciplines, there is greater evidence of just how dynamic and individualized learning is and what we need to do to support positive youth outcomes.
This new report summarizes recent learning sciences research.
The learning sciences illuminate the importance of educating the whole child and articulating the essential knowledge, skills, and social and emotional competencies needed to support academic progress and future workforce success. This report provides recommendations to help state and local leaders articulate a vision for student success, incorporating insights from the learning sciences.
The learning sciences tell us that not all learning is linear, and the science reinforces teaching students in their zone of proximal development, which includes students' emotional, psychological, and cognitive processes.
How can education policy help guide teaching and learning in each state with better alignment to the research on youth development? We believe it is an important leverage point for rethinking expectations more holistically and supporting and resourcing schools. Policy shapes the conditions that enable districts and communities to co-create how learning happens in K-12 public education. State policymakers, therefore, have a unique opportunity to harmonize policy and practice around how students learn best.
To that end, Aligning Education Policy with the Science of Learning and Development offers policymakers nine recommendations to synchronize policy with the learning sciences research:
Redefine student success for the whole child. State and local leaders need to articulate a clear vision of what every student should know and be able to do, grounded in evidence that learning has social, emotional, and academic dimensions.
Focus on supporting inclusive and safe learning environments. States and leaders should enable districts and schools to create and continually improve supportive and affirming learning environments that ensure strong relationships, personalized supports for students, and engaging, relevant learning opportunities.
Create meaningful credentials that certify student mastery of the knowledge and skills necessary for students to succeed and thrive in college, career, and civil society.  State policymakers and communities can take action, for example, to ensure that a high school diploma is aligned to a comprehensive definition of success and be a clear indicator of what a recipient knows and can do. Policymakers can use their convening powers to host conversations about what high school credentials should signify and how they support students toward future success.
Provide diverse learning opportunities through multiple pathways to allow students to customize their learning pathways according to their unique needs and interests. Multiple pathways to credentials are a powerful way to infuse meaning and relevance into school. They provide an avenue whereby students can select the learning environment and path that best meet their needs. They increase student outcomes and better prepare students for the challenges of higher education and the workplace.
Meet students where they are. Doing so requires a commitment to support learning environments in which educators know and care about students—academically, cognitively, culturally, emotionally, linguistically, physically, and behaviorally. This environment necessitates assessing, reporting, and communicating the progress of each student, along their learning progressions and in real-time, resulting in greater transparency of student learning and rigor in outcomes.
Build educator capacity and professional judgment to support whole-child learning. State policy can encourage and support redesigning teacher preparation, learning, and advancement in alignment with 21st-century student learning and workforce needs and ensure that educators have the requisite skills and knowledge to lead in student-centered learning environments. It can redesign licensure along with the approval process for teacher preparation programs to integrate the learning sciences.
Build balanced systems of assessments that better align with student-centered learning. While ESSA provides flexibility for states to redesign systems of assessments to better align with student-centered learning, states can encourage the development of balanced systems of assessments that allow for more holistic measurements of student learning outcomes.
Rethink accountability systems for continuous improvement. Among the many opportunities for states to integrate the learning sciences is by designing next-generation accountability systems to provide transparency on multiple measures aligned with comprehensive student success outcomes. Additionally, state policymakers can consider how building reporting tools can provide greater transparency on student learning progressions in real-time.
Support innovative student-centered learning environments. Providing policy flexibility to enable student-centered learning environments that support whole-child learning and development based on the learning sciences is an essential action step for this recommendation. And, at both the federal and state level, policy can bridge the practice and research divide through partnerships or by investing in new initiatives.
Download the full report here and learn more from other resources below.
Learn More:
Aurora Institute report – Current to Future State: Issues and Action Steps for State Policy to Support Personalized, Competency-Based Learning
Aurora Institute report – Fit for Purpose: Taking the Long View on Systems Change and Policy to Support Competency Education.
Aurora Institute report – Rethinking State Accountability to Support Personalized, Competency-Based Learning in K-12 Education
Aurora Institute report – 2019 State and Federal Policy Priorities
Turnaround for Children report – Building Blocks for Learning: A Framework for Comprehensive Student Development
Aspen Institute report – From a Nation at Risk to a Nation at Hope: Recommendations from the National Commission on Social Emotional Learning and Academic Development
Deans for Impact report – The Science of Learning
Applied Developmental Science article – Implications for Educational Practice of the Science of Learning and Development.
---
Natalie Truong is Policy Director at the Aurora Institute.