#Aurora23: Next Gen Credentials, Work-Based Learning, and More
CompetencyWorks Blog
---
The 2023 Aurora Institute Symposium will feature workshops, panel discussions, keynote speakers, and presentations highlighting the amazing work being done in personalized, competency-based education (CBE). At CompetencyWorks, we've been exploring learning environments, analyzing policy, and uplifting new voices in the CBE field and we can't wait to connect with everyone at #Aurora23.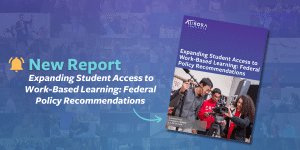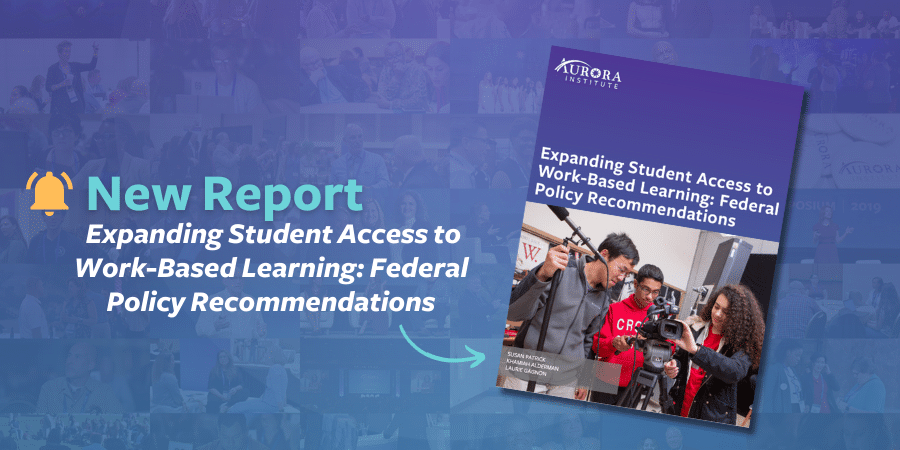 This year, the Aurora Institute has released two reports that are crucial to promoting and developing future-focused, student-centered learning: Going Beyond the Traditional: Next Gen Credentials and Flexible Learning Pathways and Expanding Student Access to Work-Based Learning: Federal Policy Recommendations. The next gen credentials report explores the new world of work that demands not only academic knowledge and skills but also transferable skills such as communication, creativity, and collaboration, resulting in a new approach to the high school diploma. The second report explains policies that could help promote work-based learning, which aims to bridge the gap between classroom learning and real-world workplace expectations by fostering partnerships with industry experts and allowing students to apply their knowledge in practical, real-world scenarios. 
Here are a few amazing sessions that the CompetencyWorks team is looking forward to that help expand on ideas presented in our two most recent reports.
Work-Based Learning
Next-Level Real-World Learning
Monday, October 16, 2023 – 11:00 am – 12:15 pm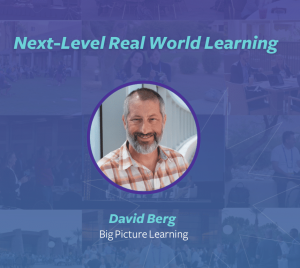 What's the difference between a great work-based-learning (RWL) experience and a not-so-great one? As Real World Learning becomes more part of the high school experience, it is time to explore ways to measure quality. The session will look at tools from Big Picture Learning to measure program impact and will include student perspectives. If you work at a high school that has an established internship program, take it to the next level. If you do not have an internship program, learn how to get started.
Equitable Engagement with Future-Ready Learning: Transforming the Education System through Competency-Based Core + Career & Technical Education Pathways
Tuesday, October 17, 2023 – 1:45 pm – 3:00 pm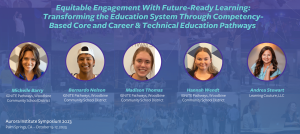 At IGNITE Pathways in Woodbine Community School District, learners demonstrate their deep engagement through 21st century skill development on a continuum from career exploration to apprenticeships. These breakthrough practices and policies merge work-based learning and core credits within industry experiences and immersive technologies. Learn how a rural Iowa district is re-engaging school, higher ed, business/industry, and community partners in a replicable, personalized, competency-based approach to career pathway development.
Closing the Social Capital Gap Through Real World Learning
Tuesday, October 17, 2023 – 3:30 pm – 4:45 pm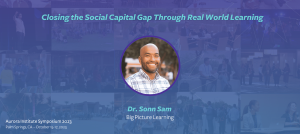 Join Big Picture Learning for an engaging workshop on the power of building social capital through real-world learning experiences. As adults, we know that it's not just what you know, but who you know that can open doors to new opportunities. Imagine the impact this can have on young people from marginalized communities. In this workshop, we will explore how internships and other real-world learning opportunities can help expand social networks and create pathways to success.
Next-Generation Credentials 
From Poster to Practice: Key Practical Strategies to Activate Your Graduate Portrait from Four Trailblazing Districts and Schools
Monday, October 16, 2023 – 1:45 pm – 3:00 pm
Creating a graduate portrait is the first step in the complex journey to transform student learning around whole-child, 21st-C definitions of student success. The hard part is what follows. Participants in this immersive workshop will enjoy the 90 minutes of their dreams: practical guidance from 4 schools & districts that have emerged from this work as national exemplars. They will leave with a clear set of ideas about how to bring their reimagined vision to life, for adults and students alike.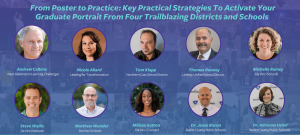 How Can Schools Use the Accreditation Process to Fuel Their Journey to Personalized, Competency-Based Learning?
Monday, October 16, 2023 – 1:45 pm – 2:45 pm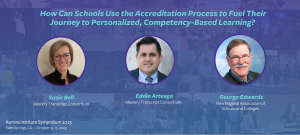 Accreditation is often seen as a singular event with multiple steps that may/may not be connected to school change priorities. This session highlights the value of accreditation when coupled with a school's shift to personalized, competency-based learning. Mastery Transcript Consortium and the New England Association of Schools and Colleges will share outcomes from their work with schools testing an integrated approach to documenting school change efforts and improvement in school quality.
What About Grades? Exploring Strategies That Empower All Learners To Thrive
Monday, October 16, 2023 – 4:15 pm – 5:15 pm
Traditional grades (0-100, A-F, GPA) have a stranglehold on reporting and assessment systems. How can school communities meaningfully approach grading reform while reimagining how learners learn and thrive in school and their future lives? In this pop-up problem of practice session with the Mastery Transcript Consortium, we'll explore research-based strategies and determine opportunities for gradually redesigning grading practices in the classroom and schoolwide. Attendees will devise action steps that they can begin implementing upon returning to their school or district.
Kentucky's Student Microcredentials: Innovating for Success in Algebra I
Tuesday, October 17, 2023 – 9:45 am – 10:45 am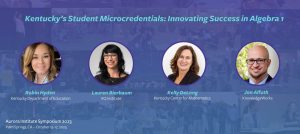 Students who pass Algebra I by the end of 9th grade are more likely to find success in school and careers, while those who do not are significantly less likely to graduate from high school at all. This session explores how the KY Dept of Edu's Algebra I Micro credential Pilot gives students iterative and incremental opportunities to master math content through real-world applications. Aligned with the goals of KUWL, this pilot creates pathways to student success in high school and beyond.
Next Gen Credentials and Work-Based Learning aside, we're most excited to hear from students at the 2023 Aurora Institute Symposium. Not only will there be a featured student panel, but several sessions and workshops are led and designed by students. You can meet some of them and check out their learning environments in our upcoming Day in the Life vlog series. 
The CompetencyWorks team is so excited for the 2023 Aurora Institute Symposium with its array of offerings that showcase advancements in CBE. We are especially eager to delve deeper into the ideas presented in our recent reports and engage in conversations that will shape the future of student-centered learning.
This year marks a pivotal moment in the journey towards more innovative and learner-centric educational practices. We are excited to be part of this transformative journey and eagerly anticipate the rich discussions and insights that lie ahead. Here's to an inspiring and impactful 2023 Aurora Institute Symposium; can't wait to see you there!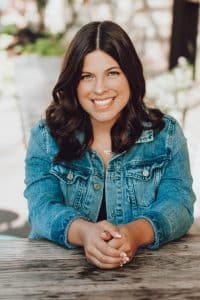 Briana Medina joined the Aurora Institute in May 2023 as a CompetencyWorks intern. She is a junior at the University of Wisconsin-Madison studying Political Science and Education Studies. She is committed to educational equity and is passionate about its relation to competency-based learning.
She currently serves on the UW-Madison College of Letters and Science Curriculum Committee, where she reviews and recommends course and program additions, revisions, and policies relating to academic offerings. In the past, Briana has worked as an intern at Kettle Moraine School for Arts and Performance, giving tours and teaching in a competency-based learning environment. Additionally, she worked with the Institute for Personalized Learning on panel discussions, high-level presentations, and blog posts.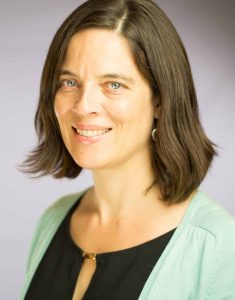 Laurie Gagnon is the CompetencyWorks Program Director at the Aurora Institute. She leads the work of sharing promising practices shaping the future of K-12 personalized, competency-based education (CBE). Laurie hasn't been to an in-person Symposium since 2017 as she was too pregnant in 2018 and busy with her almost 1-year old in 2019 – she's excited to convene, connect, and learn at #Aurora23!