Catapulting Toward Competency Ed
CompetencyWorks Blog
---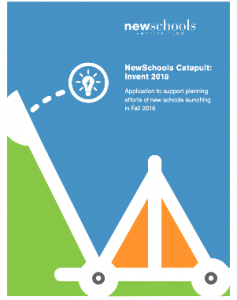 There is a new resource available for school designers that want to launch innovative schools. Check out the New Schools Venture Fund Catapult: Invent 2015. It's for schools that will open in 2016. They don't have a restrictive list of what it means to be innovative – but they do identify some of the ideas they find exciting, including:
Competency-based models that truly allow students to progress along a path and at a pace that best meets their needs;
New and better ways to integrate digital content with teacher-facilitated instruction which advance the current state of blended instruction;
Development and/or integration of novel approaches to measure academic and/or non-academic dimensions that support an expanded definition of student success;
Creative and scalable approaches that enable students to develop and explore their interests and pursue their passions; and
Bridges between early childhood and K-12 systems and ways to integrate the two.
Hurry, hurry, hurry. Applications due August 15th.