Creating a Safe, Supportive, and Collaborative Culture at Kenowa Hills
CompetencyWorks Blog
---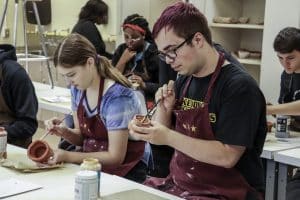 Dr. Robert Marzano's High Reliability Schools (HRS) framework has been valuable for our district's efforts to continuously improve and further implement competency-based education (CBE) at Kenowa Hills Public Schools in Grand Rapids, Michigan.  Since 2012, our school district's use and understanding of the HRS framework has grown and evolved, and this process has continued in the midst of the COVID-19 pandemic.
Specifically, the pandemic has helped us to recalibrate and deepen our understanding of the critical importance of HRS Level 1: A safe, supportive, and collaborative culture. Peter Drucker's phrase "culture eats strategy for breakfast" is a good reminder that HRS Level 1 should always be top of mind in any learning community. This school year has amplified Drucker's thinking, as there are now many new challenges impacting our learning communities such as shifting schedules, school closures, quarantining, and contract tracing. All of this has reminded us that the one constant we can lean into and depend on is the culture we create in our learning communities.
My friend Vern Hazard from The Flippen Group often reminds me that "Kids don't care what you know until they know that you care." As educators, we inherently know this. Moreover, we know efforts surrounding school culture are never-ending and will always be central to quality instructional practices. HRS Level 1 is something that must be continuously monitored, evaluated, adjusted, and improved upon. In fact, I believe efforts with a safe, supportive, and collaborative culture are our best pathway forward when schools begin to transition to post-pandemic education.
In thinking strategically about HRS Level 1, it is important to design with the end in mind. Schools throughout the nation are shifting to models of education that are more student-centered and mastery-based, often referred to as personalized, competency-based education (Marzano, Norford, Finn, & Finn, 2017). These schools are shifting away from a one-size-fits-all approach to models that are designed around individual student needs.
As such, when thinking about design efforts for HRS Level 1, there are some key questions to consider if designing with individual students' needs in mind. Should goals and strategies aim for a culture where students and adults feel a deep connection to their learning community and experience successes? Absolutely. Should a school's culture and climate be one that celebrates differences, is inclusive, and makes everyone feel a sense of belonging? Without question. Should mistakes be both expected and accepted as part of an authentic learning process? Yes!
These are just some of the elements that we should aim for in all learning communities. However, I believe there is another critical design consideration in HRS Level 1 for schools that are designing for personalized, competency-based education as the end goal: Who owns the learning? For schools  that want students to own the learning, there are some additional questions to ponder:
How do we allow for, build, and support student voice and choice?
How do we intentionally scale student agency through a gradual release of responsibility in our classrooms and learning community?
Socrates said, "To know thyself is the beginning of wisdom." Do we allow students opportunities to know themselves and have a firm grasp on their passions and areas of interest? Do students understand and take action on their areas for growth and development?
Do students have a voice and sense of agency in their pathway(s) for learning? Are we creating a culture that allows them to pursue their interests, passions, and apply their talents in real and tangible ways?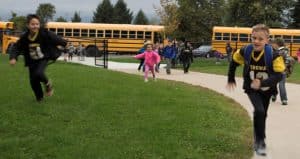 As previously mentioned, COVID-19 has deepened our understanding of the critical importance of HRS Level 1. In closing, I wanted to lift up some of our staff reflections as they relate to a safe, supportive, and collaborative culture and its importance during the pandemic. Charlotte Hartley is a 3rd-grade teacher at Kenowa Hills Central Elementary. When reflecting on some of her take-aways, she shared this:
The students needed love, acceptance, and social emotional security, and teachers stepped up to provide these in a variety of ways. I was particularly touched by how much the students missed their friends during our hybrid schedule, so we had weekly Zooms where they could touch base, laugh, and share good things before discussing academic assignments. 
Teaching through the pandemic has made it clear that we all need love, acceptance, collaboration, and a sense of community. We have all learned to be flexible and persevere. If we can bring these priorities into our new "normal," then we will all be in a better place. 
Cara Gregory is an English Language Arts teacher at Kenowa Hills Middle School. In thinking about teaching during the pandemic, she shared this:
There was a growing sense of "we're all in this together." The fact that "school" happened at diverse times, and both students and teachers made themselves available to connect via technology, helped to foster that. I also think that the idea of school becoming less formal allowed relationships to flourish. 
We saw each others' humanity in a unique way we never had before. When else have we ever had so much in common with our students as experiencing this pandemic together? 
Mrs. Gregory also offered some instructional reflections that helped her support and maintain a strong classroom culture:
One major win for our ELA team was to have to be real and honest about what "essential standards" are. In the past, when asked to narrow the scope and increase the depth of learning around essentials, our backs weren't against the wall, as they are in this pandemic. Before, we could easily make a case for including this standard or that standard as being a high-stakes skill that kids could leverage in their futures. But much like imagining what you would grab and take with you if your house was on fire, and then actually being in a house fire and really looking for what's most beneficial for your survival, we drastically narrowed our standards and did rounds of engaging practice with kids until the skills were truly honed. 
Our kids performed better on our assessments and were more engaged than they'd ever been because we were asking for them to really focus their learning, and we certainly focused our teaching. We thought we were not truly serving them with "pandemic teaching." But, it turns out, the depth we achieved with essential learning was what we should've been doing all along.
Spencer Vanderheide is a teacher at Kenowa Hills High School. He is teaching a new course this year during the 2020-2021 school year called Knight LIFE (Leadership, Innovation, Future, Education). The Knight LIFE course has a focus on social and emotional learning (SEL) as well as our district's Profile of a Graduate (below). Here are some of his reflections and lessons learned:
Commonality leads to rapport. Early on in Knight LIFE we learn about the differences between sympathy and empathy. Sympathy is "I'm so sorry, that must be tough" and empathy is "I know how you feel. Me too. This is hard." While often times teachers and students get a reputation of us vs. them, we all have had our lives up-ended. That commonality of knowing what it's like brings us together on some level. Empathy can change the world.
We all want to be known, seen, and understood. I end every class with the same sign off, "Even if you heard me say nothing else today, hear this: You are enough. You matter. You are worth it. You are known. And you are loved."
I observed over and over and over again that SEL is important. It is the key to a brighter classroom, school, community and world.
Learn More: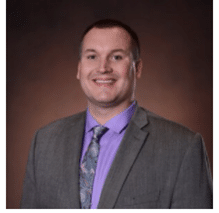 Mike Burde is Assistant Superintendent of the Kenowa Hills Public Schools. He earned his Bachelor of Arts in education from Spring Arbor University and his Masters of Arts and Doctorate in educational leadership from Western Michigan University. Since 2004, Dr. Burde has been involved in public school administration at all levels: elementary, secondary, and central office. In addition, Dr. Burde currently serves as the President of the Michigan Association of State and Federal Program Specialists (MASFPS).