Creating a Seamless P-20 System in Illinois
CompetencyWorks Blog
---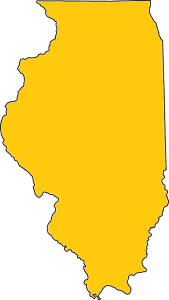 We do our best to stay on top of which districts are converting and what is going on in the states regarding competency education. But we were totally surprised when we heard about the Illinois legislature unanimously passing HB5729 Postsecondary and Workforce Readiness Act, which includes a K12 pilot for competency-based education.
Luckily, I got to meet a few members of the incredible team in Illinois, all of whom worked closely together around HB5729, at an Achieve Competency-Based Pathways meeting. Thanks to Ben Boer from Advance Illinois for his presentation.
Here are some of the highlights of what I learned about Illinois' effort. The emphasis on creating a calibrated, transparent and accountable transition in mathematics is opening a door to much needed conversations between higher education and K12.
Overarching Goal: HB 5729 was created to address the goal of the state's P20 Council to have 60 percent of Illinoisans have a postsecondary degree or credential by 2025. An earlier piece of legislation, HR477, established four advisory committees that built consensus around the ideas introduced in HB5729. Through this process, a framework for college and career readiness was developed that introduced ideas of personalization and alternative methods of credit acquisition (i.e., competency education). The framework explicitly identifies the concrete steps of career development, college awareness, and financial literacy. The goal is to create a more aligned system that includes K12, institutions of higher education (IHE), and employers.
Elements of HB5729: The legislation has several components, including:
Expecting local education agencies (LEA) to establish their own college and career readiness frameworks.
Introducing a voluntary system for LEAs to offer endorsements in career interest areas thereby incentivizing the development of CTE programming.
Alignment of math between high school and IHE.
A pilot for competency-based graduation requirements with implementation starting in 2018-19 (they value allowing LEAs to have time to explore what competency education is and the implications of a proficiency-based diploma).
Aligning K12 and IHE: The section on alignment is the most interesting, as it introduces transparency, accountability, and calibration into what is now an entirely murky situation for students to try to navigate. It will be especially interesting if DePaul University, with its experience in competency-based education, gets involved.
HB 5729 enables LEAs to establish the math competencies required to enter credit bearing courses in college through a panel that includes IHE, employers, and K12. In other words, they are going to calibrate what it means to be college ready in math.
The LEAs can then use the competencies to identify the criteria that allow schools to identify where students are in their junior year in terms of college readiness in math. If students demonstrate that they have developed the math competencies, they don't have to take math if they don't want to or can continue to pursue more advanced coursework that is at the college level. In other words, advance upon mastery.
However, if they don't demonstrate the math competencies they are required to take "transitional math" that helps them build their skills. The transitional math might be organized within three contexts: STEM, technical, or statistics. In other words, they are creating a system of support. Junior year is way too late for those students who didn't learn the foundational skills in elementary school. However, if middle and high schools went through the same process of calibration, we would see LEAs addressing the elementary school level gaps in middle school instead of passing students on to high school.
If they successfully complete the transitional math course by demonstrating competency, students are immediately eligible for credit-bearing courses at community college (it doesn't sound like the four-year IHE have signed on yet). This creates a much higher level of accountability on both the K12 and higher education side.
K12 Competency-Based Pilots: The pilots have been designed for LEAs to have lots of time for planning and lots of flexibility in how they get started. They can determine which years, which graduation requirements, or which high schools will be involved. There are six core requirements of the pilots:
Students demonstrate mastery of all required competencies to earn credit.
Students demonstrate mastery of adaptive and academic competencies. (Adaptive is the term IL uses for the cross-curricular skills such as communication.)
Students advance once they have demonstrated mastery, and receive more time and personalized instruction if needed.
Students have ability to attain postsecondary education and career-related competencies.
Students are assessed using multiple measures.
Students must be able to earn credit toward graduation requirement in other ways than traditional coursework.
Additional requirements include: a plan for professional development for educators, demonstration of how core academic competencies can be mastered through integrated or CTE courses, community engagement and communications, collecting and assessing student progress, and a plan for managing grading. LEAs will be expected to engage IHE and feeder schools.
In order to be awarded a grant, LEAs will need to have an initial commitment from teachers, sign-on by the union president, and an implementation committee with a balance of teachers and administrators.
The state is to provide a number of supports to the pilots, including grants, technical assistance and PD, peer-to-peer coaching, communication materials and supports, a web-based resource, and networking opportunities. At this point, no other system-building initiatives are planned.
– – –
It will be interesting to see how competency education develops in Illinois. Understandably, they are trying to align the two sectors of education – K12 and higher education – by creating a seamless transition. However, LEAs will need to understand two important things that, from what I can tell, aren't discussed in the legislation.
#1 Competency education isn't just for high schools. If LEAs only focus on high schools, they will continue to pass students on without the foundational skills, thereby creating the problem of students arriving in ninth grade with skills that may span over six or more performance levels. Even if they start with high schools, they are going to need to engage elementary and middle schools early on in the process so they can make the transition to competency education as well.
#2 HB5729 is very focused on aligning the systems, whereas other states such as Vermont have focused more on personalization and what they want for students. When educators and communities talk about personalization and what they want for their high school graduates, the concept of lifelong learning or self-directed learners usually appears high on the list. The entry point of personalization and self-directed learners introduces conversations that contribute to the paradigm shift needed to effectively implement personalized, competency-based systems and create the conditions for students to have more agency. It may not happen as naturally through a career development/credentialing lens, so Illinois LEAs will want to think strategically about how to use the planning and community engagement processes. (The paper Implementing Competency Education in K-12 Systems: Insights from Local Leaders might be helpful.)
See also: