Expanding our Equity Toolkits: Strengthening the Connections between CBE and Equity
CompetencyWorks Blog
---
My K-12 experience was characterized by the traditional way of teaching students. All of my learning took place in the classroom, I never received the option to demonstrate my learning in a way of my choosing, and flexibility depended on how the teacher was feeling that day. Learning about competency-based education (CBE) has been a journey that has expanded my worldview and perspective on what education can be. CBE taught me that learning can take many shapes and forms and does not have to be a one-size-fits-all approach.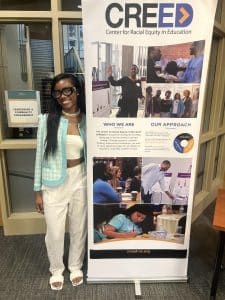 Learning about CBE has also expanded my perspective on how equity shows up within education. As someone with a strong educational equity background, I advocate for solutions and strategies that work to undo and heal the damage caused by racism and white supremacy. These strategies include increasing funding to Title I schools, incorporating restorative justice circles, diversifying the teaching population, and culturally responsive teaching. It is essential that we acknowledge how the education system perpetuates white supremacy ideals and identify ways we can uplift and empower those who are affected the most by it. I strongly believed that having these strategies in place inherently made a school equitable. However, more puzzle pieces are needed to complete the picture.
Before becoming a CompetencyWorks intern, I viewed racial equity strategies as separate from CBE rather than seeing how both can work together to create an authentic, equitable educational experience for learners. CBE forced me to challenge my perspective of what equity looks like in schools. CBE's commitment to putting the learner first by meeting them where they are in their learning and providing flexibility showed me that educational equity comes in different forms. However, to fully be equitable, CBE implementation must also work toward being racially equitable so that all students can experience its benefits.
This post challenges the CBE field to take a stronger stance on racial equity within education as well as to help others, like myself, who have a strong racial equity background to strengthen their equity toolkits by incorporating CBE practices when designing learning.
Developing My Equity Perspective
My exposure to the ideas of racial and educational equity began as a student at Julius Chambers High School, formerly known as Zebulon B. Vance High School in Charlotte, North Carolina. Charlotte-Mecklenburg Schools is the most segregated school district in North Carolina. There are schools, like Vance, that are 99% students of color and schools that are 70% white. Schools with a majority of students of color are less likely to have experienced teachers, a rigorous curriculum, and sufficient funding. Through my friends from other schools, I immediately noticed these differences between our schools. At Vance, there was a time I had to email the principal because my class was not given any needed textbooks. My school only offered five AP courses and only three of them had teachers, so we had to take our AP courses online. Furthermore, the majority of my peers had personal and financial hardships that prevented them from excelling in school. In contrast, my friend from Ardrey Kell High School, a well-resourced school with a majority white student population had an abundance of AP courses to choose from and did not have to worry about how they would receive the materials needed for class. I am not saying that Ardrey Kell did not have problems, but systemic racism and segregation made it possible for students within the same school district to have two entirely different experiences.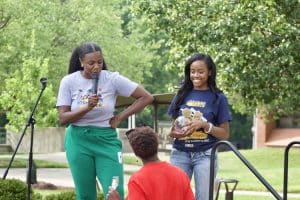 As my awareness grew, I became committed to ensuring that all students receive opportunities to grow to their full potential. During my junior year of college, I became an intern for The Center of Racial Equity in Education (CREED). CREED works to create equitable education opportunities through policy and advocacy. It was through CREED that I learned how deeply segregated Charlotte-Mecklenburg Schools are, how geography affects the quality of a student's education, and how racism shows up within the education system. My internship with CREED strengthened my passion to better the educational experience for all students, especially those from disadvantaged backgrounds.
My work in equity includes creating opportunities for educators and students of color to explore their interests, gain knowledge on education policy, develop advocacy skills, and practice agency. For example, I assisted with the planning of CREED's Teaching in Color Fest which fosters a community for teachers of color to share their stories and passions for educational equity. Currently, I am creating CREED's first youth program that serves to empower students to be the change they want to see within the education system.
Discovering CBE
In learning about CBE, I viewed its approach to equity as mainly focused on ensuring learners are being measured by their demonstrating mastery of learning, rather than the number of hours spent in a classroom. The field's commitment to transforming learning by shifting the classroom to be learner-centered paves a way for racial disparity gaps to close. For example, key CBE resources such as Designing for Equity: Leveraging Competency-Based Education to Ensure All Students Succeed include the importance of key racial equity strategies like culturally responsive teaching. CBE also emphasizes the importance of culture and identity in empowering learners; when a student feels valued and seen within the classroom, they are more likely to feel confident in their learning. However, while CBE mentions culturally responsive practices and addresses fundamental shortcomings of the traditional model, I saw more of an emphasis on redesigning student learning and less on advocating for racial equity.
CBE  talks about inequities in the traditional system, but in the multiple layers of what it takes to implement CBE some important racial equity elements are missing or get lost. For instance: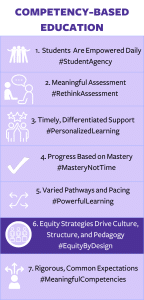 How does CBE work to ensure that students of color see themselves within the curriculum?
How does CBE draw students of color back into the classroom after they've been pushed out due to inequitable disciplinary policies?
How does CBE ensure that students with disabilities are not being excluded or misunderstood?
As I learned about CBE, I was left wondering why there was not a mention of race and its role in educational experiences for students of color. If, as stated in element six of the CBE definition, CBE supports "Strategies to ensure equity for all students are embedded in the culture, structure, and pedagogy of schools and education systems,"  why aren't we taking a direct stance against strategies that uphold white supremacy and racism? CBE always highlights how the traditional system disadvantages learners through its reliance on the industrial era. However, it does not highlight how students of color are disadvantaged by the same system and its reliance on white supremacy.
If we are working towards education equity for all, we must not leave out racial equity and its importance in bettering the system for students of color. This blog series works to cultivate a stronger connection between CBE and racial equity. I will explore how the CBE field can better address racial inequities, how equity strategies can flourish when combined with CBE, and how equity scholars can use CBE to further their work.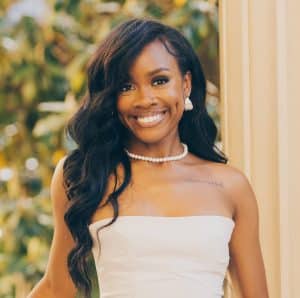 Khamiah Alderman joined the Aurora Institute as an intern with CompetencyWorks in January 2023. She is a recent Public Policy graduate from the University of North Carolina at Chapel Hill. She is passionate about educational equity and is working to better the education system for all learners, regardless of race, gender, religion, and ability.
She currently serves as the Youth Program Manager for the Center for Racial Equity in Education in Charlotte, North Carolina. In this position, she is building a program dedicated to developing leaders who are informed and empowered to act locally at their schools and at the district level. In the past, Khamiah served as a research assistant for professors at UNC-Chapel Hill where she gained valuable research experience grounded in education equity, intersectionality, and African American history. She hopes to continue her work to transform the education system to be accessible for all.