Healing and Building Community in the Classroom: Restorative Justice in Competency-Based Education
CompetencyWorks Blog
---
This is the second blog post in a series on racial equity and CBE and will discuss restorative justice, its connection to racial equity, and how it can be used to further competency-based education. 
Introduction
Creating a supportive and inclusive culture of learning is fundamental to the vision for competency-based education (CBE), and that means understanding what students of color experience and need. Schools must recognize that their students who are a part of historically oppressed communities need an environment that is safe, uplifts their identity, and fully recognizes and supports them as learners and individuals.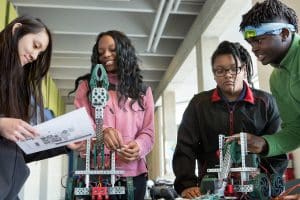 School policies that do not use a racial equity lens jeopardize learners of color by perpetuating racism and white supremacy. Schools should utilize tools, like restorative justice, that focus on healing versus inflicting trauma. Restorative justice cultivates an environment that is welcoming to facilitate healthy relationships within a school setting. Specifically, it goes hand in hand with the CBE equity principle: Nurture a Strong Culture of Learning and Inclusivity, which takes a stance in favor of equitable practices and provides a framework for how to create an equitable learning culture.
Students of color need a learning environment that supports and values their identity, celebrates their cultural background, and is more understanding of their differences than a traditional learning environment. These students are vulnerable to racism which produces racial trauma. Racial trauma, either intergenerational or vicarious, affects Black and Brown students emotionally, physically, and psychologically. It's crucial that schools don't perpetuate racial trauma. One way they can do this is by providing a space where students of color can feel empowered in their learning and confident with their identity. In contrast, school discipline policies, such as zero-tolerance policies, pose a threat to the educational experience of Black and Brown learners. 
To respond to misbehavior, many school districts implement zero-tolerance policies by using two core tactics: suspensions and arrests. These policies target and affect students of color disproportionately. According to the 2018 American Bar Association Task Force Report, Black youth are three to five times more likely to be suspended or arrested than white youth in schools. In his report, Lost Opportunities: How Disparate School Discipline Continues to Drive Difference in the Opportunity to Learn, Daniel J. Losen points out that no evidence supports Black students' misbehaving more than white students. Despite this, teachers, administrators, and school resource officers are punishing Black and Brown students more than their white counterparts. Once a student is suspended, they are less likely to graduate high school, more likely to be arrested, and more likely to become victims of the juvenile system. Additionally, these students are less likely to trust the school's administration and more likely to no longer feel a part of the school's community.
What is Restorative Justice?
Building and sustaining healthy relationships is crucial to having a strong community in a learning environment. Restorative justice is a great tool to facilitate community among teachers, students, and administrators. In their report, The Starts and Stumbles of Restorative Justice in Education: Where Do We Go From Here?, The National Education Policy Center (NEPC) defines restorative justice as, "a comprehensive, whole school approach to shifting school culture in ways that prioritize relational pedagogy, justice and equity, resilience-fostering, and well-being." This practice includes repairing the harm committed and restoring the affected relationships. Restorative justice is a holistic approach that is rooted in indigenous communities that prioritize relationships and peacemaking.
Using restorative justice offers an alternative to punitive approaches to misbehavior, but using it solely to solve disciplinary factors does a disservice to its potential. Restorative justice should be used holistically to set the tone of the learning environment, identify and set values that the learning community feels are important, and guide restorative processes to reduce disciplinary disparities and improve the learning environment.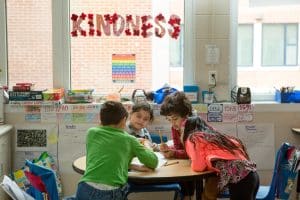 Restorative Justice and Racial Equity
There are policies and practices within education systems that inflict harm, create trauma, and perpetuate racism for students of color. These policies and practices can disrupt students of color's sense of belonging within their schools and reduce trust in school leaders, which enforces a hostile learning environment for them.
In a traditional teaching method, teachers are given the roles of being judge and jury along with being the givers of information. Teachers teach and assess their students while also disciplining students misbehaving in the classroom. Dealing with students' behaviors along with teaching can be stressful and can cause teachers to misunderstand their students and push them out. Due to racial bias, Black and Brown students fall victim disproportionately to the judge and jury role that was framed for teachers. Additionally, the lack of educator diversity produces a culture gap that can cause teachers to misinterpret a student's behavior as disrespectful. Restorative justice is inherently a racial equity tool to address problems like these because it works to create a healthy school culture by welcoming discussion and reflection that allows all members of the learning community to listen and understand each other's lived experiences. It provides a space for students of color to be authentically themselves and to feel supported by their teacher and classmates.
Restorative Justice in CBE
Competency-based education supports a positive school culture because it contributes to the learner's feelings of empowerment, safety, and comfort. CBE prioritizes the learner's role in their learning by advocating for policies and practices that give students a voice and choice when it comes to their learning and leadership within the school. Similarly, restorative justice works to create understanding and compassion within a school community, which makes it easier to recognize that everyone has different backgrounds, needs, and perspectives. Restorative practices create space for students to express the values and qualities they want in a learning environment. Depending on the program, students build autonomy by participating in the creation of principles that their schools decide to follow. All students and teachers benefit from a positive learning culture that recognizes and celebrates their identities; this may be especially true for students and teachers of color because they have an increased sense of belonging.
Aurora's CBE definition advocates for students to be empowered daily to make important decisions about their learning experiences. It also says that strategies to ensure equity for all students are embedded in the culture, structure, and pedagogy of CBE systems. Restorative justice practices fit perfectly into CBE because they empower students to take accountability for their actions and choose how they want to restore the harm they inflicted. Students learn the skills needed to effectively navigate conflict and allow for reflection, taking responsibility, and restoration of trust. 
If you are committed to CBE, restorative justice will help you implement CBE more equitably because it is a holistic approach that can reduce racial discipline disparities through community building. It interrupts inequitable discipline practices, forces administrators and educators to confront their racial biases, and creates a sense of belonging.  
Restorative Practices in Action
Restorative justice practices come in different shapes, but all share the same goal. To be effective, they must include key principles that are agreed upon by school administrators, students, teachers, and the community. Restorative justice practices should at least:
Be equitable

Honor lived experiences

Address the harm committed

Repair the harmed relationship
Below are two examples of school districts that lead in transforming their school cultures with restorative justice in a way that lays the foundation for CBE. For those already working to implement CBE, these examples offer ideas for incorporating restorative justice into their toolkits for creating an equitable and inclusive culture.
Chicago Public Schools
The Chicago Public Schools (CPS) have utilized restorative practices for over 20 years. Originally utilizing restorative justice to respond to misbehavior incidents, recently CPS has expanded its restorative justice definition to include a variety of strategies that include prevention, social-emotional learning, and intervention. For CPS, restorative justice is a framework for a set of practices and values that are agreed upon by the community. It's more than a relationship-building strategy; it is a way of living.
CPS uses "peace circles" as their main practice. Peace circles are a preventative measure that builds social-emotional confidence, a sense of belonging, and a caring learning culture. Although peace circles are tied to restorative practices, they are good tools to use to implement CBE as well. In peace circles, students are listening and learning from each other's lived experiences. From these lived experiences, students can contribute to sustaining a safe and productive learning culture. They learn skills that are difficult to develop with pencil and paper at a desk. These skills include self-management, self-awareness, responsible decision-making, social awareness, and relationship skills. These skills, or adaptive competencies, are used by the CPS schools in the Illinois CBE pilot.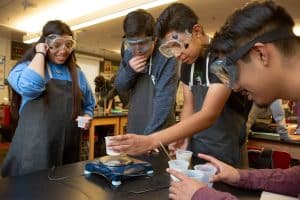 District of Columbia Public Schools
Known as "The DCPS Way," the DC public schools adopted new practices to transition to a restorative mindset, which they describe as, "how a person understands community and one's role in the community." A restorative mindset must include that:
Relationships and trust are at the center of the community

All members of the community are responsible to and for each other

Multiple perspectives are welcomed, and all voices are equally important

Healing is a process essential to restoring community

Harm-doers should be held accountable for and take an active role in repairing harm

Conflict is resolved through honest dialogue and collaborative problem-solving that addresses the root cause and the needs of those involved
DCPS uses restorative practices proactively to build a positive school culture, increase social-emotional learning, and create strong relationships between teachers and learners. DCPS also utilizes a restorative practice continuum that ranges from informal to formal practices. On this continuum, informal practices include non-judgemental communication and reflection of feelings, while formal practices include circles or conferences. Classroom Circles are one of the practices DCPS uses for community building, instruction, collective problem solving, and conflict resolution. Similar to CBE elements, the circles allow students to practice agency through listening, remaining engaged, and practicing their social-emotional skills.
Conclusion
Starting with restorative justice lays great groundwork for CBE because it prioritizes community, relationship building, meeting students where they are, disrupting equitable systems, and creating space for students to feel seen, especially students of color. CBE shares the same elements and highlights the importance of community building. Traditional discipline can undermine the learning culture CBE seeks to create by disrupting opportunities to build strong relationships within a school environment and perpetuating racism by significantly affecting and pushing out a specific group of students. Both restorative justice and CBE put the learner first by creating opportunities for students to grow and develop skills in navigating conflict, problem-solving, agency, and leadership. 
Learn More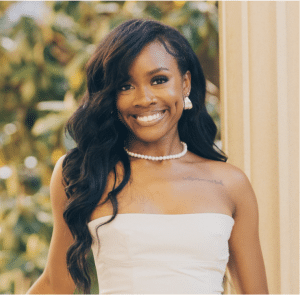 Khamiah Alderman joined the Aurora Institute as an intern with CompetencyWorks in January 2023. She is a recent Public Policy graduate from the University of North Carolina at Chapel Hill. She is passionate about educational equity and is working to improve the education system for all learners, regardless of race, gender, religion, and ability. 
She currently serves as the Youth Program Manager for the Center for Racial Equity in Education in Charlotte, North Carolina. In this position, she is building a program dedicated to developing leaders who are informed and empowered to act locally at their schools and the district level. In the past, Khamiah served as a research assistant for professors at UNC-Chapel Hill, where she gained valuable research experience grounded in education equity, intersectionality, and African American history. She hopes to continue her work to transform the education system to be accessible for all.