Roundtable Highlights Ties Between Project-Based Learning and Competency-Based Education, Explores New Research
CompetencyWorks Blog
---

As education leaders look for ways to accelerate learning this fall, following months of virtual and hybrid instruction, more schools should leverage competency-based and project-based learning. These student-centered approaches share many features, and I was so glad to be part of a recent roundtable webinar hosted by the Aurora Institute examining those ties and highlighting new research into project-based learning.
What They Have in Common
Both competency-based education and project-based learning emphasize:
Equity-centered practices
Authentic experiences inside and outside the classroom
Clear learning goals
Performance-based assessments
The development of student agency
The need for systems reform
Competency-based and project-based learning challenge traditional modes of instruction, which too often emphasize seat time over mastery, teacher-directed instruction over student-directed learning, and textbook instruction over hands-on learning tied to real-world issues.
In contrast, project-based and competency-based approaches are highly personalized, giving students multiple opportunities to demonstrate learning against transparent goals using performance-based assessments that yield relevant and timely results. Vitally, both approaches can help advance equity and empower students to use their voice and make critical decisions about their learning.
Panelists and attendees participating in the May 20 roundtable agreed that, given the overlapping elements of competency-based education and project-based learning, the two approaches can be integrated in schools together to yield powerful results.
New Research Related to Project-Based Learning
In addition to discussing the shared features of these approaches, the roundtable participants dug into new research recently released by the organization I lead, Lucas Education Research. In all, four peer-reviewed studies found that project-based learning had a strong impact on student achievement across subjects and grades. Researchers conducted the studies in diverse districts with large percentages of traditionally underserved students, indicating project-based learning can be a powerful lever for improving equity in U.S. schools. Highlights include:
Embedding project-based learning in Advanced Placement courses increased the probability of students earning a passing score on AP tests by about 8 percentage points in the first year and 10 percentage points after teachers had two years of experience with the project-based curriculum.
Middle school students in California who learned science with a project-based curriculum outperformed their peers by 11 percentage points on a science assessment and also did better on the state's end-of-year math and English language arts assessments. Furthermore, English language learners outperformed students in traditional classes on a language proficiency test.
Third-grade students in Michigan who used an interdisciplinary project-based science curriculum performed 8 percentage points better than peers in more traditional classes on a key science assessment.
Second-grade students in Michigan who used a project-based social studies and literacy curriculum showed five to six more months of learning in social studies and two to three more months in informational reading than a comparison group.
Rigorous project-based learning—the kind featured in the new studies—puts projects at the center of lessons. In other words, it's not enough for students to simply design a poster at the end of a lesson. Instead, authentic, meaningful projects drive the learning throughout a unit of study. Projects should also be closely tied to academic content standards. And project-based learning shines in school communities that prioritize supportive and meaningful relationships.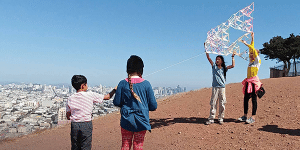 Tips for Making Project-Based Learning a Success
Educators and administrators from around the country joined the discussion and posed questions about getting started or deepening their experience with project-based learning. Expert panelists had plenty of insights.
Deborah Peek-Brown, an education specialist at Michigan State University's Create for STEM Institute, noted that shifting to complex forms of student-centered instruction is challenging. "This is a big jump for many teachers, because they're having to change so many things at the same time," said Peek-Brown, who has supported teachers using the third-grade science program. "This can't happen in a vacuum or overnight." She said teachers need sustained professional learning opportunities and the chance to collaborate in strong professional learning communities.
Devin Krugman, director of professional growth and development at San Francisco Unified School District, which uses a version of the middle school science program studied, said it's important to differentiate professional learning experiences for teachers depending on their needs. She also said creating a variety of supports and system changes is critical. So, in San Francisco that has meant integrating project-based learning into a broader middle-grade redesign effort, instituting block schedules, and adopting a districtwide deeper-learning initiative.
Justin Wells, executive director of Envision Learning Partners, offered this advice: "If you're a teacher, implement at least one high-quality project in your class this year. That's how to get started," he said. You can access the video recording and slide deck from the roundtable here.
Resources Available
Justin reminded teachers there are resources out there to help them get going with project-based learning.
On the Lucas Education Research website, teachers can access Sprocket, a platform for accessing the free and open educational curricula anchoring the research studies.
And PBLWorks is a great place to learn more about project-based learning and professional development for teachers.
At Edutopia, a division—like Lucas Education Research—of the George Lucas Educational Foundation, you can find articles and videos discussing project-based learning and competency-based learning. Many are full of tips and ideas for putting these approaches into practice.
I hope these resources and the growing evidence base around student-centered instruction encourage more teachers and school leaders to give project-based learning and competency-based learning a try. The pandemic has been an enormous disruption to our education system. To go back to business as usual makes little sense. It's time for bold change and innovative approaches that can help all learners thrive in school and in the world.
Learn More
Kristin De Vivo is the executive director of Lucas Education Research, a division of the George Lucas Educational Foundation. Previously, she served as vice president of research and validation at Scholastic Inc.