New Innovation Spotlight Episode – Education Policy and the Learning Sciences with Natalie Truong
Education Domain Blog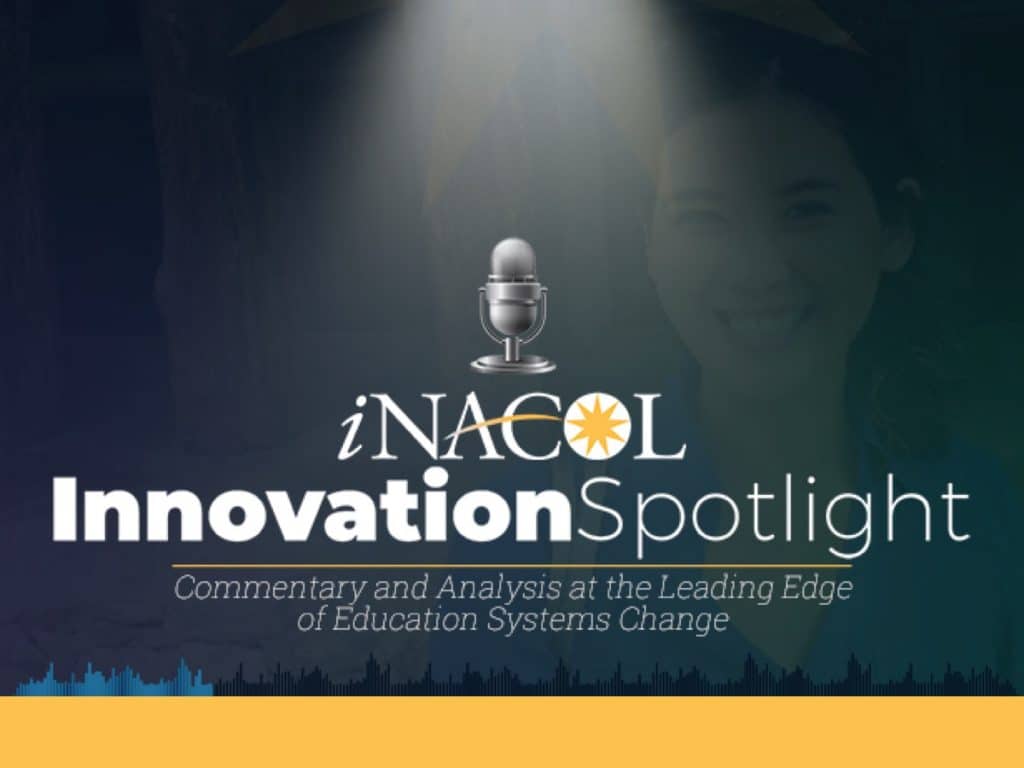 ---
Emerging knowledge from the learning sciences provides evidence and insights into the dynamic nature of learning, child development, motivation, and cognition. School leaders can harness this knowledge base to create a new vision of how to best support student learning in K-12 education systems. However, the policy environment to support such transformation is not in perfect alignment with the learning sciences.
iNACOL Policy Director Natalie Truong recently sat down to talk about bringing education policy and the science of learning and development into alignment with Courtney Belolan and Matthew Shea, hosts of the iNACOL Innovation Spotlight podcast series.
"Policy can play a supportive role in framing the expectations for teaching and learning," Truong said. "Through policy, we can work to create the conditions that are conducive to how students learn best. For example, we can create the conditions that enable schools and districts to design a vision for student success that is grounded in how learning and development happens. But unfortunately, our education systems are built on outdated models of teaching and learning."
"Learning is a very active process," Truong said. "Learning is done by—not 'to' or 'for'—students. The traditional 'stand-and-deliver' instructional approach stands in direct contrast with what we now know about how students learn best. 'Sitting-and-getting' for students bypasses the need for engaged learning, matched with their motivation, goals, and interests, along with their prior knowledge and different backgrounds. Redesigning curricula to account for these new insights is essential."
"That's why personalized learning and student-centered learning are so important. [They] give students agency and power in terms of their voice and choice," said Truong.
That agency, according to the learning sciences, impacts learners' short- and long-term memory.
"If they're engaged and they're having experiential learning experiences, if they're able to master their learning objectives and move along the progression that is individualized based on what they know, what they should know, and is tailored to those unique circumstances, then they're going to retain those learning objectives longer. They're going to be more motivated to continue learning."
Truong also shared multiple imperatives to unify education policy with the science of learning and development.
Education systems need to account for the whole child in all learning experiences, not just one facet of student life, not just their proficiency and in reading and math.
Everyone in the education universe: teachers, administrators, learners, parents, community members, and policymakers need to understand how learning happens and foster supportive learning environments for children.
School leaders need greater awareness of the importance of individualized learning. They must meet students where they are based on students' prior knowledge and developmental levels. This new knowledge is showing us that we need to give students time and support to learn and grow and be their best selves without limiting them.
"With that greater knowledge about learning and development," said Truong, "we can advocate for systems change to better meet the needs of our students."
The federal Every Student Succeeds Act (ESSA) offers states more flexibility to advance policies that are centered around success for the whole child; for example, making diplomas more meaningful and redesigning assessment and accountability. However, some of the challenges in the state policy landscape limit the definition of "success" to proficiency in reading and math. Seat time and "line-of-sight" requirements, along with age-based cohorts, are other industrial age, factory-model holdovers that are still deeply embedded in policy.
"There are multiple structural changes that need to take place across the federal, state, and local levels in order to get to where we want to be," said Truong.
At the federal level, the U.S. Department of Education could provide discretionary grants or incent innovation and enable continuing research on the learning sciences, as well as its implication on ESSA and on states and districts. At the state level, "we need to move away from regulations that enforce traditional structures of education that are not aligned to the findings of the learning sciences."
Truong provided multiple examples on how to better align policy and the learning sciences. The conversation comes just ahead of the release of a new iNACOL publication, Aligning Education Policy with the Science of Learning and Development.
Listen to the full podcast here, and watch the Education Domain blog for more conversations in the Innovation Spotlight series. And if you will join us at the 2019 iNACOL Symposium, stop by the Voices Hub to share your experiences with Matt and Courtney. Click here to learn more about the sessions and workshops in the "Whole Child Personalization/Social-Emotional Learning" strand.