From Seat Time to Credit Flexibility in Personalized, Competency-Based Education
Education Domain Blog
---
This post continues our special series on Future-Focused State Policy Actions to Transform K-12 Education. The series highlights policy issues to modernize our education system and align current educational practices with knowledge of how students learn best. We focus on leveraging state policy opportunities to increase access and open pathways toward future-focused learning experiences that build knowledge and skills for lifelong learning. Follow the links at the end of the post to read the other posts in this series.
---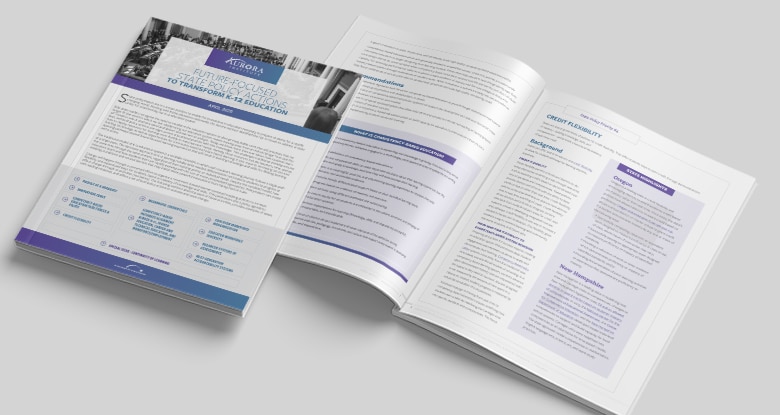 In  Future-Focused State Policy Actions to Transform K-12 Education, we make two recommendations to states to begin rethinking credit in the shift toward personalized, competency-based learning:
Provide credit flexibility to schools and districts from seat-time policies and
Redefine credits based on competencies for mastery of learning rather than solely on seat-time.
Credit flexibility is often a crucial first step in the shift toward learner-centered systems in K-12 education. States can play an essential role in building the capacity of school districts to use credit flexibility policies to move toward highly personalized education systems.
Supportive state policy can offer students ways to earn credit through demonstrations of mastery—building knowledge, skills, and competencies—and provide a functional equivalency of seat-time credit.
Credit Flexibility
State-level credit flexibility policies permit districts and schools to base credit on factors other than seat time. A significant advantage of this flexibility is that it gives students a way to connect learning with the community, real-world situations, and future jobs. That's because credit flexibility allows districts and schools to integrate content standards from multiple subject areas for credit and supports schools in developing integrated courses and pathways.
Credit flexibility shifts the focus away from evaluating learning based on how much time a student has been present in a classroom toward assessing how well students demonstrate skill level or performance.  Learners have options to show what they know, earn credit, and move on to higher-order content.
Preparing all students for success requires creating an education system that promotes deep student engagement and empowers students to apply and demonstrate their learning. Competency-based education systems move away from the traditional seat time-based, one-size-fits-all models of schooling.
Designing for competency-based education includes redefining how students earn credits by redefining the Carnegie Unit into specific standards and competencies. The focus on mastery eliminates definitions of credits through seat-time and allows states to re-examine all related policies so that districts can move toward learner-centered approaches.
Oregon is an exemplar of using credit flexibility; the state actively encourages districts to award academic credit based on mastery rather than seat-time. Since 2002, Oregon Administrative Code 581-022-1131 has allowed a school district or charter school to grant credit if a student demonstrates mastery by any one or more of the following ways:
Successfully completing classroom or equivalent work designed to measure proficiency in class or out of class, where hours of instruction may vary;
Successfully passing an appropriate exam designed to measure proficiency or mastery of identified standards;
Providing a collection of work or other evidence which demonstrates proficiency or mastery of identified standards; and/or
Providing documentation of prior learning activities or experiences that demonstrate proficiency or mastery.
Likewise, New Hampshire has redefined seat time and Carnegie Units to competencies. Changes to New Hampshire's legislative code, Ed 306.27, allowed districts to award credits based on students' mastery of competencies. In 2013, the National Center for the Improvement of Educational Assessment, the Center for Collaborative Education, and the New Hampshire Department of Education developed model state-level competencies to support and build capacity for local school systems. Carnegie units were redefined into competencies as an alternative for time-based credits. The state-approved model competencies in mathematics, English language arts, science, art, and work-study practices.
Experience in these pioneering states has shown that while credit flexibility in state policy is a significant leap forward, advancement requires a sustained direct, supportive, enabling role. States can, for example, set up task forces, invest in pilots, provide professional development, set up regional networks, and offer technical assistance to districts and schools to build educator capacity for creating comprehensive competency-based learning experiences.
Credit flexibility and advanced redesign toward competency-based systems are important pathways for state policymakers to consider on the road to transforming and aligning the system toward student-centered learning.
State policymakers and districts interested in learning more are invited to contact our Center for Policy.
---
Learn More: