Charting the Future of Competency-Based Education Policy
CompetencyWorks Blog
---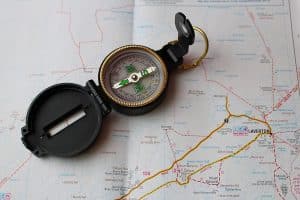 This post originally appeared at the Clayton Christensen Institute on September 8, 2015.
A few weeks ago, during a webinar hosted by the Northeast College and Career Readiness Research Alliance, New Hampshire's Deputy Commissioner of Education Paul Leather outlined his state's strategy in order to continue to develop competency-based education approaches. Leather is a leader in the world of competency-based education policy and his current efforts mark an important harbinger of how these policies must evolve over time.
Those looking to expand competency-based education should take note: not once did Leather mention the word "seat-time."
Although New Hampshire's bold mandate in 2005 eliminated the Carnegie Unit from the state's high school graduation requirements, a decade later Leather's concept of statewide competency-based policy goes far beyond eradicating the credit hour. Rather, Leather and his colleagues are working on building out pilot projects and systems of support that will usher in new school models centered on a wholly new vision of education that includes (1) competency-based pathways, (2) performance assessment, (3) learning pathways and (4) dynamic grading. Some of the state's initiatives to build this new model are included in 2Revolution's latest detailed report on New Hampshire, New Hampshire Goes First: A Vision to Scale Competency-Based Education across a PreK-20 System.
New Hampshire's example should caution state policymakers against taking too simple a view of competency-based reforms. Too often, we talk about competency-based education as a one-off effort, a tweak to the existing system. Frequently, indeed, we talk about competency-based education as a thing that education officials can adopt, rather than a new philosophy that will touch every aspect of an education system.
In our disruptive innovation language, Leather and his team in New Hampshire essentially are attempting to create a wholly new "value network" for education—from delivery of learning experiences to assessment and accountability of outcomes. A value network is the context within which a firm establishes its cost structure and operating processes, and works with suppliers and channel partners to respond to customers' common needs. For example, Sony began to disrupt RCA back in the 1950s and 60s by creating a portable low-cost transistor radio as an alternative to vacuum tube powered tabletop radios. Sony's innovation only reached the hands of eager teenage buyers, however, through new distribution channels, such as the newly-minted Walmart chain. RCA's distributors made their money as vacuum tube repair shops, and had little incentive to sell transistor-powered radios. Meanwhile, Walmart was not structured as a repair outlet, and was delighted to sell off-the-shelf electronics.
Its symbiotic relationship with a new distributor was vital to Sony's success. Disruptive innovators will fall short trying to sell their wares through distributors whose definitions of quality and success were honed in the established way of doing things—the disruption won't fly unless it conforms to the rest of the players' needs and expectations. Put differently, oftentimes existing value networks can limit the scope of the innovation. In contrast, new value networks can exponentially expand that innovation's reach.
As I've pointed out before, in considering the policies that currently govern the education system, such as seat-time requirements or once-a-year high stakes tests, it's easy to comprehend why the education value network hasn't budged, and why classrooms today look much as they did a century ago.
Leather and his team are trying to change this by attempting build an entirely new value network for education in New Hampshire, so that innovations in competency-based education might flourish. It's no coincidence, then, that New Hampshire is the first state to pilot innovative approaches to federal accountability as well. As Leather said, "we needed to move well beyond the structures… under NCLB, as well as Race To the Top college and career readiness, and the first round of state waivers." New Hampshire's evolving vision of accountability 3.0 looks at a much wider array of measures including locally derived performance assessments. In Leather's words, it is an accountability system "that more directly balances formative and summative assessments." Again, as in any value network, this vision is contingent not only on New Hampshire changing its ways, but on other players within the education value network, like the federal government, erecting new accountability structures as well.
States hoping to seed more competency-based approaches must take a whole system-tack, and recognize that competency-based education is a highly disruptive education model that will require a disruptive value network. As such, effective state policies should offer coherent visions of the models that schools might adopt, new accountability structures to match those models, and a commitment to providing the tools to schools to pursue various models, all of which might qualify as competency-based. If policymakers fail to treat competency-based education as a system-wide reform, the movement risks going the way of many education fads that never changed the lives of real students in real classrooms. Indeed, although many states now allow for seat-time waivers, most districts are not taking advantage of them—probably because there's no real value network to support such a shift. This risks putting rhetoric way out ahead of practice in a way that could undermine the credibility of the movement and the ideas that support it. The future of competency-based education may be within reach, but it's not an innovation that the current system is designed to embrace.
See also:
---
Julia researches innovative policies and practices in K-12 education, with a focus on competency based education policies, blended learning models, and initiatives to increase students' social capital.