CompetencyWorks Releases Report on Professional Learning Strategies to Strengthen Local Assessment Systems for Proficiency-Based Education
CompetencyWorks Blog
---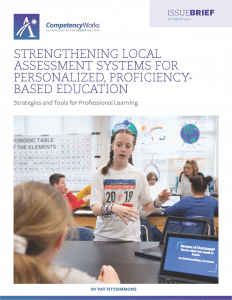 Today the Aurora Institute's CompetencyWorks initiative released Strengthening Local Assessment Systems for Personalized, Proficiency-Based Education: Strategies and Tools for Professional Learning. The report is authored by Pat Fitzsimmons, the Proficiency-Based Learning Team Leader at the Vermont Agency of Education and a former public school teacher and science specialist.
The report describes a series of professional convenings in Vermont to support schools and districts seeking to create high-quality local comprehensive systems of assessments (LCAS). It can serve as a resource for schools, districts, and states that are working toward improving their own assessment systems. Readers will learn about formative, summative, and student-designed performance assessments as well as essential components of assessment systems and their rationales. The report also features tips for conducting the convenings remotely, as Vermont has continued offering them during COVID-19 school closures.
Local comprehensive assessment systems (LCAS) are essential for ensuring that all students have equitable learning opportunities and experience high expectations and supports across content areas. The Vermont Agency of Education held convenings with education leaders to refine tools and strategies to improve local systems of assessments that support personalized, proficiency-based learning (which is also known as competency-based learning and mastery-based learning).
Education systems across the country can learn valuable lessons from Vermont, which is a national leader in developing comprehensive assessment systems for proficiency-based education. The state's Education Quality Standards require employing "a balance of assessment types, including but not limited to, teacher- or student-designed assessments, portfolios, performances, exhibitions and projects." The system of assessments must also include both formative and summative assessments, measure proficiency-based learning, and inform the development of personalized learning plans.
The report provides a wealth of resources and practical activities for improving local assessment systems. Some of these activities include:
Assessing the quality and challenges of local assessment systems.
Building a common understanding of formative assessment as a powerful practice for improving student outcomes.
Deepening knowledge of proficiency-based learning, performance assessment, and how they are connected.
Understanding student agency and determining the status of students as active stakeholders and collaborators in their learning.
Investigating the components of authentic, student-designed performance assessments.
Supporting the development of student-designed performance assessments.
The field of competency-based education is very fortunate that Fitzsimmons codified her team's work into this report. Download and share Strengthening Local Assessment Systems for Personalized, Proficiency-Based Education: Strategies and Tools for Professional Learning.
Learn More
Eliot Levine is the Aurora Institute's Research Director and leads CompetencyWorks.