Hello From the New CompetencyWorks Program Director
CompetencyWorks Blog
---
I'm excited and honored to have joined the Aurora Institute team as the new CompetencyWorks Program Director. In my first post in this new role, I will share a few topics that are in my heart and top of mind.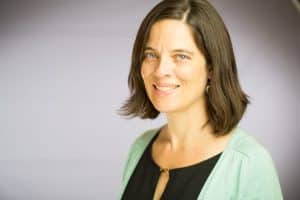 I've always loved that the CompetencyWorks Initiative creates space for practitioners to share the stories of their efforts, challenges, and learning about how to create personalized, competency-based learning experiences. CompetencyWorks encourages and supports others to learn and be inspired as they build their own practices, culture, structures, and systems.
In my dozen or so years working at the Center for Collaborative Education and reDesign I served as a coach to teachers, schools, districts, and states and a designer of systems and tools. CompetencyWorks provided a go-to place for examples and inspiration. Aurora's competency-based education definition guided implementation as I worked with schools such as Crosstown High in Memphis and rural districts in New Hampshire. It inspired and informed resources such as the Idaho Staging Guide. I've also done my best to contribute what I've learned by writing for the blog and participating in collaborative events both in person and through technical advisory groups. 
Now I have the opportunity to further steward and shape CompetencyWorks and to learn and grow with the field! Here are some emerging thoughts about what will guide me.
Foster strong connections to the lived experiences of students and teachers
One of my goals is to deepen the ways in which students can share their experiences, on the CW blog, in webinars, and forums yet to be imagined. The student panel at the annual Aurora Institute Symposium is a highlight for me and many others. The stories and insights inspire us and energize our efforts to create the future of learning and to continue to work to transform the learning experiences of more students. 
I began my career in the classroom–teaching both in Japan and Massachusetts–and I treasure having that experience to ground my subsequent work. Elevating the voices of current teachers and students is a deep value that helps me to stay in touch with current experiences in schools. 
Elevating the voices of current teachers and students is a deep value that helps me to stay in touch with current experiences in schools. 
Contribute to the dialogue about assessment as the creation of meaningful evidence of learning 
Student-driven performance assessment provided my entry point into the ecosystem of personalized, competency-based learning. I believe assessment is a lever to catalyze changes that align practice and policy to produce high-quality learning in equitable, student-centered learning environments. When we commit to provide all students with opportunities for meaningful demonstration of their learning, we move beyond the connection between assessment and "test" that remains the default in too many people's minds. 
Committing to rigorous, common expectations for learning that include a holistic set of knowledge, skills, and dispositions pushes us to rethink assessment. Students should be partners in making decisions about how they will create and apply knowledge and how they will demonstrate their learning. In turn, we must rethink and redesign curriculum and instruction to enable students to make important decisions about their learning and how to show what they have learned and who they have become. Assessment becomes a process grounded in bodies of evidence showing growth and competency through multiple forms of evidence with an emphasis on performance assessment.
Systems and policies at the school, district, state, and federal levels can enable or hinder this vision of transformed assessment. Let's reimagine assessment and accountability systems and bring the latest digital and technical innovations to document learning in new ways. During these last two-plus years of pandemic disruptions, we have had many opportunities to (re)learn what kinds of assessment we have (or don't have enough of) to provide the information we need to meet students wherever they are in their learning. How can we shift to practices and systems that support and document learning whether it is happening within or beyond classrooms?
Advocate and model a culture of care and learning for educators
Action-oriented and authentic work and learning is my hope for everyone, not just students. Investing in professional learning for teachers and leaders to design and implement change is a key piece of the puzzle. 
Cultivating a supportive culture is foundational to creating the learning environments we are envisioning. This has always been true and has been further underscored in the era of COVID. Healthy culture is one of three themes in the What Made Them So Prepared project.  Additionally, Cult of Pedagogy's Jennifer Gonzalez translates insights from educators–asking what made them leave or stay in the profession. She turns these insights into concrete actions that administrative leaders can take to mitigate the challenges from the current moment. 
Educators need and deserve time to rest and rejuvenate – always and even more so  in this ongoing moment of disruption that has taken such a toll on educators. And, I hope that educators feel encouraged and supported enough to both unplug and find ways to learn and replenish their sources of inspiration for next school year and beyond. 
Remember our purpose: to cultivate the knowledge, skills, and dispositions that each learner needs to navigate and find success in an ever-changing and challenging world
I can't stop thinking about the devastating events and shootings in Uvalde and in so many communities. I've been reflecting on how our work intersects and can contribute to healing and resilience. In this interview, teacher Mary Dibinga offers the insight that it's more effective to support students' varied needs in the aftermath of a tragedy when they have been practicing the skills to reflect, process, engage in discussion about challenging topics, and be attuned to the different needs of others. She says, "Students need to hear and learn, first of all, that wherever they are is okay, and that you can respond to somebody who is in a different place, right?… I think that's one of the most important projects we have as people. To sort of learn: How do we navigate that all together?" 
In CBE systems, rigorous, common expectations for learning intentionally support the kind of community and ability to engage that Dibinga is describing. Examples of competency progressions (e.g., for wellness, communication, navigating conflict) that articulate how to develop these skills and dispositions offer a starting point for supporting learners to be able to process events in the world and in their own lives. A culture of connection and cultural inclusion and responsiveness cultivates relationships that allow learners to bring their whole selves and get the supports they need. Building such cultures and systems is a long game. And, I truly believe it is a key element to evolving and sustaining our vibrant democracy. 
She says, "Students need to hear and learn, first of all, that wherever they are is okay, and that you can respond to somebody who is in a different place, right?… I think that's one of the most important projects we have as people. To sort of learn: How do we navigate that all together?"  
Lead with hope, love, and a sense of possibility
There are real barriers to full-scale transformation of our education system, yet I believe in what we can accomplish by bringing a multi-faceted approach to policy, practice, and the change process. As the field and work of CBE deepens and expands in the U.S. and beyond, I will be working to curate lessons learned, new tools, and solutions for emerging challenges to continue to evolve CompetencyWorks as a hub of information on CBE insights and practical resources. 
I invite readers to reach out with insights and needs as you work to fit the pieces of the puzzle together in creating learner-centered CBE systems. I look forward to engaging and collaborating with many of you in the process.
Laurie Gagnon is the Aurora Institute's CompetencyWorks Program Director.