Demonstration of Mastery Gives K-12 Credentials Their Meaning
Education Domain Blog
---
This post continues our special series on Future-Focused State Policy Actions to Transform K-12 Education. The series highlights policy issues to modernize our education system and align current educational practices with knowledge of how students learn best. We focus on leveraging state policy opportunities to increase access and open pathways toward future-focused learning experiences that build knowledge and skills for lifelong learning. Follow the links at the end of the post to read the other posts in this series.
---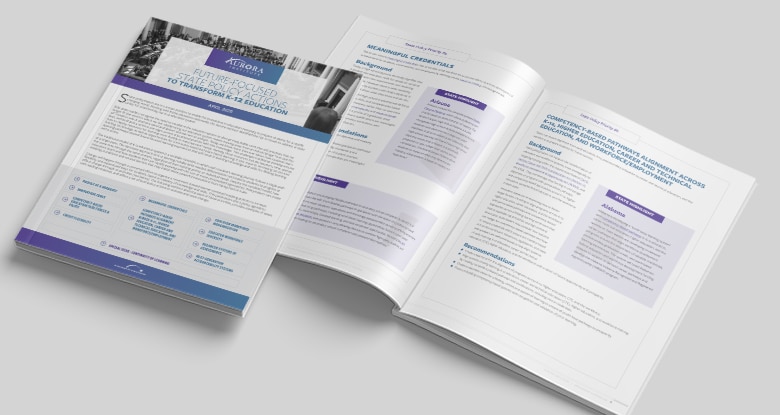 How much time a student sits in a seat to earn credit does not tell you about what that student can do or how prepared they are for future achievement. State education policy can remedy this issue by supporting a  broader definition of success. It can start with ensuring all students earn meaningful credentials that signify they have attained community-driven standards of knowledge, skills, and competencies by demonstrating mastery. The Aurora Institute has identified 11 key issues to address in state policy for transforming our K-12 education system, with a special priority on meaningful credentials.
State policymakers can ensure qualifications are meaningful to students, postsecondary institutions, and employers upon graduation with qualification frameworks and mastery-based diplomas. Some states are starting to create flexibility for competency-based systems and implementing innovation zones that offer waivers to districts as they move from the industrial model of schooling toward more innovative, student-centered, and future-focused models.
Arizona, for example, created the competency-based Grand Canyon Diploma, which allows students to earn credit based on demonstration of mastery. The Grand Canyon High School Diploma is a valid, recognized high school diploma available to Arizona students who demonstrate college and career readiness in all core subject areas before they leave high school. Advancement is based on mastery, not "seat-time."
In 2013, Vermont passed Act 77, the Flexible Pathways Initiative allowing districts to combine high-quality academic and experiential components leading to secondary school completion and postsecondary readiness. The legislation encourages flexible pathways to secondary school completion to identify how individual students would benefit from flexible pathways to graduation with the option of a proficiency-based diploma.
It is time for more states to critically examine just what a diploma means and how they might re-envision this credential. In Future-Focused State Policy Actions to Transform K-12 Education, the Aurora Institute Center for Policy outlined three action steps that state policymakers can take toward this end:
Offer mastery-based diplomas and mastery transcripts.
Create proficiency-based graduation pathways aligned to high-quality standards and a comprehensive vision of student success.
Ensure diplomas and credentials are meaningful with evidence.
Learn More: