Top Ten CompetencyWorks Blog Posts of 2022
CompetencyWorks Blog
---
This post looks back on the most-read 2022 CompetencyWorks blog posts by ten different authors. We didn't count the ever-popular and handy Competency-Based Education Across America, which brings together more than 200 blog posts from CompetencyWorks site visits across the country. We offer our gratitude to the many leaders in the field who have generously shared their knowledge, tools, and perspectives to advance K-12 competency-based education (CBE).
By Sandra Moumoutjis
What and who drives the design of your master schedule? We often think of time and schedules as fixed, but what happens when we shift our mindsets so that learning becomes the constant and time becomes the variable? Scheduling is an essential tool that, when used effectively, can break down traditional structures and improve learning outcomes for students. This post – one of a series from Building 21 – explores the power of the master schedule.

By Andrea Stewart
This post focuses on understanding how we use reflective practices to determine real-time professional learning needs at the individual, building, and district levels. It is the first in a series of three blog posts focused on The Center's approach to providing customizable, web-based tools and resources for educators seeking to move to a competency-based system. 
By Kristin De Vivo
Based on the roundtable discussion on a webinar hosted by the Aurora Institute and Lucas Education Research (LER), this post captures insights from students, practitioners, and professional learning providers from Building 21 and Springpoint about integrating CBE and project-based learning (PBL). The event was inspired by LER's research on the ways that CBE and PBL overlap, how they might differ, ways in which they can support each other, and best practices for implementing both. 
By Tommy Wolfe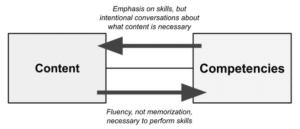 Based on Wolfe's dissertation research, this post describes how teachers using competencies engaged with content in new, thoughtful ways that provided structure for authentic project-based learning. It is the first of a four-part series that includes posts focused on practical ways that the author supports the development of student agency and uses competency-based teaching in his own science classroom.
By Wendy Surr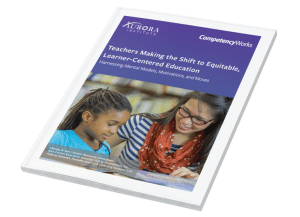 This post synthesizes the key ideas of the CompetencyWorks report: Teachers Making the Shift to Equitable, Learner-Centered Education: Harnessing Mental Models, Motivations, and Moves. It offers insight into why it is so challenging to scale equitable, learner-centered education, despite the evidence showing its promise for reducing educational disparities and promoting deeper learning outcomes for all students. Teachers' mental models, motivations, and moves are identified as hidden drivers of teacher practice to address throughout professional learning.
By Laurie Gagnon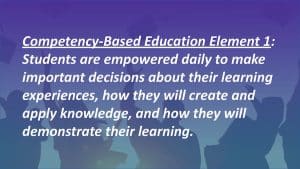 This post is the first of the "CBE Starter Packs Series" focused on the seven elements of the Aurora Institute's 2019 CBE Definition. Whether you are new to CBE or delving deeper into how to cultivate agency in your learners, find background information and curated resources to get started and keep going. 

By Aaron McKinnon and Laurie Gagnon
Look back at the story of Idaho Mastery-Based Education and learn from the tools and resources developed in the process. Gain insights into how one state worked to encourage a student-centered learning focus and bring systems and practices to the next level for all learners. 
By Sydney Young and Michael Hakkarinen
Hop onboard this story of school transformation in Utah featuring Davis and Juab school districts and their collaborative efforts to create a learner-centered culture. Both districts participate in the PCBL Pilot Grant Program, which now involves more than 300 schools. 
By Eliot Levine
Learn about the Success Center pathway in Holyoke Public Schools in Massachusetts, a program where students engage primarily in project-based, competency-based, multidisciplinary learning. The Success Center's "primary person" model ensures that every student has support from a caring adult who is consistently available, is invested in their growth and well-being, and provides clearly defined structures to help them become leaders of their own learning. 
By Eric Toshalis and Virgel Hammonds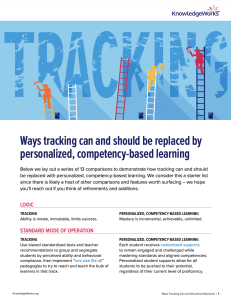 This cross-post from KnowledgeWorks examines the practices and systems of tracking through an equity lens and explores CBE/PCBL as a replacement. The analysis and practical ideas in this post can support having important conversations about learning new practices, redesigning systems, and cultivating the mindsets and culture to center students and equity through PCBL.