Education Policy Issues for the COVID-19 Era
Education Domain Blog
---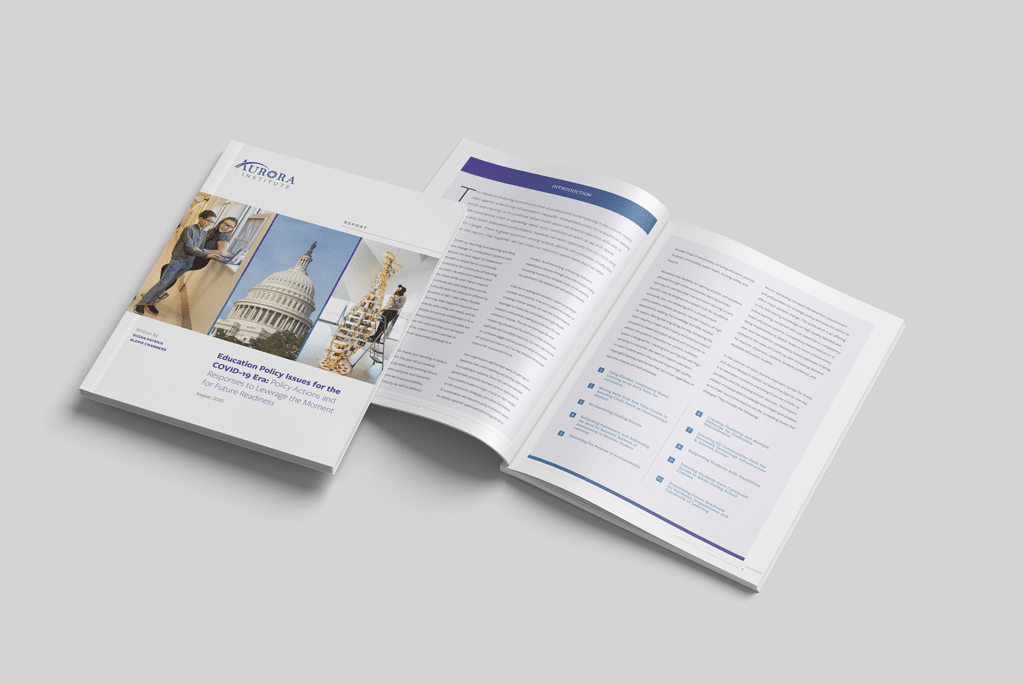 The Aurora Institute Center for Policy today released Education Policy Issues for the COVID-19 Era: Policy Actions and Responses to Leverage the Moment for Future Readiness—a just-in-time report offering strategic guidance to policymakers who seek to emerge from the pandemic with a stronger, more capable, and more equitable K-12 education system.
The COVID-19 pandemic has led to the largest disruption of education ever. K-12 education system leaders at the state and local level are seeking strategic guidance to advance lasting change to improve teaching and learning for all students. The issues that policymakers are examining include:
Using Blended, Competency-Based Learning as an Entry Point for Innovation

Moving Away from Seat Time Credits to Awarding Credit Based on Demonstrated Mastery

Re-Examining Grading Policies 

Rethinking Assessment and Addressing the Need for Balanced Systems of Assessments to Measure Student Learning

Examining the Purpose of Accountability

Creating Flexibility and Multiple Pathways for Graduation Requirements

Ensuring All Communities Have the Necessary Technology Infrastructure and Internet Access

Supporting Students with Disabilities

Ensuring Students Have Continued Access to Meals during School Closures

Prioritizing Future Readiness for Pandemic Preparedness and Continuity of Learning
Education Policy Issues for the COVID-19 Era offers analysis of each of these issues and highlights strategic guidance policymakers can leverage now to realize our shared vision for a K-12 system that is fit for purpose. As school leaders reopen schools this fall—in person and virtually—leaders from school systems, government bodies, and the community have a variety of entry points and accelerators to shift the way school works. The guidance submits that systematic shifts that school leaders and learners have been yearning for include flexible pathways with more integrated learning experiences that happen anytime and anywhere, allows students to advance when they are ready to demonstrate mastery, and by design, ensures success is the only option, which dismantles inequitable structures embedded in K-12 as it exists today.
The guidance, therefore, offers a menu of strategic recommendations, from conducting continuity of learning readiness assessments to building capacity for competency-based learning through:
Innovation zones,

Task forces,

Use of credit flexibility policies,

Pilots for new learning models,

Multiple pathways to graduation,

Strengthening credentials,

Building leadership capacity, and 

Designing a statewide policy approach to support alignment between K-12 and workforce systems.   
Building the capacity for educators to redesign toward a competency-based, learner-centered system is no easy task with the challenges imposed by the COVID-19 pandemic. Education Policy Issues for the COVID-19 Era concludes with a 10-point program with principles and guidance that lay the groundwork for the reforms our system urgently needs.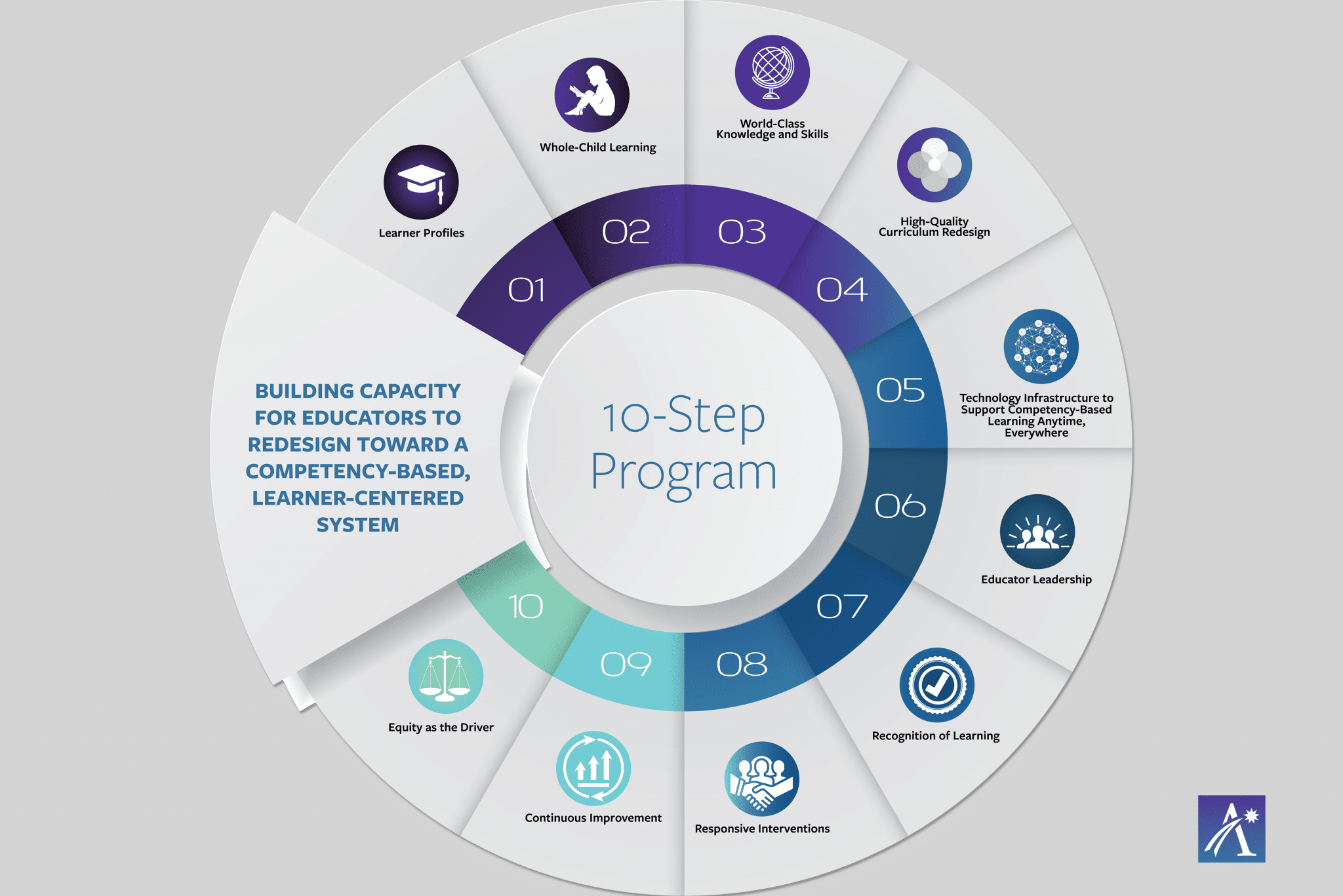 Learner Profiles.

Each student has a comprehensive learner record (personalized learning plan) with data that supports meeting students where they are every day academically and holistically. 

Whole-Child Learning.

Student success is redefined with broader goals and outcomes in building skills, knowledge, and dispositions. Learning is embedded in safe and healthy learning environments that foster mental and emotional health, wellbeing, inclusion, and strong relationships.

World-Class Knowledge and Skills.

Learning progressions offer a framework to build knowledge, skills, and competencies to meet students where they are and focus on development over time. Students advance on demonstrating mastery.

High-Quality Curriculum Redesign.

A future-oriented curriculum follows global best practices to provide a framework and guidance that allows anytime, anywhere learning inside and outside of formal structures. The curriculum frameworks hold all students to the same high expectations to ensure equity and focus on building essential skills and knowledge. Providing a redesigned curriculum supports high-quality student learning experiences and wellbeing. 

Technology Infrastructure to Support Competency-Based Learning Anytime, Everywhere.

When students are empowered daily to make important decisions about their learning experiences, how they will create and apply knowledge, and how they will demonstrate their learning, technology can help support expanding access to resources, managing the "learner profile" and provide a place to house e-portfolios and evidence of student work. Assessments in competency-based learning systems result in practices that provide meaningful, positive, and empowering learning experiences for students that yield timely, relevant, and actionable evidence. When students learn actively using different pathways and varied pacing, this necessitates different technologies to support contemporary learning designs. The technology infrastructure to support competency-based education systems requires transparent reporting of student progress, student-centered learning management systems, e-portfolios, and access to curriculum frameworks. It is recommended that schools, teachers, families, and students have ubiquitous access to the tools and bandwidth to fully participate in innovative instructional models at any time and place.

Educator Leadership.

As more schools shift to personalized, competency-based learning, it is important to build educator professional capacity to keep pace and lead in designs that are learner-centered, flexible, adaptive, equity-oriented, and promote lifelong learning. Modernizing professional development to be embedded, personalized, and competency-based is key. Micro-credentials and personalized pathways for educators are one strategy for building knowledge and skills for new models. Understanding the science of learning should also be an important part of professional learning. 

Recognition of Learning.

Educators need to build assessment literacy and be able to understand performance assessments designed to measure student achievement. They should also be able to verify whether a student has mastered a specific learning objective using evidence from projects, place-based learning in communities, and informal settings. Recognition of learning is a process used around the world to evaluate skills and knowledge acquired outside the classroom for the purpose of recognizing competence against a given set of standards, competencies, or learning outcomes.

Responsive Interventions.

Students' needs are met with interventions and supports in real-time. Using competency-based progressions, students work at their own level and progress at their own pace as they demonstrate proficiency on time-bound targets. Students receive research-based interventions and supports along all steps of the learning progression in real-time to address any difficulties they may be experiencing. Thus, the focus is on mastery—step by step —and failure may be part of the learning process, but is not an outcome.

Continuous Improvement.

Schools and districts should have an orientation toward putting students' individual strengths first, rather than characteristics that indicate their risks, and a focus on equitable resource management to make sure student's unique gifts are recognized and their needs are met. Ensuring a growth mindset around effort and learning while using an asset frame to drive a culture of continuous improvement are keys to success. 

Equity as the Driver.

We believe that equity is the central goal of competency-based education systems. Competency-based education is driven by the equity-seeking need to transform our educational system so all students can and will learn through full engagement and support and through authentic, rigorous learning experiences inside and outside the classroom. Communities aspiring to achieve educational equity must work toward a system that is built on every child achieving mastery and getting the supports they need when they need them. Strategies to ensure equity for all students must be embedded in the culture, structure, and pedagogy of schools and education systems. 
This new reference provides a path forward for our collective hopes and aspirations for a K-12 education system that successfully prepares all young people for the evolving world in which we live. In this unprecedented time, we will do well to acknowledge that our long and firmly held beliefs and assumptions about school, teaching, and learning will never be the same again. Our educators and students have a daunting year ahead as the pandemic and its perils persist. At the same time, there is optimism among schools, districts, and communities, that together, we can make our education system better than it was before.
Download, read, and share the report by visiting its resource landing page, here.