Aurora Institute Symposium 2020 Is Going Virtual
Education Domain Blog
---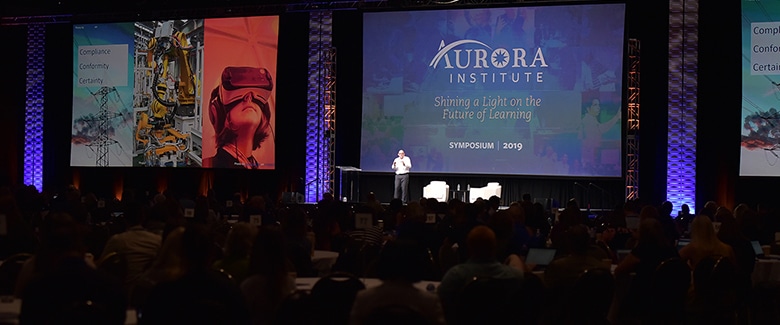 We have made the decision to shift our in-person Aurora Institute Symposium 2020 to a virtual convening.
We were encouraged by more than 500+ colleagues across the field to continue with hosting a virtual conference, and we wanted to share the details on planning this year's Aurora Institute Symposium 2020.
We are going to make this happen.
The 2020 Symposium will have two elements:
The virtual Aurora Institute Symposium 2020 will be held on the original dates of October 26-28, 2020 (save-the-dates)
An "All Fall" webinar series is being offered with conference presenters delivering online sessions from August to November.
Virtual Symposium: October 26-28, 2020
We will hold our flagship "Symposium" event virtually October 26-28, 2020, with plenary sessions, spotlights on promising practices and programs, birds-of-a-feather lunches, breakout sessions, networking events, and book clubs with authors.
An at-a-glance agenda provides an overview of the program, including:
Day 1 – October 26: Opportunities and Inspiration: Leveraging the Crisis to Leapfrog & Advance Systems Change
Day 2 – October 27: Competency-Based, Personalized, Anytime, Anywhere Learning Best Practices
Day 3 – October 28: Personalized, Competency-Based Education Designed for Equity and Focused on Whole Child/Social-Emotional Learning.
We've designed the event to offer multiple networking opportunities and foster hands-on engagement in a variety of sessions. The Symposium Networking Event will occur on October 27, 2020, at 5 pm ET.
Virtual Symposium Webinars: All Fall
We've launched a series of webinars running throughout the fall, leading up to and culminating in the main event on October 26-28, 2020. The schedule for the "All Fall" series is below and on the upcoming webinar events page of our website. All virtual sessions will be archived and available on the past events page of our website. Register for the "All Fall" webinars now!
Here's what we are learning together during the "All Fall" webinar series:
September
October
Impact of Personalized Learning Through Interest-Based Internships (register here) for October 6, 2020, at 2:00 pm ET
Implementing Student-Centered Learning: Lessons Learned from Leaders in the Arena (register here) for October 13, 2020, at 2:00 pm ET
Choice in Learning: Examination of Students' Use of Flex Time in High School (register here) for October 22, 2020, at 2:00 pm ET
November
Competency-Based Education Systems: Performance Assessment Using Proficiency Scales (register here) for November 5, 2020, at 2:00 pm ET
Deeper Competency-Based Learning: Making Equitable, Student-Centered, Sustainable Shifts (register here) November 10, 2020, at 2:00 pm ET
Designing Engaging, Purposeful, Rigorous Tasks for Remote and In-Person Learning (register here) November 12, 2020, at 2:00 pm ET
Past "All Fall" Webinars Are Archived.
Stay tuned! And, join us by engaging with us on social media with @Aurora_Inst and #Aurora2020
P.S. – COVID-19 has impacted our schedule in notifying presenters on acceptance. If you submitted a proposal during the open RFP earlier this Spring, we apologize that we have not notified all submitters of the status of their proposals. As we are still developing the program, COVID-19 has upended the process. We are in communication with presenters to ensure they can deliver a virtual presentation session at specific dates and times. Please bear with us. We will be notifying you soon and are currently finalizing the program in its entirety. Thank you for your patience.