Better than Before
Education Domain Blog
---
As 2021 dawned, we saw many wishes to "return to normal," to re-open schools and get back to the way things were before the global COVID-19 pandemic fundamentally altered life as we knew it. The urge is completely understandable: what is known must surely be better than staying adrift in a time when no one knows where the guideposts are.
I challenge the wishes for normalcy in two ways. The norm for K-12 education was one of ranking and sorting and creating winners and losers. What about that normal should elicit our allegiance? Our normative experience was that millions of students leave K-12 education unprepared for today's institutions of higher learning and workplaces, let alone the increasingly complex and competitive settings of tomorrow. The ACT's most recent Condition of College and Career Readiness report showed a shrinking proportion of students demonstrating they are prepared for college-level coursework. Ninety percent of school and district leaders responding to a recent Education Week survey said that preparing students for jobs of the future was a top priority or important concern.
Secondly, the hallmarks of transformational change that have ushered in every turning point in world history are reaching a crescendo in education. From scalable technological innovations to the practical operationalizing of powerful new ideas about teaching and learning, from changes in major political institutions to shifting demographics and the growing will of communities to make our schools better than before, our work is for transformation, not normal.
We pledge our work in 2021 to advance policy priorities that we believe will deliver on that goal. At the federal level, we pledge our best efforts to support the incoming administration in what will inevitably be a challenging year of re-opening and recovery, restoring hope, and expanding opportunity. However, we will continually seize opportunities to broaden and advance the conversations to effect systems change in education. Important levers at the federal level include:
State policymakers are uniquely positioned to enable the innovations in education necessary to prepare students for our rapidly changing world. Working with 8,000 educators nationwide, we identified 10 key issues for transforming our K-12 education system. They include: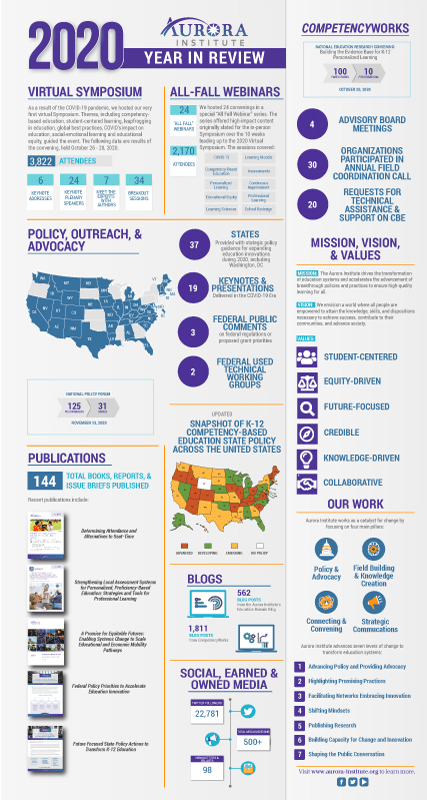 Despite, and in some cases because of, the upheavals we experienced, our work, our support of partners, and our technical assistance with policymakers and practitioners in 2020 accelerated these ideas and pushed education communities to reimagine what is possible for K-12 education.
We believe every child deserves high-quality learning. It is a springboard toward our shared future. In 2021, we are re-energized to use our platform and our mission for transformation of education systems—advancing breakthroughs to ensure all students and all people are empowered to achieve success, contribute to their communities, and thrive in an equitable, just, and open society. There is much to do to deliver on the promise of a student-centered, equity-driven, and future-focused education system that ensures all learners have what they need and that the system provides equitable outcomes and opportunities. We welcome your participation, ideas, and support.